Royal Spring Park
Introduction
On the site of Kentucky's largest natural spring, John McClelland built and defended a fort during the Revolutionary War and at this current location a monument to Scott County's fallen soldiers of the Revolution stands. In 1789 Reverend Elijah Craig, founder of Georgetown, reputedly created bourbon whiskey at the Royal Spring. Craig has long been credited with the founding of bourbon whiskey though more recent research has suggested alternative explanations.
Images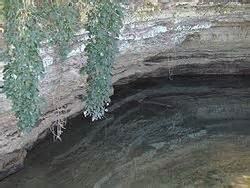 Restored Milton Leach Log Cabin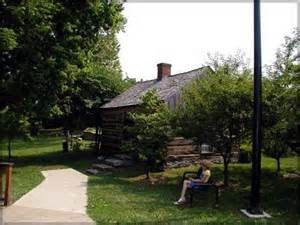 Backstory and Context
In 1774 John Floyd of Fincastle County, Virgina led a surveying party into Kentucky to locate new lands to be used as "compensation for soldiers in the French and Indian War". On July 7, 1774, Floyd and his crew found the spring and he received 1000 acres and the spring as payment for his surveying work. In the fall of 1775 Floyd transferred ownership of the spring to John McClelland from Westmoreland County, Pennsylvania. In 1776 McClelland's Fort , an army outpost was built on a cliff to have close proximity to the spring. Two fun facts that are well known are one, the earliest name of the spring was "Mr. Floyd's Spring" and the other was in 1874, Milton Leach, a former slave, built a log cabin to use as his dwelling. The log cabin was restored and relocated to Royal Spring Park to serve as a museum.

Royal Springs is a very large natural spring in Georgetown, Kentucky that has been the main source of water since the first settlements were established in the area. In 1889, the Georgetown Water Works Company was incorporated, and distributed the natural spring water until the City of Georgetown purchased the company and then established the Municipal Water Works Plant in 1945.

Sources
"National Register Information System". National Register of Historic Places. National Park Service. 2009-03-13. "About Us". Georgetown Municipal Water and Sewer Service web site. Georgetown Municipal Water and Sewer Service. Retrieved 2008-07-27. Paylor, Randall L.; Currens, James C. (2004-11-10). "Determining Groundwater Travel Times In The Royal Spring Karst Basin Of Kentucky". Abstracts with Programs. Denver,Colorado: Geological Society of America. Retrieved 2008-07-27. "History". Georgetown. Georgetown/Scott County Tourism Commission. "About Scott County". Scott County Clerk's Office. Software Management LLC. 2004. Retrieved 2008-07-24. "Birthplace of Bourbon". Signs of History. Cowdery, Charles K. (July 1996). "How Bourbon Whiskey Really Got Its Famous Name". The Bourbon Country Reader 3.
Additional Information