Buffington Island Battlefield Memorial Park
Introduction
The Buffington Island Battlefield Memorial Park shares the history of the most significant Civil War battle fought in Ohio. On July 19, 1863, a Union army overpowered Confederate cavalrymen led by General John Hunt Morgan in what became known as the Battle of Buffington Island. The capture of Hunt ended his regiment's monthlong diversionary raid into Indiana and Ohio. While Hunt's commander, Confederate General Braxton Bragg, had authorized Hunt and his division of over two thousand men to conduct raids of Union-controlled sections of Kentucky and Tennessee, Hunt's decision to cross the Ohio River was a violation of orders. Despite causing damage and diverting Union troops, the raid is considered a failure owing to the death, desertion, or capture of nearly his entire force. After his capture, Hunt escaped from an Ohio jail and was killed the next year while trying to evade Union soldiers.
Images
This historic marker is located near the small parking lot on HWY 124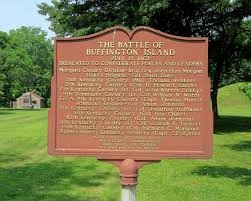 This monument was built using stone from local boulders in remembrance of the Battle of Buffington Island.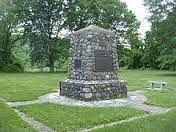 Civil war artifacts found on Buffington Island battlegrounds by Heidelberg College archaeological excavation in 1999.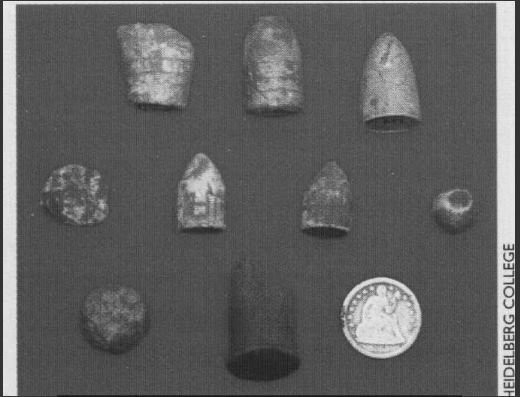 Aeriel view of present-day Buffington Island and surrounding area where the Battle of Buffington Island took place in 1863
Map of Confederate General Morgan's raid through Ohio that climaxed with his defeat at the Battle of Buffington Island.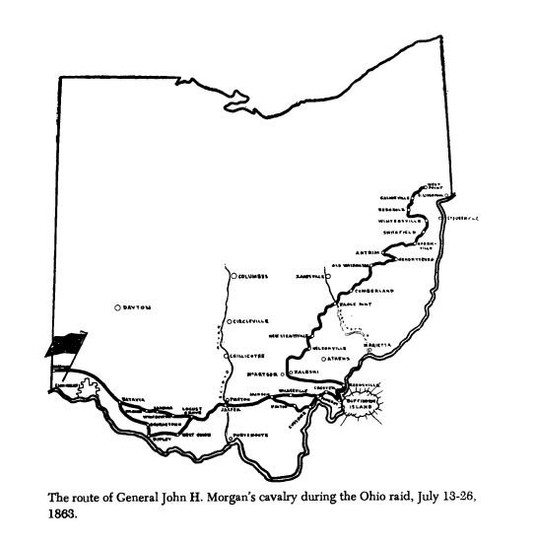 Backstory and Context
From July 13 to July 26, 1863, General Morgan led more than two thousand army men across Southern Ohio. Morgan's mission was to distract and divert as many Union troops as possible from the action in Middle Tennessee and East Tennessee. Ohio Governor David Todd responded by deploying Ohio militia to protect southern counties from Morgan's raiders. On July 18, 1863, Brigadier General John Hunt Morgan along with Confederate troops attempted to escape Ohio into West Virginia while fleeing pursuing Union forces. Morgan and his men would eventually be cut off before their escape across the Ohio River and became engaged in a 13-day conflict along the banks and hills of the Ohio River.
Union Soldiers lead by General Henry M. Judah and local militia surrounded Morgan and his men, blocking Morgan from crossing the Ohio River. The Northern forces would eventually defeat the Confederate raiders as they were either killed, captured, or dispersed into West Virginia and other parts of Ohio. The Confederates suffered a tremendous loss during the conflict. Nearly 750 men were captured, 300 escaped. Beyond that Morgan and 400 hundred additional men would be captured in Columbia County, Ohio.
During the battle, Union forces deployed two U.S. gunboats to engage Morgan and his men from the waters of the Ohio River. This small skirmish was the only naval military action which involved engagement with enemy forces ever to take place in a body of water within the state of West Virginia. The Battle of Buffington Island included James Garfield, Rutherford B. Hayes, and William McKinley. These three Union Soldiers would eventually become United States Presidents.
As early as July 17th, parts of the Ohio River were shallow enough to cross on foot-something that is hard to imagine today given engineering projects that have made the Ohio navigable by large vessels. However, because of an unexpected rising of the water levels, US naval gunboats were able to position themselves into strategic location in the range of Morgan's troops and blocking their escape route.
In the summer of 1999, Dr. Michael Pratt from Heidelberg College, along with his archaeology students, spent several days searching the area of the Battle of Buffington Island. Several significant artifacts were discovered during the exploration including ammunition, military buttons, and buckles, a seated liberty dime from 1857. These artifacts can be observed at the Meigs County Pioneer Historical Society in Pomeroy, Ohio. Several of these artifacts can be seen in included pictures on this page.

The physical location of Buffington Island is located a few miles south from the Memorial park on the Ohio River. Buffington Island is 150 acres and one and a half miles long. Unofficial reports claim that Buffington Island was a part of the Underground Railroad which helped runaway slaves escape to freedom to the Northern states or Canada. In recent history, Buffington Island became included in the Ohio River Islands National Wildlife Refuge.
Sources
Battle of Buffington Island , Ohio History Connection, http://www.ohiohistory.org/museums-and-historic-sites/museum--historic-sites-by-name/buffington-island/Battle-of-Buffington-Island-150th-Anniversary

Time traveler: Buffington island. 2000. American History. 02, https://search-proquest-com.marshall.idm.oclc.org/docview/224069314?accountid=12281 (accessed February 26, 2019).

Swick, Ray "Buffington Island." e-WV: The West Virginia Encyclopedia. 12 July 2018. Web. 26 February 2019.

Still, John S. "Blitzkrieg, 1863: Morgan's Raid and Rout." Civil War History 3, no. 3 (1957): 291-306.

Matthews, Gary R., and Matthews, Gary R. R.. Basil Wilson Duke, CSA : The Right Man in the Right Place. Lexington: University Press of Kentucky, 2005. Accessed February 28, 2019. ProQuest Ebook Central. Page 145

Swick, Ray "Buffington Island." e-WV: The West Virginia Encyclopedia. 12 July 2018. Web. 28 February 2019.

Additional Information