Captain Andrew Offutt Monument
Introduction
Despite remaining loyal to the Union, nearly all of the Civil War monuments in Kentucky are dedicated in honor of Confederate officers and soldiers. This monument to Andrew Offutt, an officer in the 5th Kentucky cavalry under Col. David Rice Haggard, is one of only a few Union monuments included in the list of over sixty Kentucky Civil War monuments that were submitted as a group nomination to the National Register of Historic Places. The monument is located in the Ryder Cemetery and was erected by the Offutt family.
Images
Memorial Statue of Capt. Andrew Offutt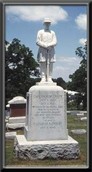 Backstory and Context
Captain Offutt is depicted in a tunic length coat and kepi hat, hands resting on a sword. It is apparent that the family, and likely the deceased, viewed his service as a Union soldier to be one of his most important life contributions, for Offutt lived another 56 years after the end of the War. Of the approximately 125,000 Kentucky men who served in the war, the majority served the Union. 
As a member of the 5th Kentucky Cavalry organized at Columbus, Kentucky, in December 1861, Offutt was mustered in at Gallatin, Tennessee, in March 1862. The 5th Cavalry saw duty in the Armies of the Ohio and the Cumberland, before joining the Military Division Mississippi. Offutt and his regiment were with General William T. Sherman in the Campaign of the Carolinas. The campaign concluded with the surrender of Confederate Gen. Joseph Johnston on April 26, 1865. Together with the surrender of Lee's Army in Virginia, these surrenders marked the end of the War.  
The inscription on the monument reads: Capt. Andrew Offutt / Nov. 9, 1837 / Oct. 7, 1921 / He served in the Federal Army / From 1861 to 1865 in the / 5th Kentucky Cavalry / and went with Sherman / to the sea / His wife / Elizabeth A. Offutt / Sept. 6, 1845
Sources
Joseph Brent, Civil War Monuments in Kentucky, 1865–1935. National Register of Historic Places Multiple Property Submission, 1997.