Historical Marker: "First Abolitionist Publications"
Introduction
This historical marker commemorates the publication of The Manumission Intelligencer and The Emancipator from 1819-20. Although short-lived, these two publications by abolitionist Elihu Embree generated considerable interest from both supporters and those who supported slavery. Several of these weekly and monthly newspapers were preserved, although most were lost. Today, these papers are regarded as the first abolitionist newspapers in the United States. Embree died in 1820, but Benjamin Lundy continued Embree's work by producing the highly influential publication, The Genius of Universal Emancipation. That newspaper was also published in Jonesborough starting in 1821 before Lundy relocated to Baltimore a couple of years later. The links below include a website where the surviving editions of these papers were digitized and available for anyone to read.
Images
Marker in front of Jonesboro First Presbyterian Church, which is the same site where the publications took place.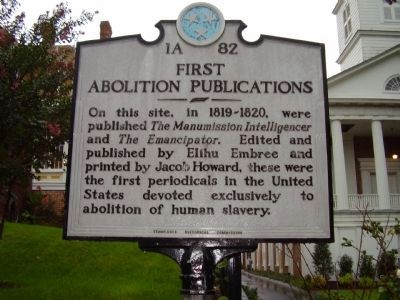 The first issue of The Emancipator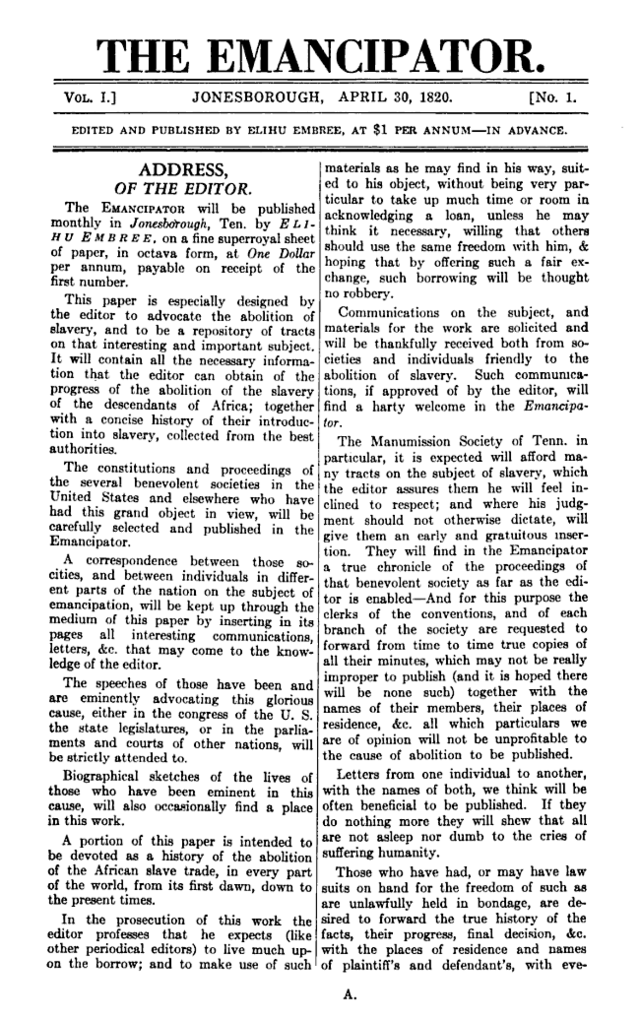 Backstory and Context
Elihu Embree (1782-1820), a Quaker from Pennsylvania who moved to Washington County in eastern Tennessee had originally been a farmer and involved in iron manufacturing. Due to both his poor business managerial skills and growing anti-slavery attitude (perhaps to do a guilty conscience since he was a slave-owning Quaker), he decided he would no longer be an enslaver and granted freedom to the people he had formerly held in bondage in 1812.
A supporting member of the local branch of the Manumission Society of Tennessee, Embree gained the approval of the Society to publish a paper in 1819. The first paper was published under the name The Manumission Intelligencer. The first issue was published in March of the same year. Of 50 issues, only about a dozen survive today, so little is known about the Intelligencer, which had served as a weekly paper.
In April of 1820, The Emancipator was published as a monthly paper and took the place of the previous paper. In both papers, slavery and slave owners were condemned and the general public was informed on the system of slavery and encouraged abolitionism in the nation. The paper only lasted eight months due to Embree's death at the age of 38 of 'bilious fever.' Despite the short lifespan of the paper, it had as many as 2000 subscribers. The paper circulated nationwide, but most of its editions reached audiences in Kentucky and eastern Tennessee.
Additional Information