Fleur-de-lys Studios
Introduction
Built in 1885, the Fleur-de-lys Studios is a unique historical building in Providence. It was designed by Sydney Burleigh and Edmund Russell Wilson in the Tudor Revival style (other artists contributed to the building as well). It is a 2.5 story wood frame structure with decorative stucco artwork in between the timbers. The building was meant to serve as a place where artists could have their studios and this remains the function today. It was placed on the National Register of Historic Places in 1992.
Images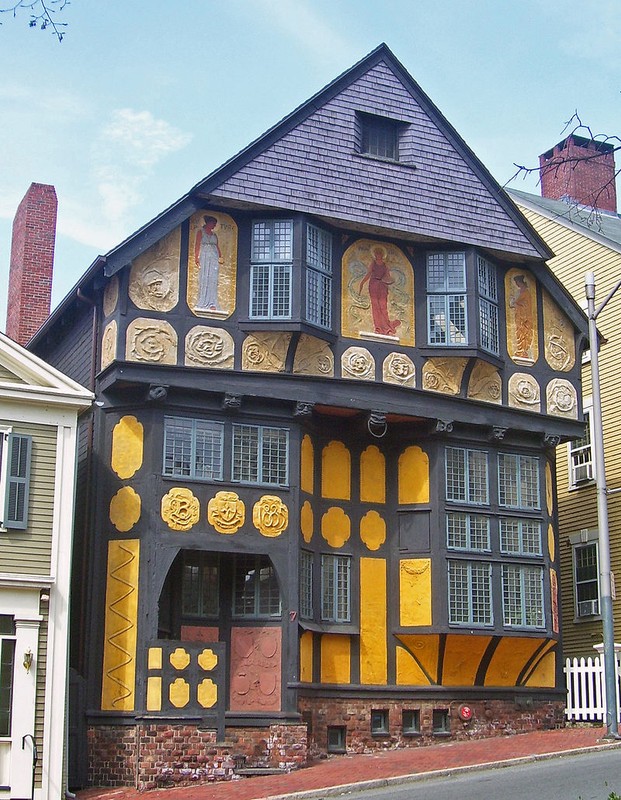 Close-up of the hand-designed artwork.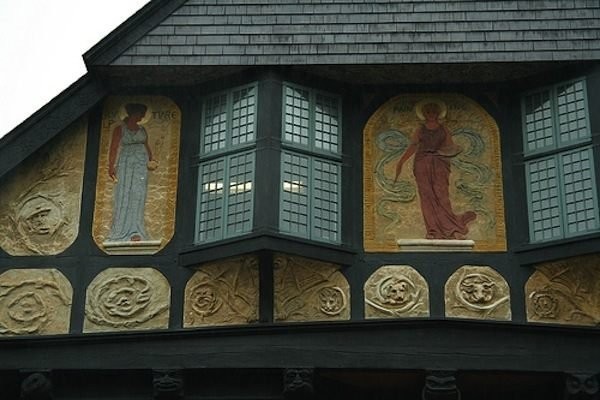 Backstory and Context
The Fleur-dé-Lys Studios (1885) stands as an indispensable architectural monument to the American Arts and Crafts Movement, both to the movement itself and to the broader aspects of American architecture.
By the early 1880s, the Arts and Crafts Movement proliferated in England, existing as a contrast to the increasingly mechanized culture (and perceived lack of creativity) tied to nineteenth-century industrialization. The movement emphasized producing artwork by hand and discovering ways to intertwine art with everyday life, the embodiment of which exists in the Fleur-dé-Lys.
The Fleur dé Lys Studios emerged in 1885 just as the Arts and Crafts Movement took hold in the U.S. Sydney R. Burleigh, a painter, collaborated with Architect Edmund R. Willson in designing the building.
Burleigh studied painting in Paris between 1876 and 1880 before returning to Rhode Island. In addition to the Fleur-dé-Lys, his works were displayed regularly at the National Academy of Design in New York, the Pennsylvania Academy of the Fine Arts in Philadelphia, and Rhode Island School of Design. Burleigh also served on the Board of Directors of the Rhode Island School of Design from 1887 to 1893 and its Board of Trustees from 1919 until his death in 1931. Burleigh's
Willson attended Harvard College and the Ecole des Beaux-arts. His work enjoyed critical acclaim in prestigious professional journals, especially American Architect and Building News by academics of American architectural history.
The studio design is distinct in that it possesses a hand-carved facade comprised of various faux reliefs, unique ornate features, and an eye-catching yellow color scheme, among other characteristics that make it stand out considerably from the other buildings nearby.
Burleigh sought to use the building as his personal workspace, as well as a home to the newly formed Providence Art Club (1880), many of whom provided eclectic furniture that allowed the interior of the studio to be as artful as its exterior, but also welcoming and cozy unlike many art studios of that era.
In 1939, Sydney Burleigh's wife deeded the building to Providence Art Club (located just east) with the stipulation that the structure remains a place for artist studios. Indeed, The Fleur-de-Lys Studio remains under the curation of the Providence Art Club, having hosted the club for more than a century.
Sources
Crawford, Alan. "Ideas and Objects: The Arts and Crafts Movement in Britain." Design Issues 13, no. 1 (1997): 15-26. doi:10.2307/1511584.

"Fleur-De-Lys Studio An Architectural Statement of Artistic Intent Smack in the Middle of Providence, Rhode Island's Colonial Uniformity." Atlas Obscura. Accessed August 31, 2018. https://www.atlasobscura.com/places/fleur-de-lys-studio.

Library of Congress. "Fleur De Lys Studio." Historic American Buildings Survey. Accessed August 30, 2018. http://www.loc.gov/pictures/item/ri0401/.

Woodward, William McKenzie. "Registration Form: Fleur-de-Lys Studios." National Register of Historic Places. June, 1991. http://www.preservation.ri.gov/pdfs_zips_downloads/national_pdfs/providence/prov_thomas-street-7_fle...


Photo Sources
The Fleur-de-lys Studios: By Daniel Case, CC BY-SA 3.0, https://commons.wikimedia.org/w/index.php?curid=3988237

Close-Up: Located at Atlas Obscura, https://www.atlasobscura.com/places/fleur-de-lys-studio
Additional Information