First Baptist Church, Chattanooga
Introduction
First Baptist Church, previously known as Shiloh Baptist Church, is a historic church that dates back to 1866. Construction of the present church building was done by former slaves.
Images
First Baptist Church, Chattanooga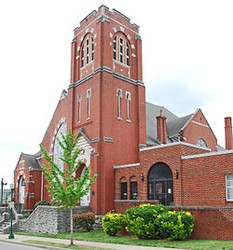 Backstory and Context
The congregation was organized in 1866 as Shiloh Baptist Church by a group of men who had served as soldiers in the Union Army during the Civil War, where it also served as a military hospital during the war. Initially they worshiped in a Blacksmith shop; subsequently they met for worship in members' homes. The church building was built in 1885 with the labor of former slaves. It was added to the National Register of Historic Places in 1979. The church is the oldest Black church in Chattanooga.
For 19 years Chaplain Van Horne served as the first pastor for First Baptist until he resigned. He was followed by A.B. Cross. During Cross's tenure, there was a division within the congregation and out of it came the St. James Baptist Church. G. D. Olden, who followed Cross, oversaw the purchase of land where the church sits today. The cornerstone was laid and construction began. However, further divisions halted construction for a time while a new church, New Monumental Baptist was formed. Work done on the church was done by the hands of former slaves, many if not all, were members of Shiloh Baptist.
The fourth pastor, Michael Vann, had the name changed from Shiloh Baptist, to First Baptist. Two more pastors followed Vann, but both men served a few months. One of them had been called to head a congregation in Philadelphia. The church was completed around 1905.
From 1905 to 1954, three more pastors came through, one of them, C. A. Bell, served the longest: 39 years. He is still honored today for his long and exceptional service. From 1954 to 1995, the longest person to serve as pastor to date was Herman H. Battle. In his honor, a church run academy was named in his honor, 'Battle Academy" and the current look of the church, which saw much renovating, was done under his care.
Today the church is still very active for both the local African-American community and the local Chattanooga community and is now lead by its 13th pastor, William Terry Ladd III.
Sources
http://en.wikipedia.org/wiki/Shiloh_Baptist_Church_(Chattanooga,_Tennessee)
Additional Information