African American Museum of Nassau County
Introduction
The African American Museum in Hempstead, NY is one of only two museums related to African American history in the northeastern part of the United States. The museum has several permanent and travelling collections, offers a variety of educational public programs, and hosts many events throughout the year. Permanent collection highlights include the Black Heritage Stamp Series-Honoree Portraits; Black Royals: Queen Charlotte and Queen Philippa; "Eubie's Corner" (Memorabilia of Hubert "Eubie" Blake which includes his grand piano); "It's Eclectic!" Sculptures and Artifacts from African and the Diaspora; a Liberian wood-carved mural and Rosa Parks: The Spark that Lit the Fame.
Images
African American Museum of Nassau County. Photo courtesy of AAM website.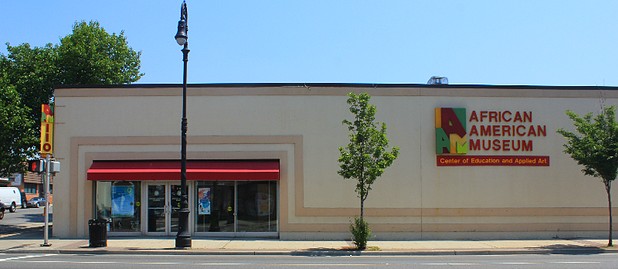 Backstory and Context
This museum has been managed by The African Atlantic Genealogical Society, Inc. (TAAGS) since February 26, 2012 which has allowed them to expand their programming.1 A variety of programs are sponsored by the New York State Council on the Arts as well as screening and discussion programs. The current Saturday class schedule includes the following: Hands-On-Art, English as a Second Language (ESL), and preparatory classes for the U.S. citizenship test. The museum also participates in two annual art festivals, ArtHamptons and ArtMarket Hamptons (see Links for more information). In 2005, the museum was awarded American Legacy Magazine's "Heritage Award for Preservation of African American History and Culture" making it one of only ten museums to hold this honor.
The African American Museum of Nassau County began in February 1968 when Professor Leroy Leonardo Ramsey displayed an exhibit on Black History at Nassau Community College to celebrate Black History Month.2 The exhibit became so popular that it was left in place after the end of the month and Professor Ramsey rotated his own personal collection of artifacts within the exhibit. He soon realized more space was needed and the collection was moved to a store front located at 106-A Main Street in Hempstead, NY. This location was named Professor Ramsey's Black History Exhibit Center. In 1984, Nassau County purchased the site of the current location and the center was renamed the African American Museum of Nassau County. The current facility opened in 1985 and is continually being updated.
Sources
1, 2 "Mission and History" accessed June 12, 2015, http://www.theaamuseum.org/#!mission-history/cfvg
Additional Information