Quincy House
Introduction
This house was built in 1770 by carpenter Edward Pierce for Colonel Josiah Quincy and his family. The third home of Josiah Quincy, this mansion included seven hundreds of rolling fields that stretched from the bay to Hancock Street in what was then known as Braintree. Quincy was about sixty years of age when the home was complete and the wealthy merchant and shipowner also served as the community's justice of the peace where he heard cases brought to the court by future President John Adams. Colonel Quincy began writing in favor of the patriot cause and with the exception of one of his sons who remained loyal to England, his family was influential in supporting the American Revolution both within the colonies and in Europe. Today, the mansion serves as a house museum with artifacts related to the Quincy family and their role in the Revolution.
Images
Constructed in 1770, this New England style Georgian mansion was home to Colonel uincy and his influential family.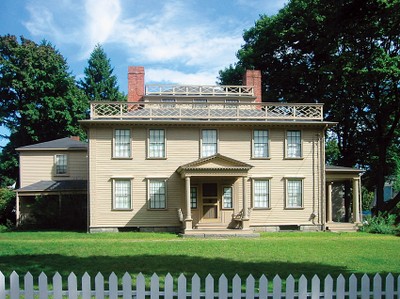 Backstory and Context
Revolutionary leader Josiah Quincy built the house in 1770. Quincy and his family played key roles in the social and political life of Massachusetts for generations, producing three mayors of Boston and a president of Harvard. In the early 1880s Eliza Susan Quincy made it her life's work to document the historic significance of her family's home. She kept journals, inventoried the contents of the house, commissioned photographs of the interior, and persuaded relatives to return heirlooms so that the house could become a repository of Quincy family history.
Among the house's unusual features is its "monitor," or half-story space above the roof with small windows on all sides. From this prospect Colonel Quincy had a clear view of shipping lanes in and out of Boston Harbor, and during the months leading up to the Revolution, he spent hours watching troop movements. On October 10, 1775, he scratched "Governor Gage sail'd for England with a fair wind" into one of the windows of the monitor roof. That pane of glass was carefully preserved by the family, and is on display at Quincy House today.
Visitors also see two remarkable examples of New England furniture making: a high chest that miraculously survived two fires and a rare mahogany bombé chest that is one of only forty of its kind.
Additional Information