Mission San Jose (CA Mission #14)
Introduction
Founded in 1797, the fourteenth of California's missions proved one of its most enduring and successful through the early 1800s, though in 1829 it was the epicenter of a major Native American rebellion fomented by the legendary Yokut leader Estanislao. A devastating earthquake in 1868 destroyed the original chapel and other structures, and despite several reconstructions in the 19th and 20th century, Mission San Jose was largely in ruins until 1982, when a full restoration project was undertaken. The only surviving original adobe structure, the dormitories of the Spanish padres, was restored and a faithful reconstruction of the Mission's first chapel was built. Today, Mission Jose continues to hold regular services as part of the Catholic Church's Oakland Diocese. A small museum in the dormitory wing educates visitors about the lives of Spanish and Native American alike through the 1800s.
Images
Mission San Jose in early 1860s, before the devastating earthquake that destroyed the original adobe chapel. It would be over a century before the present-day replica was constructed.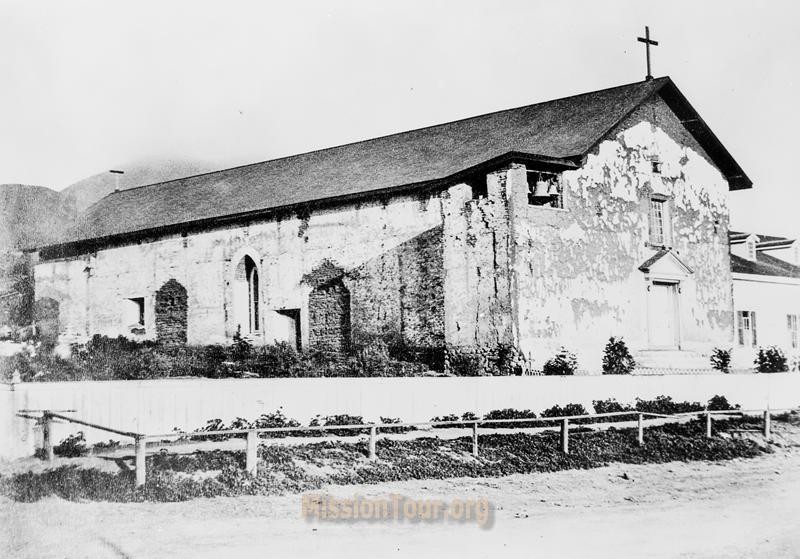 The Mission in disarray after the 1868 earthquake. Often mistakenly called Mission San Jose de Guadalupe for the nearby pueblo, its original name was actually Mission del Glorisissimo Patriarca San Jose: Mission of the Glorious Patriarch Saint Jose.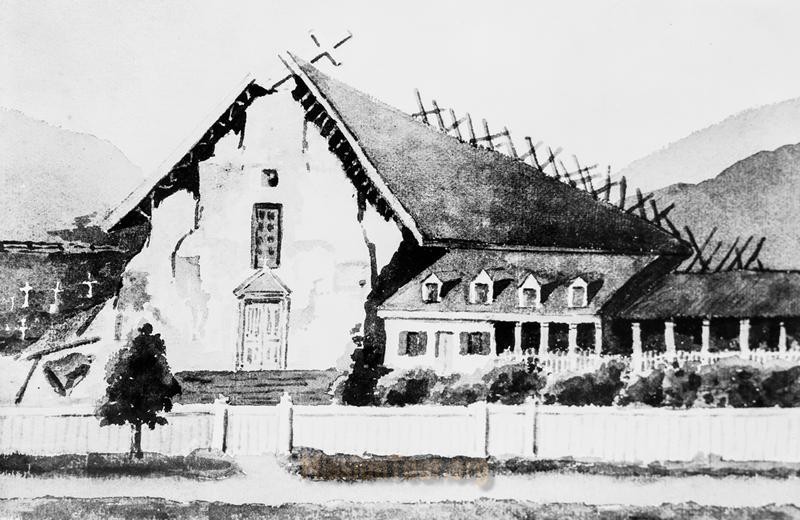 A 1915 memorial to the Ohlone Tribe that had was the backbone the mission's original construction, and which was largely decimated by European colonization. The memorial resides on a nearby hillside.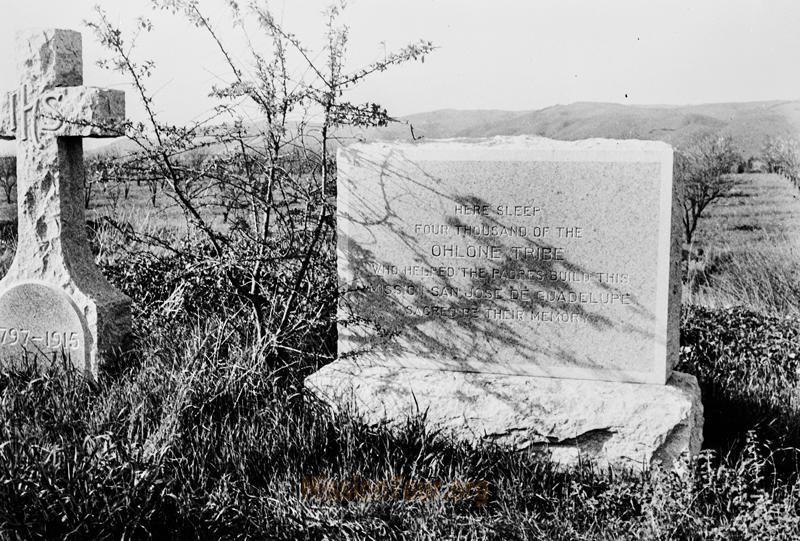 The Mission's layout circa 1830, during its Spanish heyday.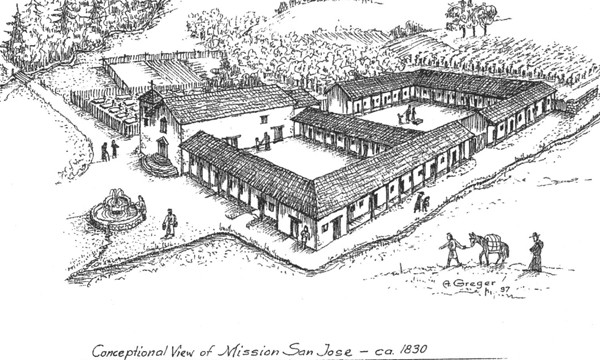 The present-day chapel, reconstructed to closely resemble the original and built with adobe (albeit with seismic upgrades to withstand further earthquakes).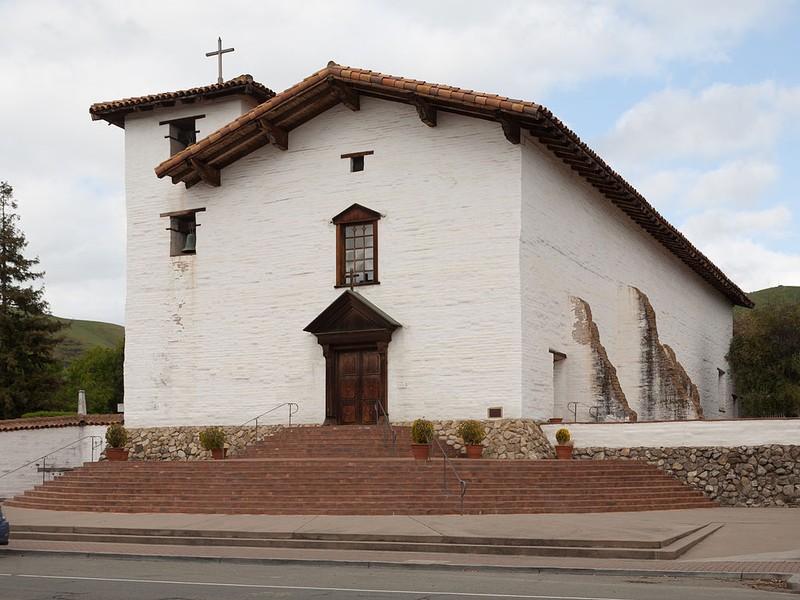 A 1994 statue of Estanislao in nearby Modesto, who led a cross-tribal alliance of roughly 4,000 California Native Americans against the Spanish. A former neophyte himself, he was eventually defeated in 1829.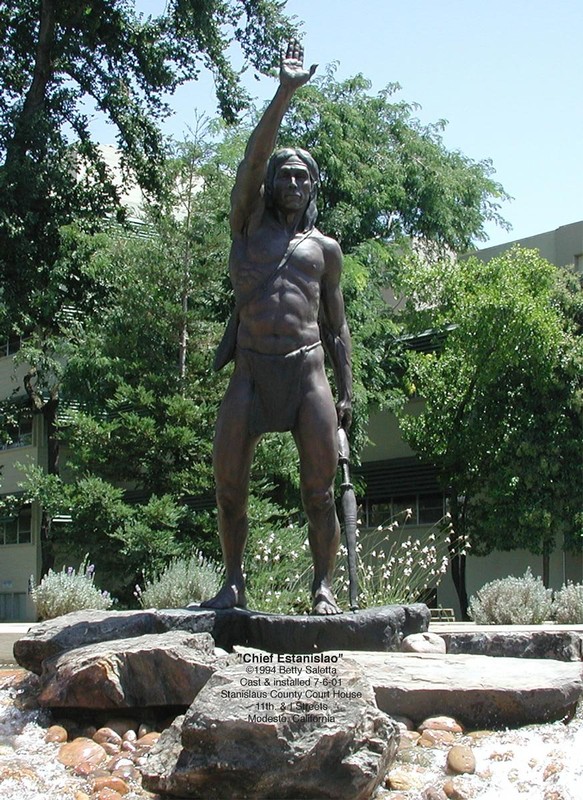 A sketch made in 1806 of Mission San Jose Natives during a ceremonial dance, as drawn by German explorer Georg Heinrich von Langsdorff (courtesy of the Bancroft Library).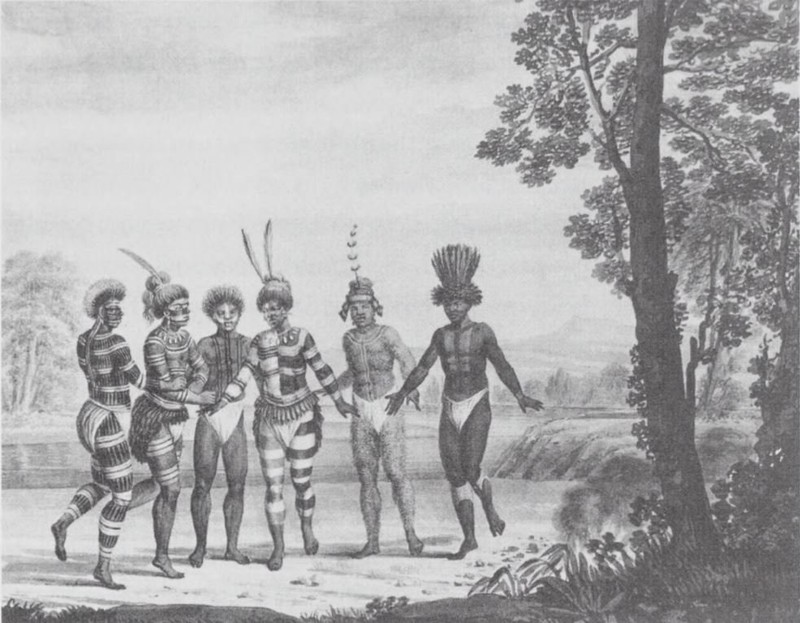 Present-day interior of the chapel, as it was reconstructed in 1985.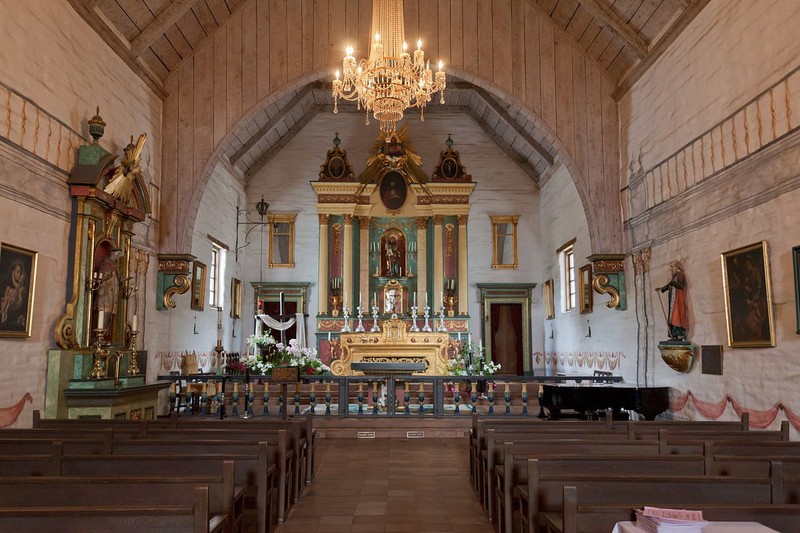 A 19th-century engraving of Padre Narciso Duran. Duran had a reputation as a jovial leader with great fondness for music, but he may also have been given to fits of depression.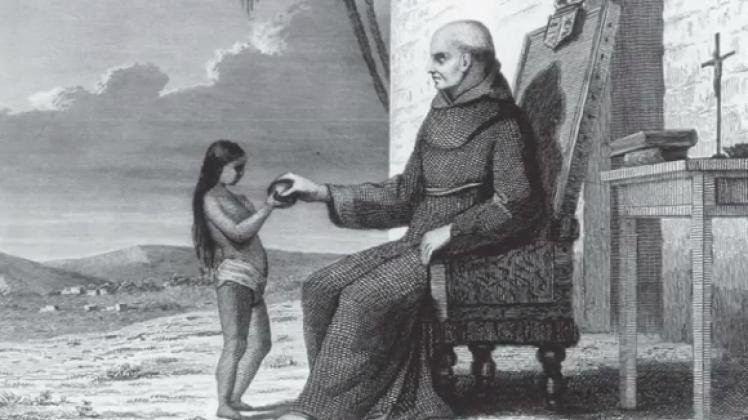 Another view of the Mission's chapel sometime before the 1868 earthquake. Much of the whitewash on the walls has been lost (HistorySanJose.org)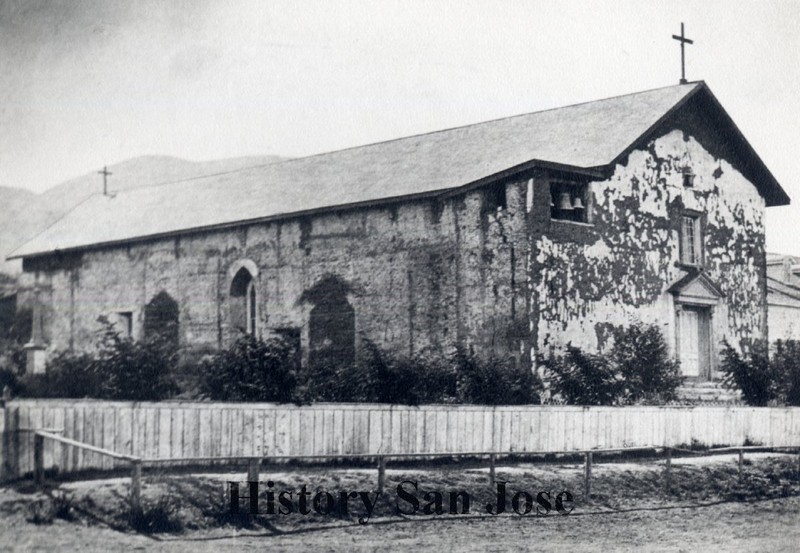 An artist's rendition of the wooden Gothic Revival chapel that replaced the original between 1869 and 1982 (UC Berkeley, Bancroft Library).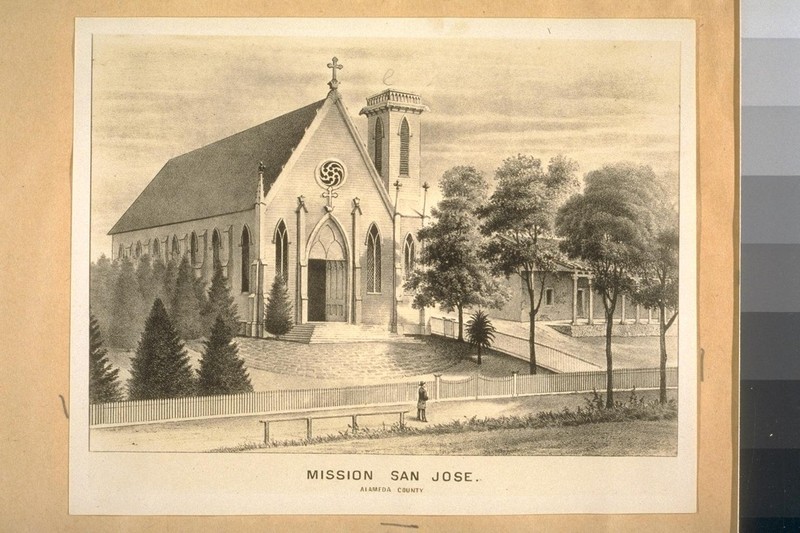 Backstory and Context
In the 1790s, after several overland Spanish expeditions had explored farther north along the San Francisco Bay's eastern edge, the future site of Mission San Jose was selected to help fill the gap between Mission Santa Clara (at the Bay's southern tip) and colonial establishments farther north. Located in a fertile area with plentiful space for cattle and crops, it provided an ideal outpost at the edge of the mountain pass now known as the Sunol Grade.
Padre Fermin Francisco de Lasuen, then president of the California missions, arrived with a small military escort on June 11, 1797 to christen "La Mision del Gloriosissimo Patriarca San Jose" (Mission of the Glorious Patriarch Saint Joseph). Temporary wooden shelters thatched with native grass and a stockade were thrown up, and by the end of the month the new mission's first priests arrived--Padres Isidoro Barcenilla and Agustin Merillo. Cattle partitioned from the herds of neighboring missions were driven to the growing settlement, providing the nucleus for the rich cattle herd for which San Jose would later be known.
On the backs of Native laborers--mostly Ohlone peoples from the surrounding area, many of whom had lived in a town called Orisom where the mission was located for thousands of years prior to the arrival of the Spanish--the Mission grew steadily until its population of 1,806 stood second only to Mission San Luis Rey by 1824. Measles outbreaks introduced among the native population by European contact ravaged the Bay Area from 1806 to 1810, killing approximately a third of the locals. Visiting German explorer Georg Heinrich von Langsdorff nevertheless described the scene at San Jose in 1806 thusly:
"...Fray Pedro showed me about the buildings and grounds belonging to his mision. They are of considerable extent, although it only eight years since work was begun on them. Grain in the storehouses, as to quantity, greatly exceeded my expectations, there being over 2,000 fanegas of wheat, and a proportionate quantity of maize, barley, peas, beans, etc. The kitchen-garden is exceptionally well laid out and kept in very good order. The soil is everywhere productive, and the fruit trees, although still small, are doing very well….The site of the establishment is exceedingly well chosen, and the common opinion is that the mision will in a few years be one of the richest and best in Nueva California."7
That same year, Padre Narciso Duran took charge at San Jose, where he would remain until he moved to Mission Santa Barbara in 1833. One of the more famous of the Catholic friars in California history, Duran was would oversee most of San Jose's most prosperous years--and its most dangerous. In 1829, a rebellion led by a former Mission resident, Estanislao, ransacked outlying Spanish settlements and stole cattle and crops. Estanislao, whose original name is long lost to history, was likely a member of the Yokut tribe and brought to San Jose as a young man. Baptized by Duran and renamed after the Polish Saint Stanislaus, the young man eventually rose to the rank of alcalde. The alcaldes were Native neophytes (Catholic converts) who had achieved the highest rank allowed the indigenous peoples within the Mission system--that of an overseer or supervisor. As one of these, Estanislao may have been required to enforce punishments against his fellow neophytes, or retrieve those who had run away from the Mission.
The reasons for Estanislao's rebellion are not entirely clear, but after escaping the Mission in 1827, by 1828 his raids against the surrounding ranchos and settlements had grown beyond the capacity of the Spanish to tolerate. Two expeditions sent against him, woefully inadequate to challenge Estanislao's coalition of several thousand Native Americans, met with defeat and loss of life. Finally, a third expedition under Lieutenant Mariano Vallejo (after whom the city of Vallejo is named) joined battle with Estanislao's forces on the Rio Laquisimas (now known as the Stanislaus River, after Estanislao) on May 19, 1829. After several hours of fighting, Vallejo's men set fire to the brush surrounding a strongly fortified hill protecting Estanislao's forces. Combined with artillery fire from Vallejo's three-pounder cannon, the flames consumed Estanislao's fortress and flushed his warriors from their positions. A running battle for the next several days broke the Yokut leader's forces, though Estanislao himself survived to return to the mission and be pardoned later that year. Though he did not give up sporadic raids against the Spanish until 1833, for the last several years of his life he taught the Yokut language to neophytes at Mission San Jose until his death in 1838.
When the newly independent Mexican government seized the missions in 1833, San Jose was the last to be secularized and fared better than most. While others fell into disarray or were abandoned, San Jose survived under government supervision until ownership was returned to the padres in 1843. A mere three years later, however, opportunistic Governor Pio Pico sold the mission for $12,000--an act promptly annulled when the United States annexed California the following year.
San Jose soldiered on until 1868, when a devastating earthquake destroyed the adobe chapel and several other structures. A wooden Gothic Revival chapel was built in its place, which remained until it was moved in 1982 for the reconstruction of the original adobe, completed in 1985. Restoration of the priests' quarters was accomplished in 1915-1916, and a grove of olive trees planted during Mission San Jose's early years remains at the site. The present-day chapel is still used for Catholic services. A museum about the Mission's history occupies the former dormitories, featuring exhibits and artifacts about mission life.
Sources
1. "California Missions." Lowman Publishing Company, Arroyo Canyon, CA. 2011. Mission San Jose is on page 21.
2. Milliken, Randall (2008). Native Americans at Mission San Jose. Malki-Ballena Press Publication, Banning, CA.
3. McCarthy, Francis F. (1958). The History of Mission San Jose, California, 1797–1835. Academy Library Press, Fresno, CA.
4. Young, S., and Levick, M. (1988). The Missions of California. Chronicle Books LLC, San Francisco, CA.
5. Baxter, Don J.. Missions of California. San Francisco, CA. Pacific Gas & Electric Company, 1970. Compiled from a series of articles in P.G. and E. Progress

6. Hoover, Mildred Brooke. Rensch, Hero Eugene. Historic Spots in California. Edition 3. Stanford, CA. Stanford University Press, 1958. Mission San Jose, pp.215-217.


7. Paddison, Joshua.
A World Transformed: Firsthand Accounts of California Before the Gold Rush
. Berkeley, California. Heyday Books, 1999. pp. 124-134. Accessed through Archive.org
8.Native Rebellion in Central California. The Revolutionary Hip-Hop Report. July 14, 2010. Accessed March 13, 2019. https://rhhr.wordpress.com/2010/07/14/native-rebellion-in-central-california/.
9. Clarke, Chris. Untold History: The Survival of California's Indians. KCET. September 26, 2016. Accessed March 13, 2019. https://www.kcet.org/shows/tending-the-wild/untold-history-the-survival-of-californias-indians.
10. Patterson, Richard. Estanislao, Rebellious Indian Warrior. HistoryNet. June 12, 2006. Accessed March 13, 2019. https://www.historynet.com/estanislao-rebellious-indian-warrior.htm. Originally published in Wild West Magazine, December 2000.
11. Duhaut-Cilly, Auguste. Translated by Fruge, August and Harlow, Neal.
A Voyage to California, the Sandwich Islands, and Around the World
. Berkeley, California. University of California Press, 1999. pp. 126-132
Additional Information