Original Waterfront of Baker's Bay (Main Street) 1880
Introduction
Historically, the area along Baker's Bay was waterfront up to where you are standing on Main Street. Along the shoreline there were a number of boathouses where boats were constructed and repaired, including the Kola boat house which sits near Williams Street behind the port of Ilwaco parking lot. It still exists today. To see a video created by local students about the history of the Kola Boathouse, click the link below.
Images
Original waterline of Baker's Bay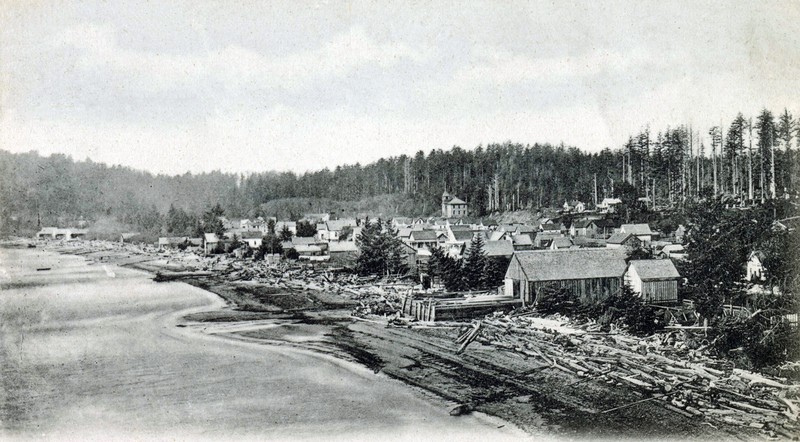 Arial photograph of Ilwaco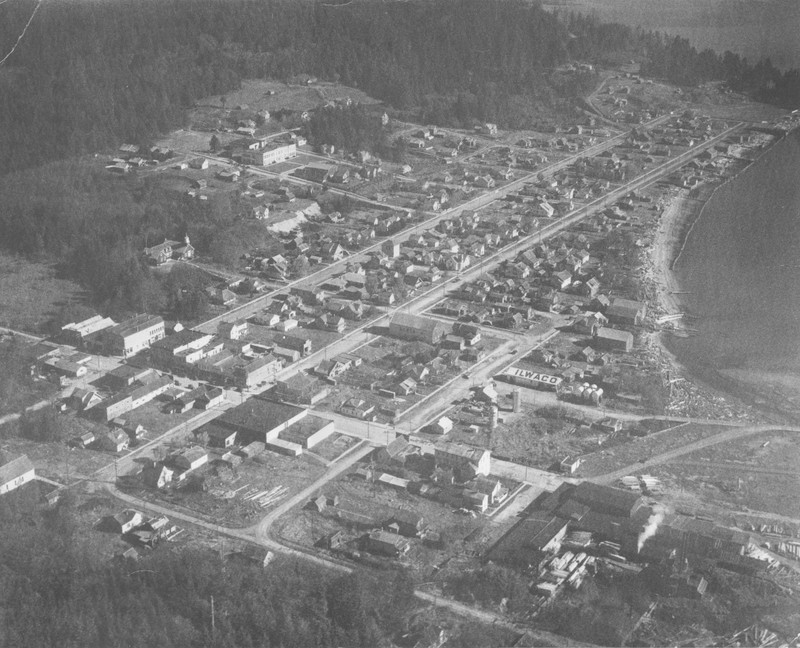 Kola Family from L-R: Signe and John Kola, Jr., Hilma, Mary and Matt Lampi, Juho and Briita Kola.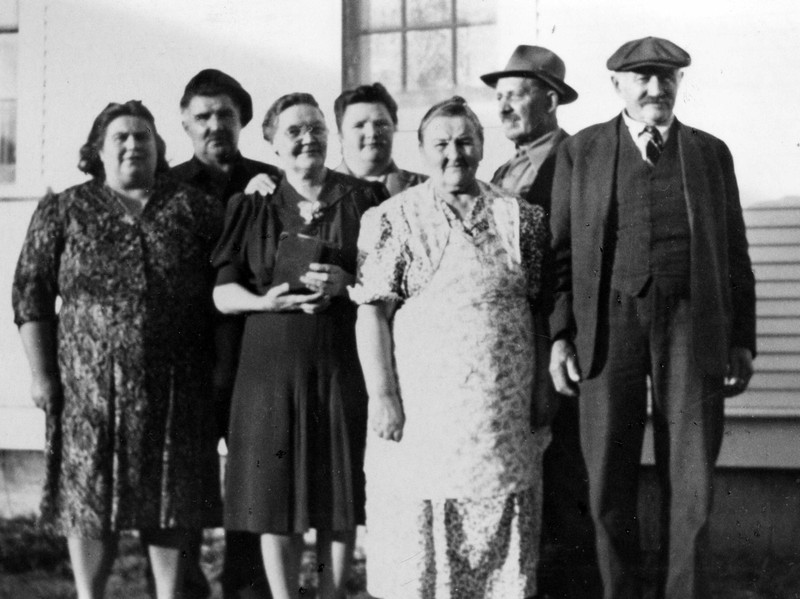 Launching AALLOTAR - Juho Kola, Axel Fox, John Kola (L-R)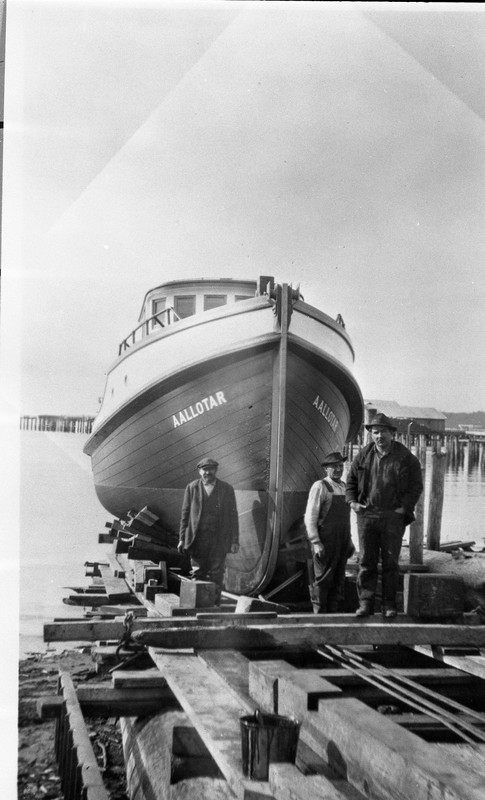 AALOTAR built and owned by Otto & John Kola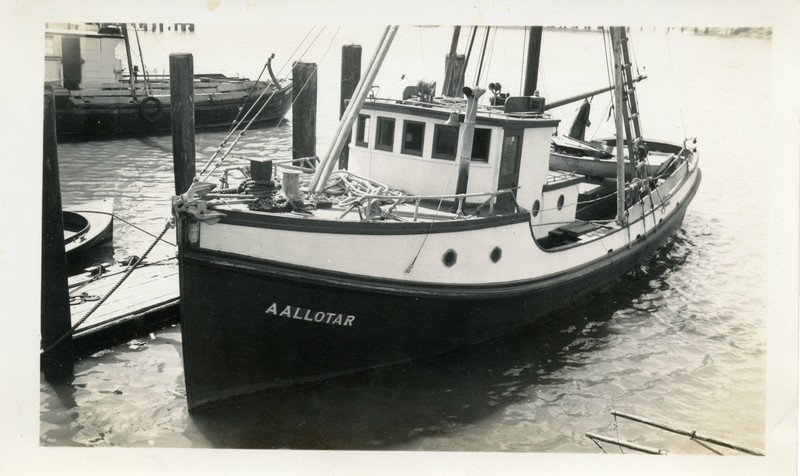 Inside the Kola Boathouse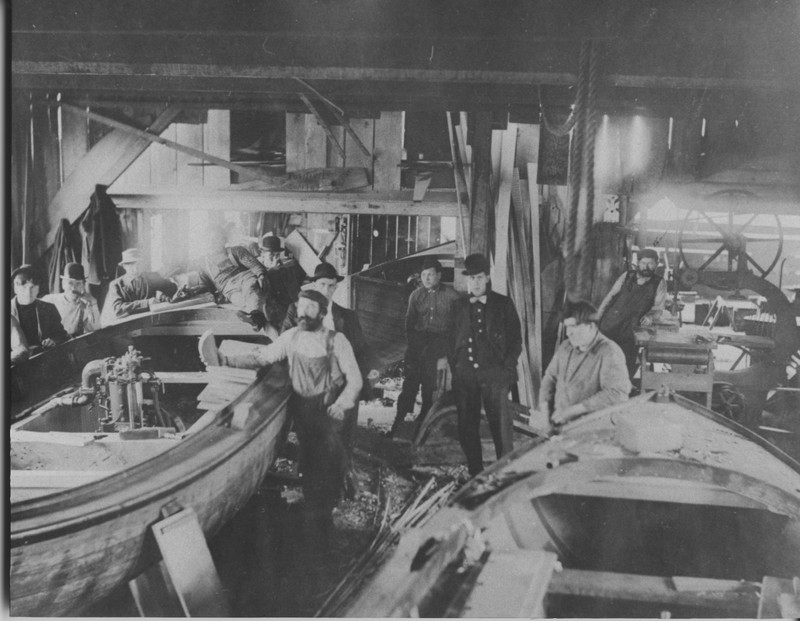 This photo shows how a boat was launched from a boat shed on the the waterline into the water. This is FV WASHINGTON built by John Lampi.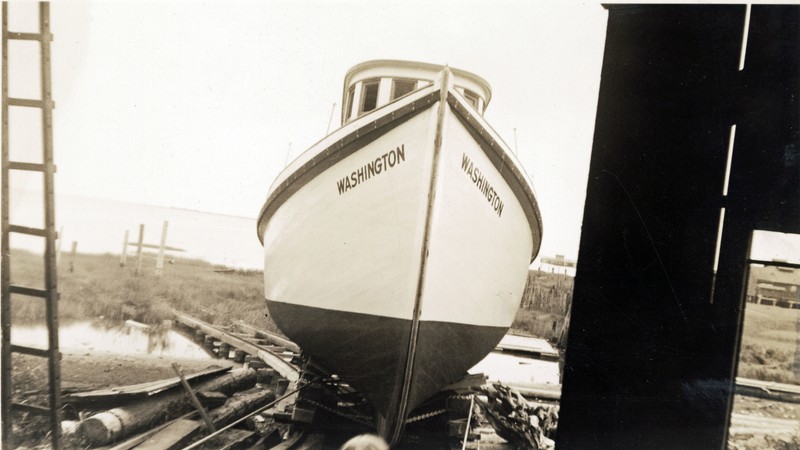 Backstory and Context
Port of Ilwaco
In 1911, the Washington Legislature, reacting against private railroad companies' domination of docks and harbors, authorized local voters to create publicly owned and managed port districts. Since then, Washington public ports have spurred economic growth by enabling local communities to acquire and manage resources that promote trade and commerce.
On March 4, 1928, the Port of Ilwaco was created by popular vote. In 1946 the Port petitioned the United States Corps of Engineers to build a mooring basin. Among the reasons cited for the expansion was "The tourist business is rapidly becoming one of the major sources of revenue to the Long Beach peninsula. Every year an increasing number of peoples come to this playground area in pleasure craft where they have sports fishing in the Columbia River and the Ocean and the beach resorts all within a radius of a few miles."
The Port of Ilwaco has continued to expand and improve the mooring basin. Today the port has an 800-slip marina that serves both recreational boaters and commercial fishermen alike. There is guest moorage available year-round, as well as a back-in launch, two small boat hoists, and two fuel docks. Additionally, the Port of Ilwaco has a 50-ton travelift, a self/full-service work yard, and dry boat storage facilities. 
Kola Boathouse
John (Juho) Kola arrived in Ilwaco in 1891. He had emigrated from Kaustinen, Finland, with his wife Briita Lena Winturi. They spent some time in Astoria and he worked two years at the Knappton lumber mill before settling here permanently. 
John Kola began his fishing career on the Columbia in a sailing vessel, later he was the first Ilwaco fisherman to use a gas-powered gillnet boat. He was well-known as a boat builder and construction carpenter in Ilwaco. His boat-building skills were held in high esteem throughout the fishing community, leaving him no shortage of work. At first, he concentrated on gillnet boats, for which there was a steady demand, especially after the introduction of gas engines. Sailing gillnetters needed conversion to power, and new designs for powerboats demanded innovations. When trolling began in the early 20th century, gillnetters raised the height of their boats and took them across the bar. It soon became evident that entirely new designs needed to be developed. John Kola, Sr. and his sons Otto and John, Jr. became widely known for their seaworthy, Finn-built trollers, and the high quality of their workmanship. When John, Sr. retired, Otto and John, Jr.John, Jr., and Otto continued the boat-building business and tradition started by their father.
John Kola passed away in January 1947. He was a member of the Finnish Congregational Church in Naselle. Rev. Ellis Koven officiated his service and burial in the family plot in the Ilwaco cemetery.
The Gerttula Boat Yard
The Gerttula Boat Yard in Ilwaco didn't just service the fishing industry. In its heyday, the Gerttula Yard also built working watercraft for other industries. Well through the mid-1980s, most timber-related facilities in the Pacific Northwest depended on boomed logs to feed the mills. At one time, the operation of booming yards required crews of skilled workers in calk boots (studded logging boots) to skid logs with pike poles in hand, in order to maneuver raw materials from the booming yard to the mill race. It was an extremely dangerous occupation; one where a single misstep or a simple miscalculation could result in sudden death. With the introduction of the boom boat, one man from the safety of a stoutly-built little boat could do the work of a dozen men. It was a significant advance in protecting the lives of one of the timber industry's most at-risk working groups. The working know-how of the shipwright's craft in such facilities as Ilwaco's Gerttula Boat Yard is what made that advance in worker safety possible. The Gerttula Boat Yard is a fine example of how hands-on working knowledge and craftsmanship made a difference in our regional economy.
Sources
CPHM Research Files; The Tribune – January 31, 1947.
https://www.youtube.com/watch?v=lAZ0SxqSg4g
Image Sources
CPHM Photo Archive - 1987.039.006

CPHM Photo Archive

CPHM Photo Archive

CPHM Photo Archive - 1988.39 171.346b

CPHM Photo Archive - 2017.050.054

CPHM Photo Archive - L2000.24.31

CPHM Photo Archive - 1992.029.511j2

Additional Information