Reds Corner Café ca. 1953
Introduction
Red's Corner Café , which later became Red's Restaurant and Flame Room was located on the west side of First Street between Spruce and Lake. Red's became a very popular place to go. On busy weekends, bands would play in the lounge and people would crowd the restaurant. After becoming an antique mall in the 1990s, the building was burned in a fire.
Images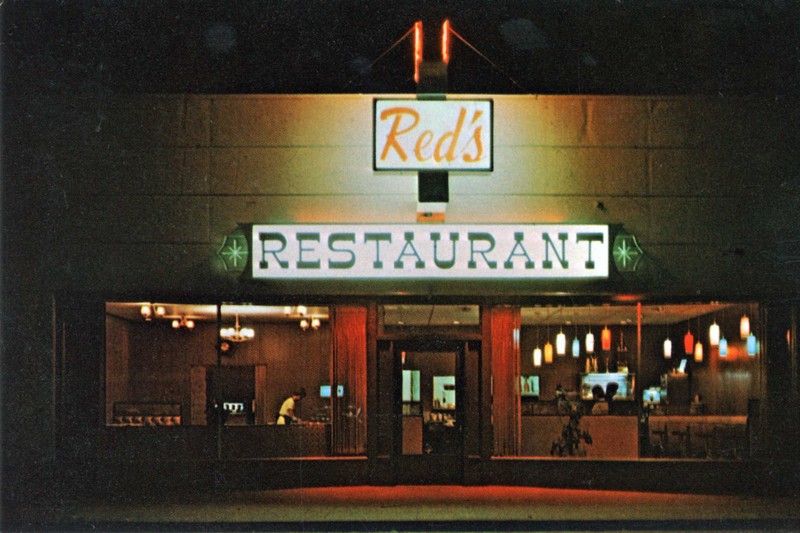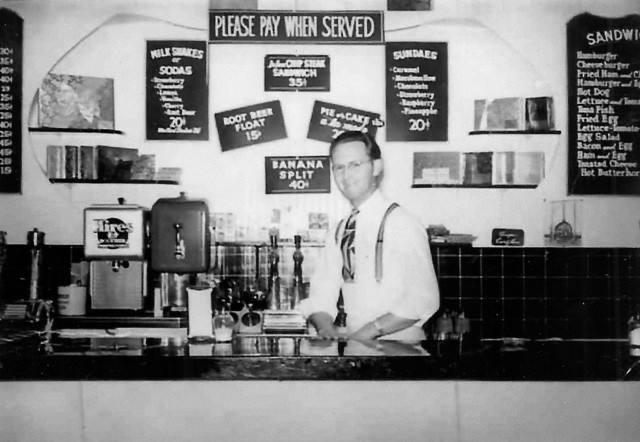 1st Street looking South with Red's pictured c. 1940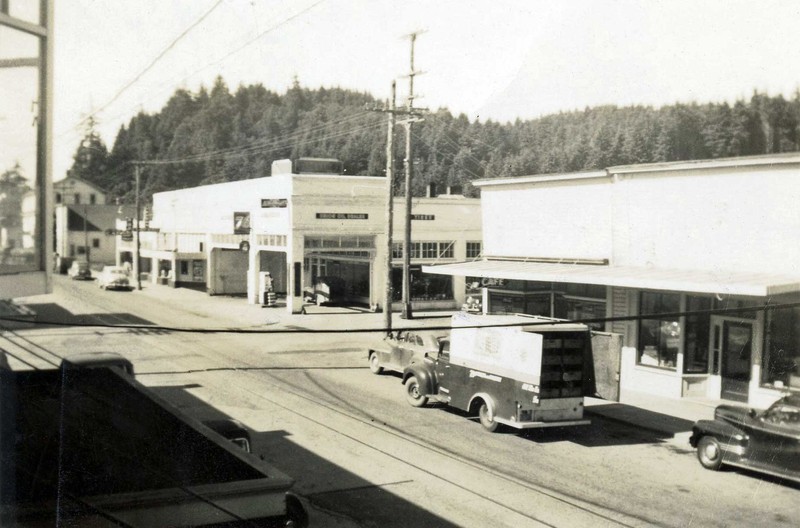 August 18th 1967, Marv Owen's Trio and Sue from Las Vegas, NV playing at Red's.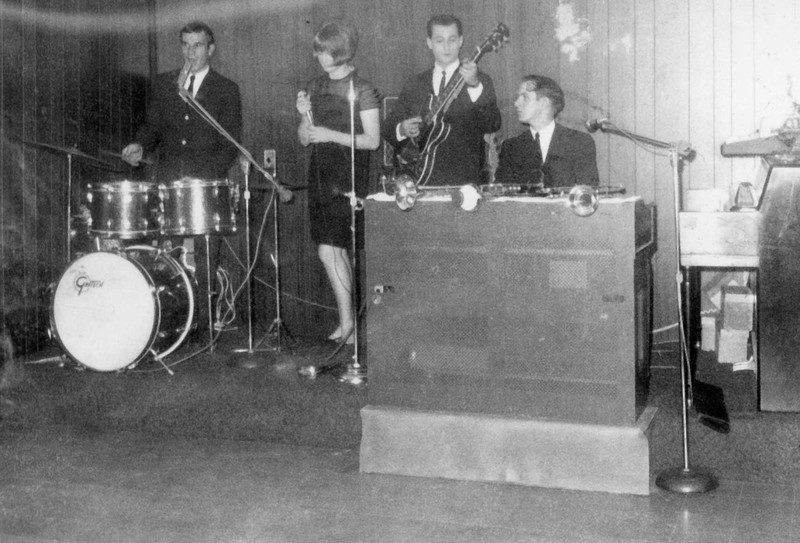 August 18th 1967 interior of Red's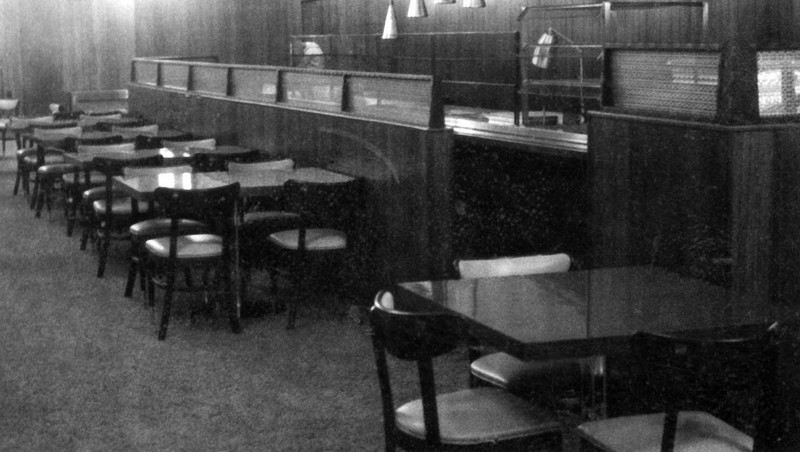 August 18th 1967 Red's buffet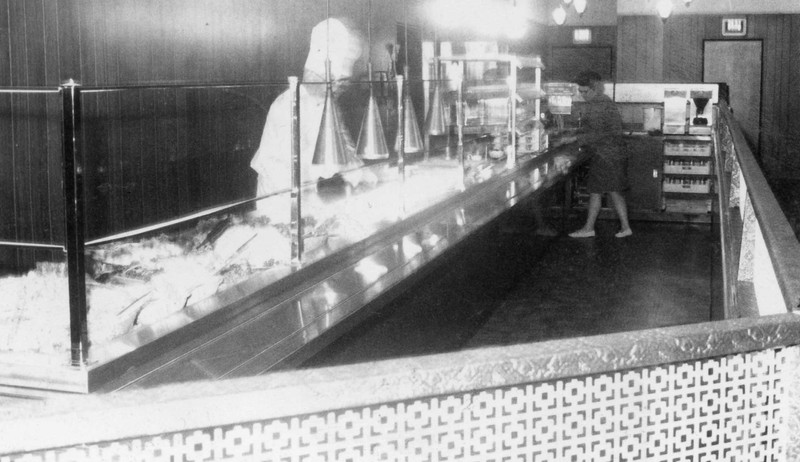 1st Street Ilwaco looking North. 1995, photo by Wayne O'Neil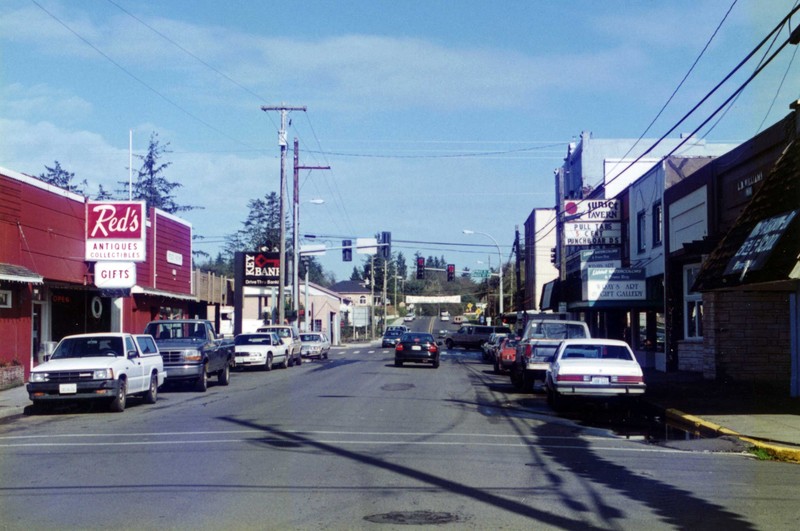 A bustling day in downtown Ilwaco. Boats lined up waiting to launch at the Port of Ilwaco.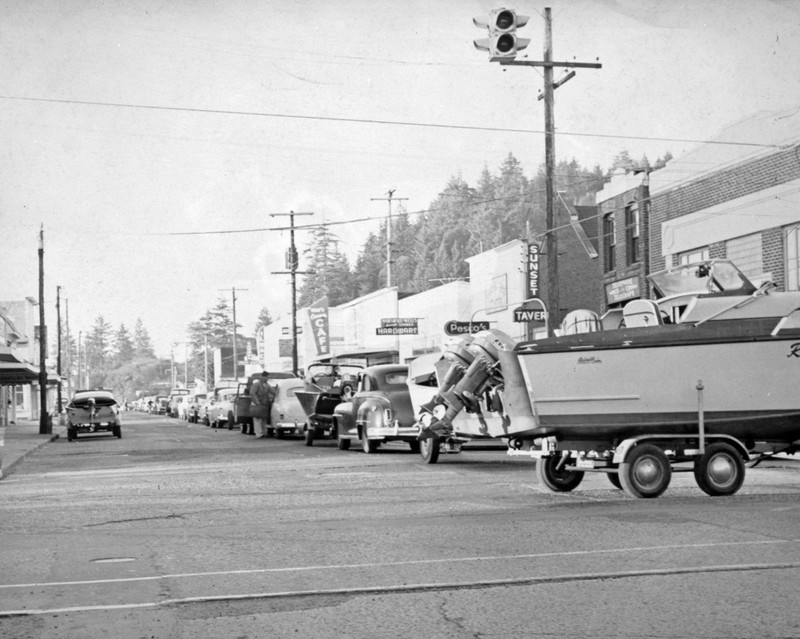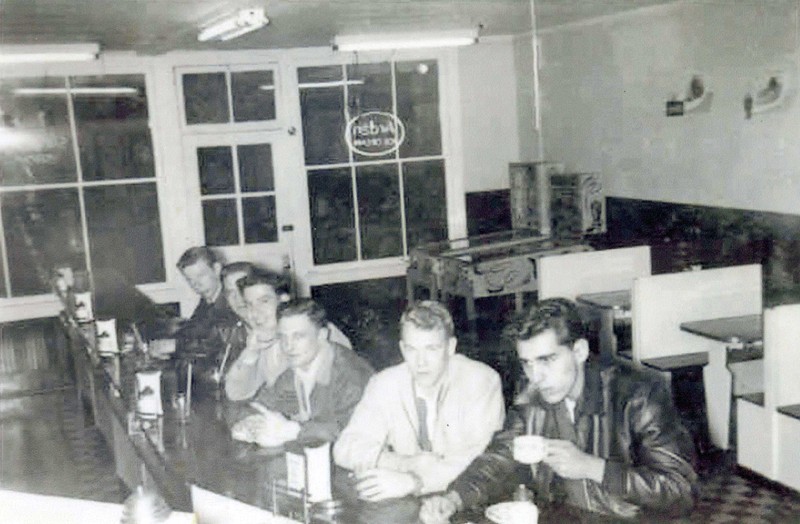 Donna Alexander working at Red's in the 1960s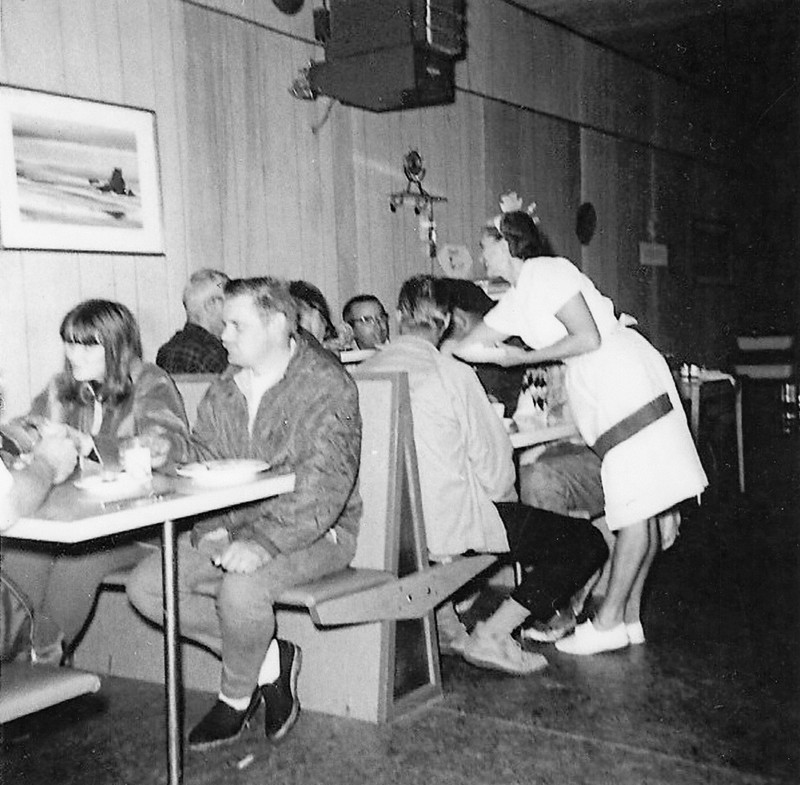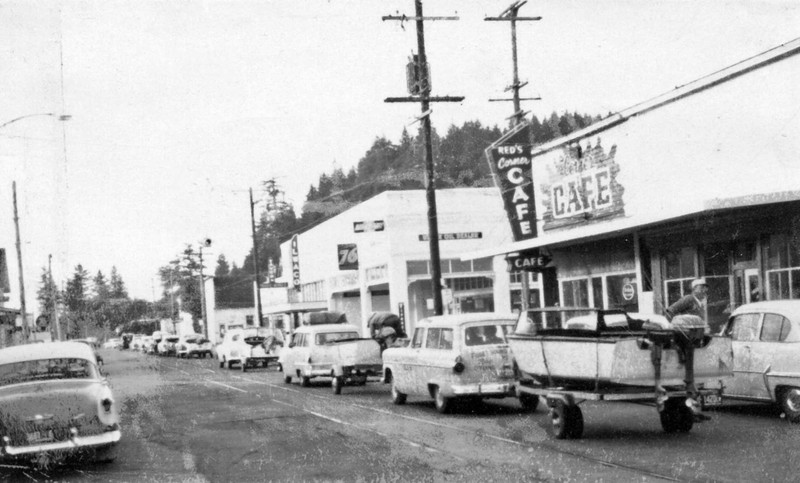 September 1st 1967, Carmen & His Carousels rock band at Red's.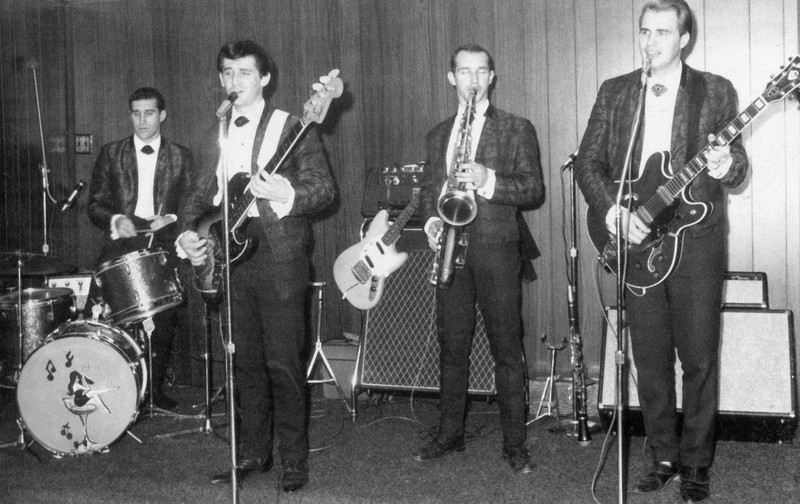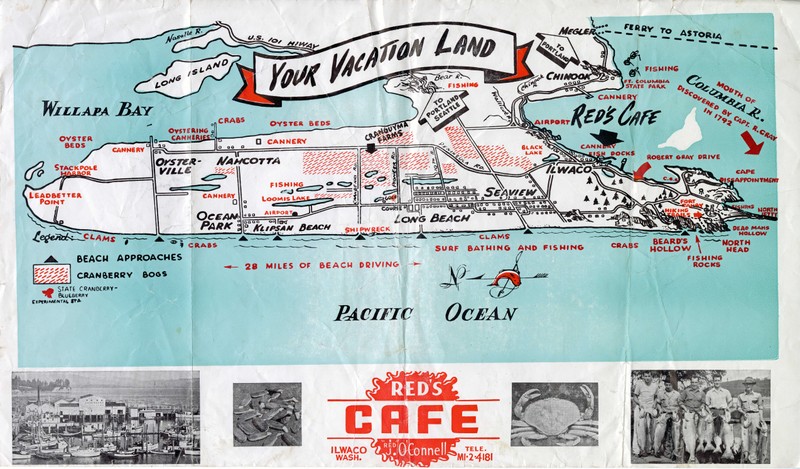 Backstory and Context
Many restaurants have come and gone on the Long Beach Peninsula. Some were easily forgotten and some like Red's live long in the community's memory. Red and Helen 'Smokey' O'Connell moved to the Long Beach Peninsula in 1939, opening a small sandwich shop in Long Beach. After the war, they expanded the business. In 1950, they took advantage of an opportunity to buy an ice cream parlor in Ilwaco, which was the cornerstone of what would become known as Red's Café. In 1957, Red and Smokey purchased the adjoining businesses of Hebo the Tailor, Pesco's Pool Hall, and Lusk's Hardware.
By 1967, Red's was complete. Red's Restaurant and Flame Room Lounge had a 42-foot long Chuck Wagon Buffet, several meeting rooms, a 15-foot x 16-foot dance floor and room for live music. When finished, Red's had room for 350 people within its various rooms.
Red's was one of the most popular places to eat for locals, sport fishermen and a very popular place for Ilwaco High School students to get a Coke and fries. Both Red and Smokey were well-liked and great employers and friends to the many people who worked and ate at Red's.
By the 1970s, fishing seasons were increasingly restricted, which took a heavy toll on the local economy. Bowing to the inevitable, Red and Smokey decided to retire in 1981. Red's Cafe was put up for sale and closed for business.
In 1986, Dick and Betty Lundquist and Gerald and Lucille Fritts purchased the business. The building was remodeled and Red's reopened under the same name on May 23, 1986. Later that year, the Lundquists became sole proprietors. In the 1990s, the building became an antique mall until it burned down.
Sources
Source: CPHM Research Files
CPHM Photo Collection
Image Sources
CPHM Photo Archive

CPHM Photo Archive

CPHM photo archive - 1987.183-171.317b

CPHM Photo Archive

CPHM Photo Archive

CPHM Photo Archive

CPHM photo archive - FIC2022.002.025

CPHM Photo Archive - FIC-2022.009.149

CPHM Photo Archive - NA2008Tellvik008

CPHM Photo Archive - NA2008Tellvik002

CPHM Photo Archive - NA-Murfin-Tribune-Ilwaco

CPHM Photo Archive

CPHM Archive