Langston Hughes' House
Introduction
Poet and writer Langston Hughes was one of the leading artists of the Harlem Renaissance--an artistic movement among African American artists, poets, and writers that occurred during the 1920s and 1930s. Raised in Kansas, Hughes experienced racial discrimination within the racially-integrated schools and relatively liberal community of Lawrence. After moving several times, Hughes settled in a Black enclave in Harlem--a community that nurtured his talents and challenged him to explore themes of racial equality. Hughes' literary work helped articulate the views and ideas of African Americans during the era of segregation. Although it is not open to the public, the home of Langston Hughes can be viewed from the street and is located in the center of Harlem. Hughes occupied the top level of the urban row house for about twenty years --a period when Hughes produced some of his most influential works.
Images
The former home of poet Langston Hughes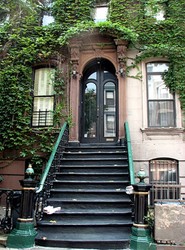 A picture of Langston Hughes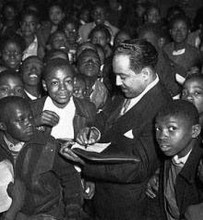 A young picture of Langston Hughes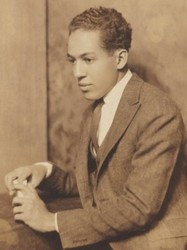 Backstory and Context
Langston Hughes was born James Mercer Langston Hughes in Joplin, Missouri on February 1, 1902. As a child, Hughes moved around from place to place. He spent his early years living with his grandmother before moving with his mother to Illinois and then to Ohio. While living with his mother and stepfather in Illinois, Hughes became interested in writing. Soon after, he spent time with his father living in Mexico. He developed an interest in writing and pursued different endeavors. In 1921, Hughes attended Columbia University and later transferred to Lincoln University. Also, Hughes took on many jobs to make a living. Those jobs include busboy, assistant cook, and launderer.

As Hughes continued his studies his passion for writing grew. He traveled outside of the country and met with African American writers and discussed their literary works. He learned more and more and grew greater at his craft. This led to Hughes' interest in Harlem in New York, New York and the Harlem Renaissance.
Langston Hughes became a very influential writer during the time of the Harlem Renaissance. The Harlem Renaissance was a movement that involved many Black writers during the time. He used his writing to speak on the issues of the African-American community and culture. His critically acclaimed literary works include "Not Without Laughter" in which he won the Harmon medal for literature. Also during his lifetime, Hughes wrote eleven plays and other literary works. Hughes suffered from prostate cancer and passed away on May 22, 1967.
The Langston Hughes house is located in the neighborhood of Harlem on 20 East 127 Street in New York City. The house is important due to Hughes spending 20 years of his life living in the home and it is where he spend a lot of time writing some of his most influential literary works. Hughes occupied the top level of the house while the lower level was occupied by a married couple. In Harlem, the Borough Media President, Shon Miller, Cary Out President, Marc Cary, and Motema Records President, Jana Herzen came together to create something special for the community. They created a non-profit organization and worked together to give back to the community.The Langston Hughes House that was built in 1869, was restored and became and museum. Unfortunately, years later the museum was closed due to the lack of funds. Even so, the house remains in honor of the life of Langston Hughes as a reminder of his literary works that have gained recognition.
Sources
"Langston Hughes House." National Park Service. Accessed Web, 5/16/17. https://www.nps.gov/nr/feature/afam/2008/Langston_Hughes_House.htm.

"Langston Hughes House (Closed)." Harlem One Stop. Accessed Web, 5/16/17. https://www.harlemonestop.com/organization/571/langston-hughes-house.


Additional Information