Blue Mountain Tavern
Introduction
Common name: Blue Mountain Tavern Date of construction: c. 1895. Style: Italianate Significance: Primary
Images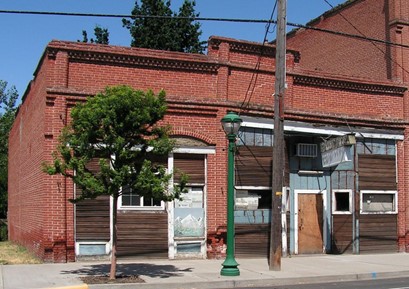 Blue Mountain Tavern in the background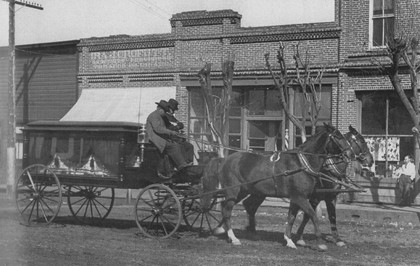 Backstory and Context
Single story brick masonry building of locally manufactured brick, rectangular in plan. Approximate frontage on Main Street is 34 feet. Facade organized as two narrow shop bays on either side of a central entrance bay. Division of the bays and articulation of the upper facade is typical of several buildings along the street, consisting of strip pilasters, stacked plain string courses, and crowning string course with an intermediate course of cut brick laid in sawtooth fashion. The central bay is marked by a rectangular, straight- topped parapet crest. Display windows and entrance are remodeled, but paired segmental arches remain above the west bay. The west wall, having originally abutted another building, is blind. The east wall is a common wall with the adjoining Reynaud Building.
In the early years, before 1960, the left side of the building had become the headquarters for Weston Grain Growers. But when the current Post Office was built, in 1960, The Weston Grain Growers moved to the west portion to that building and their former site was incorporated into the Blue Mountain Tavern, which is currently owned by an individual living in the Tri-Cities.
Memories:
Elnora Baker: Harry always had a card game in the back room. I grew up never knowing how to play cards. When I asked Harry to teach me, he asked me if I had money. When I said "No", he said that "In here we play for money, not for fun."
Harry used to open for breakfast at 3:00 in the morning so he could feed the pea workers from the cannery.
Bob Gilliland: I remember going into the tavern as a young man, standing at the end of the counter and ordering a burger and fries. Boy, they were good!
Tom Wamsley: I don't remember the fries. Are you sure they served them?
Bob Gilliland: I remember when they stopped serving them. Mr Iverson, who was operating the Blue Mountain at the time, said he couldn't get Weston Mountain potatoes anymore and those Hermiston spuds are all water. So, no more fries.
Sources
Information from the Historic Commercial District National Register for Historic Places nomination documentation. Additional research by Bob Gilliland of Weston, Oregon.
Image Sources
Bob Gilliland

Bob Gilliland

Additional Information