Weston Public Library
Introduction
104 East Main Street. Common name: Weston Public Library Date of construction: circa 1900-1905. Style: Arts and Crafts. Significance: Secondary
Images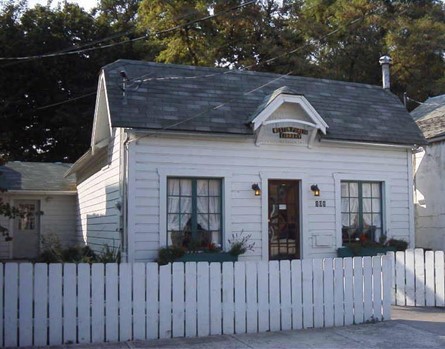 Backstory and Context
Single story frame cottage with clipped, shingled, gable roof with overhanging eaves, shiplap siding. Longer axis parallel with Main Street. Facade is symmetrically organized. Casement windows with many small panes on either side of central doorway. Plain kneed door and window framements. Clipped gablet centered above doorway has vergeboards. and is supported by triangular brackets. Patterned shingles decorate wall surface of the gablet. Cottage is set back from Main Street about 15-20 feet behind strip of lawn and foundation shrubbery.
History of Weston Public Library Compiled for Walking Tour of Weston Commercial District April 2015.
In 1912, Mrs. Norah Watts, wife of Dr. Watts, and Mrs. George Proebstel, wife of Senator Proebstel, circulated a petition for a small tax levy to finance a public library in Weston. This levy was passed, and the Umatilla County librarian helped in the library's organization. A tea was given, with admission being one book. In this way books were secured to add to the allotment from the county library. The first library was opened in the D.B. Jarman Department Store with Eliza Morrison serving as the first librarian. Later the library was moved into the Wheeler Building on Water Street. From there it was moved to the brick dormitory, which the Normal School had deeded to the city.
From the dormitory the library was moved into Dr. Watts' office on South Water Street for a time. Dr. Watts eventually offered to sell the building to the City for $500, and move it to its present site on Main Street. The money was raised by subscription. In 1933 the library was enlarged. The old building, measuring 14X24 feet, was moved back eight feet, and a new entranceway was added. Also added was a children's room, extending the length of the building. At this time, a flagstone walk was installed; lawn and shrubs were planted. Window boxes were built a short time later.
In later years, more remodeling resulted in the addition of a restroom, workroom, and more space for books. In 1996, a Meyer Memorial Trust grant allowed the library to be expanded by approximately 40 percent. A deck was built in the back overlooking Pine Creek. In 2012, Weston Public Library celebrated 100 years of library service to the residents of Weston and the surrounding area.
Sources
Information from the Historic Commercial District National Register for Historic Places nomination documentation. Additional research by Bob Gilliland of Weston, Oregon.
Additional Information