Tudor Place
Introduction
Tudor Place is a Federal mansion overlooking the Potomac River in Washington, D.C., connected with important individuals and families who founded the nation and its capital city. Tudor Place was built in 1816 by Martha Parke Custis Peter, Martha Washington's granddaughter, and Thomas Peter, a businessman from Georgetown. Dr. William Thornton, the first Architect of the United States Capitol, designed Tudor Place with architecture styles inspired by ancient Rome and contemporary France. Tudor Place stayed in the Peter family for six generations until the property was deeded to a foundation in 1983. It opened as a museum in 1988 and interprets the multiple historical eras. Tudor Place is listed on the National Register of Historic Places and was among the first properties designated as a National Historic Landmark.
Images
Tudor Place is built in the Federal style, incorporating neoclassical elements like the tall columns. Wikimedia Commons.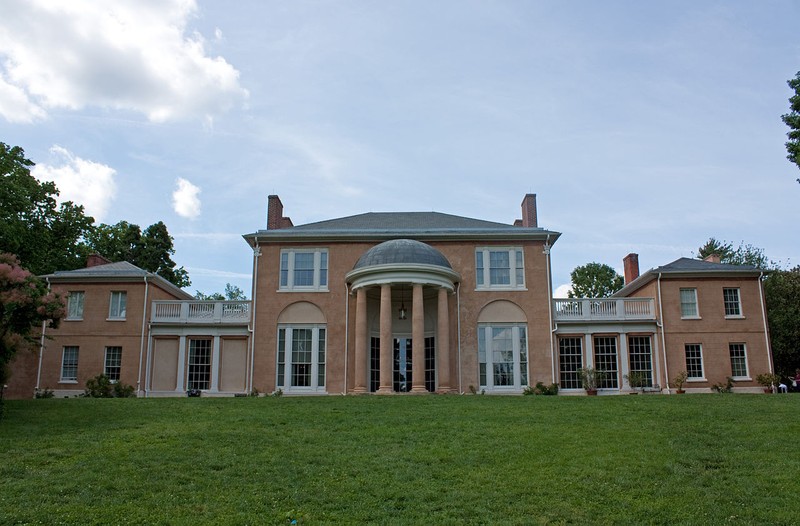 An architectural drawing by Dr. William Thornton, who designed notable buildings in Washington, D.C. such as the United States Capitol and Octagon House. Library of Congress.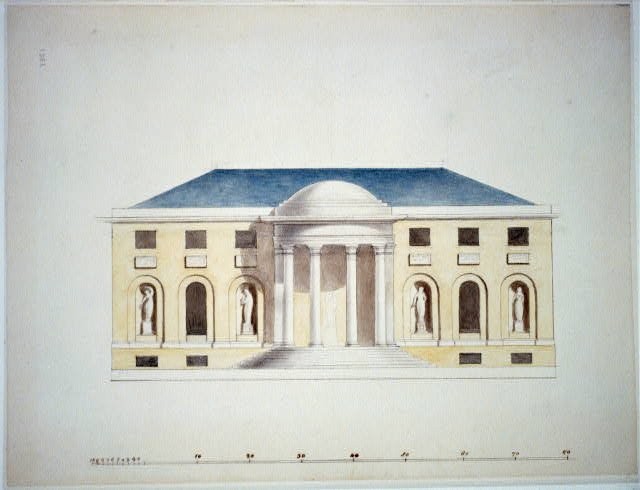 Backstory and Context
Tudor Place was built by Martha Parke Custis Peter and Thomas Peter. Born at George Washington's Mount Vernon in 1777, Martha was the daughter of John Parke Custis, the son of Martha Washington and her first husband, and Eleanor Calvert, a descendent of Maryland's founding family. Martha went by the nickname Patty and grew up at both Mount Vernon and the Custises' Abingdon Plantation. At age 17, she married Thomas Peter, a businessman whose father was first mayor of Georgetown. The couple moved to Washington, D.C., and lived home built by the Peter family. They had eight children, five of whom lived to adulthood.
When George Washington died in December 1799, he left his step-granddaughter, Martha Peter, both money and land. The Peters sold the land for $8,000, and in 1805, purchased a city block in Georgetown along the Potomac River, where they built Tudor Place. They hired architect and family friend, Dr. William Thornton, to design their home. A medical doctor by training, Thornton taught himself the crafts of drawing and architecture. He designed a library in Philadelphia, numerous private residences, and the innovative Octagon House, drawing from classical styles he observed while traveling Europe. George Washington and his colleagues selected Thornton's design for the United States Capitol Building; this design was modified over time by subsequent Architects of the Capitol and after the Capitol was partially destroyed by the British in 1814. Thornton designed for the Peters a beautiful Federal mansion, which used symmetry, simplicity, and neoclassical flairs to represent early America.
Tudor Place was completed around 1816, and decorated with objects from Mount Vernon. The Peters raised their children in the house, which would stay in the family for six generations. With the completion of Tudor Place came numerous high-profile visitors, such as Josiah and Eliza Susan Quincy, United States Secretary of State Timothy Pickering, and the Marquis de Lafayette. Years later, General Robert E. Lee visited Tudor Place in 1869, a year before his death. Tudor Place remained in possession of the Peter family through the years, and in 1890, Tudor Place gained widespread recognition when it was written about in The Century Illustrated Monthly Magazine because of its extensive collection of pieces created by the late Martha Washington.
As a plantation, Tudor Place was home to more than the Peter family. Numerous slaves were brought to Tudor Place as part of Martha Peter's inheritance. Many of these slaves would have been separated from their own families through t the Custis and Washington families' wills. Slaves tended to the large mansion, its occupants, and the eight acres of property, including farmland and gardens. Slaves owned by the Peter family also quarried the redstone at Seneca Quarry in Maryland that would build the Smithsonian's Castle in the mid-nineteenth century.
Tudor Place remained in the Peter family in 1983. Armistead Peter III and Caroline Ogden-Jones Peter established a foundation that accepted the estate after Armistead's death. In 1988, Tudor Place opened as a museum for the public to learn about the Custis-Peter family and American history and culture across two centuries. Today, Tudor Place welcomes visitors to the mansion and the gardens. Furthermore, the collections, archives, and grounds are rich resources for historians, archaeologists, and educators to uncover and share stories from the past.
Sources
Auslander, Mark. "Enslaved Labor and Building the Smithsonian: Reading the Stones." Southern Spaces. December 12, 2012. Accessed October 2017. https://southernspaces.org/2012/enslaved-labor-and-building-smithsonian-reading-stones
George Washington's Mount Vernon. "Martha Parke Custis Peter." George Washington's Mount Vernon. Digital Encyclopedia. Accessed December 2017. http://www.mountvernon.org/digital-encyclopedia/article/martha-parke-custis-peter/
National Park Service. "Tudor Place." National Landmark Nomination Form. Washington, D.C.: National Park Service, Department of the Interior, 1969. Accessed December 2017. https://web.archive.org/web/20121005040205/http://pdfhost.focus.nps.gov/docs/NHLS/Text/66000871.pdf
Tudor Place. "History of the Garden." Tudor Place. Accessed December 2017. http://www.tudorplace.org/who-we-are/garden/history-of-the-garden/
Tudor Place. "History of the House." Tudor Place. Accessed December 2017. http://www.tudorplace.org/who-we-are/house/history-of-the-house/
Tudor Place. "Mission and Vision." Tudor Place. Accessed December 2017. http://www.tudorplace.org/who-we-are/mission-vision/
Images:
"Tudor Place." Photo. 2011. By Wknight94. Wikimedia Commons. Accessed December 2017. https://en.wikipedia.org/wiki/Tudor_Place#/media/File:Tudor_Place_2011.jpg
"Tudor Place for Thomas and Martha Custis Peter..." Drawing. 1805-1816. William Thornton. Library of Congress Prints and Photographs Division. Washington, D.C. Accessed December 2017. https://www.loc.gov/item/2002712414/
Additional Information