Central Synagogue, New York City
Introduction
A National Historic Landmark, Central Synagogue is the largest and oldest synagogue in New York City, and it hosts one of the largest North American Jewish congregations. Established in 1872, Central Synagogue has seen consistent growth in its congregation and welcomes any and all visitors to its great halls. In addition to traditional attendance and membership, the Synagogue also livestreams its services online for those who are physically unable to attend.
Images
An outside view of the Synagogue.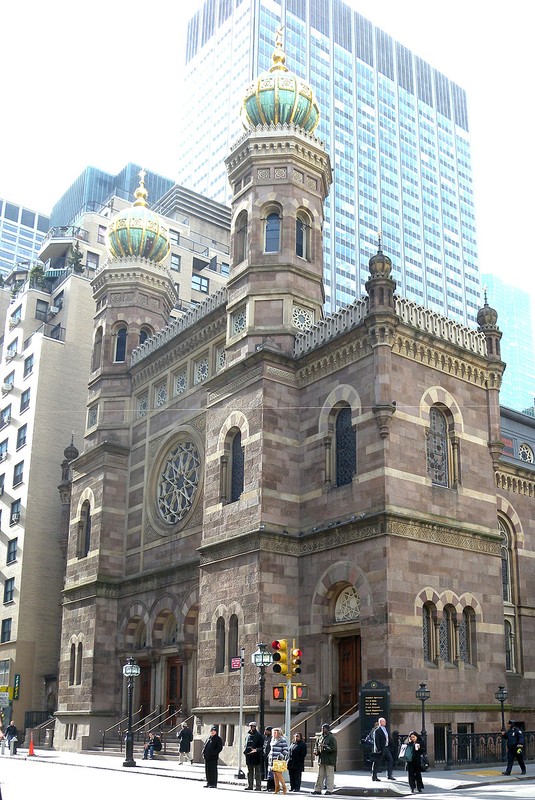 Backstory and Context
Central Synagogue originated from the convergence of two separate congregations, Shaar Hashomayim and Ahawath Chesed. Since the congregation of Ahawath Chesed saw continued growth, they banded together in 1870 and commissioned for the construction of a great synagogue. The synagogue was completed and dedicated in 1872, and in 1898, the congregation of Shaar Hashomayim opted to merge with Ahawath Chesed. In 1917, years after the merger, the congregation decided to change the synagogue's name to Central Synagogue in order to better represent the entire body of members. Central Synagogue flourished after the merger and saw continued, consistent attendance for decades to come.
In the late 1990s, Central Synagogue was undergoing a three-year renovation plan in order to refurbish the synagogue. However, on August 28th, 1998, a fire was started in the midst of the reconstruction effort, which ultimately destroyed the roof, support beams, organ, and parts of the floor of the synagogue. The skeleton of the synagogue was saved, however, and reconstruction efforts quickly began with the help of numerous community leaders worldwide. After years of reconstruction, the Central Synagogue was rededicated on September 9, 2001. In memory of both the reconstruction and the terrorist attacks on September 11th, 2001, the 10th-anniversary re-dedication of the Synagogue paid tribute to both events.
Sources
"Our History at Central Synagogue." Central Synagogue. Accessed Web, 5/2/17. http://www.centralsynagogue.org/about_us/our_history.
Additional Information