Administration Building
Introduction
The Administration building at Northwest Missouri State University is the original and oldest academic building on campus. Construction on the building was hampered with delays from shifting legislation, meaning it was not built until a few years after the founding of the university. It has stood the test of time and now the century old building is mostly home to the various offices required for a university to function properly. Its signature red brick design has been key in setting the tone for the architecture at Northwest Missouri State as most buildings after it were built in a similar style.
Images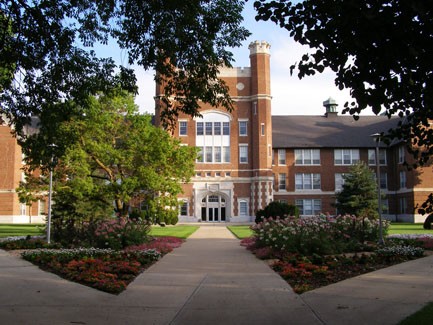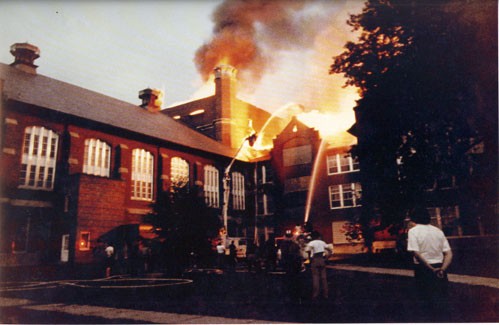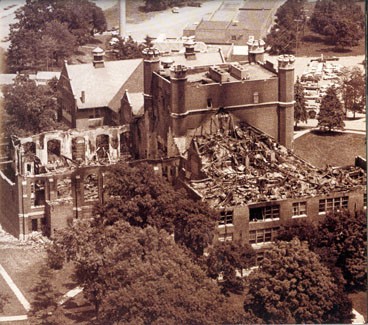 Statue of Lincoln on campus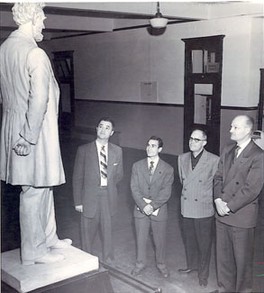 Backstory and Context
Built in 1910, 100,000 square foot Tudor Gothic style building with its four towers is the landmark of the campus at Northwest Missouri State University. The exterior has remained largely unchanged, save for a fire in 1979 that destroyed the north wing and the west wing, the latter of which is largely restored. In addition, the entire second floor and a portion of the third floor have been extensively renovated, The cause of the fire still debated, but it destroyed many computers and was a setback in the commitment of Northwest to be an electronic campus. The building has gone through many renovations, allowing it to adapt to its ever changing role on campus.
The Administration building was built on the Miller Tract of property purchased by the Fifth District Normal School in 1906 and surveyed by Nathaniel Sisson. The building lies in the middle of the campus which is also a state arboretum.
Originially, the building housed all classes and facilities for the University, but now, this historic building houses Admissions, Career Services, Graduate Office, Registrar's Office, Scholarships and Financial Assistance Office, Cashiering, Bursar's Office, and other administrative and student services offices. It was added to the National Registry of Historic Places in 2010 after a hundred years of service. The building is home to many famous symbols of Northwest Missouri State including a life size statue of President Abraham Lincoln on the second floor.
Sources
https://mostateparks.com/sites/mostateparks/files/Administrative%20Bldg.pdf
Image Sources
https://www.nwmissouri.edu/archives/state/growth/index.htm