Barrow County Museum
Introduction
Opened in 1993, the Barrow County Museum features exhibits displaying historical artifacts and also serves as a local research center. It is housed in the historic former county jail, which was constructed in 1915 and located behind the courthouse. Most of the artifacts in the museum's collection have been donated by the citizens of Barrow County, Georgia. Some of the items featured in the museum are the original "hanging tower," the Richard B. Russell exhibit, World War I and World War II uniforms, and an old barber's chair. The museum also features galleries of pictures, sculptures, and paintings from the past. It even contains the last two bales of cotton to be grown and ginned in Barrow County. The building itself is a contributing property to the Broad Street Commercial Historic District, which is listed on the National Register of Historic Places.
Images
This picture shows the Barrow County Museum building.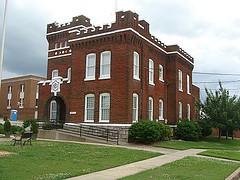 Portrait of Richard B. Russell, who served as a senator from 1933 until his death in 1971.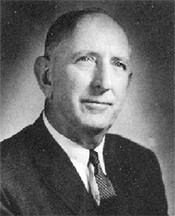 Backstory and Context
One exhibit of note is the one dedicated to Richard B. Russell, who is from Winder and served 38 years as a US Senator. He was elected to the Senate in 1933 after having served as a state legislator and governor. Richard Russell is best known for strengthening the national defense, but he also opposed Civil Rights. He died in 1971.

The museum also features old tools and pictures of the now abandoned school and church. World War I and II uniforms are also on display. This exhibit features uniforms from both the Allies and the Axis powers. As of today, tour guides show attendees the museum and share past stories of how the town was established.

Sources
"About the Museum." The City of Winder. Accessed July 3, 2015. https://www.cityofwinder.com/about/winder-history/barrow-county-museum.

Vogt, Sheryl. "Richard B. Russell Jr. (1897-1971). New Georgia Encyclopedia. June 24, 2005 (Updated July 19, 2017). https://www.georgiaencyclopedia.org/articles/government-politics/richard-b-russell-jr-1897-1971


Additional Information