Gibson Tenement Houses
Introduction
The Gibson Tenement Houses are three shotgun style tenement houses that used to be located on Palm Avenue. They were owned by the William Gibson family and built in the early 1900s. They served as housing for grove workers, farm hands, as well as the railroad workers. Today they sit at the Chain of Lakes Park as they have been relocated thanks to the Brevard County Historical Commission.
Images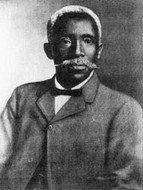 The Gibson Tenement Houses before they were moved from Palm Avenue. (2005).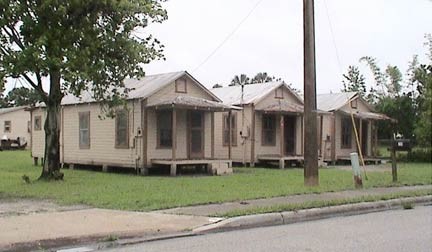 The Gibson Houses being moved to their new location.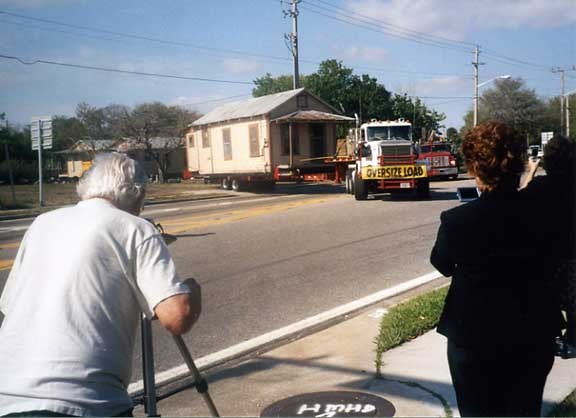 Backstory and Context
Sadly only three tenement houses were left out of what was a larger complex of a housing development. There were two larger houses that was part of the complex, one was a duplex and the other was a single house that was occupied by the supervisor and his family. Another tenement house was located at the southern part of the complex but was sadly lost to deterioration years ago. The last larger duplex style house was torn down in 2000. The duplex was a spacious 810 sq. ft. that also had a front porch, and the small tenement (shotgun) houses were only 371 sq. ft. Sadye Gibson, whom was married to William decided to add indoor bathrooms and front porches. They were all made of heart pine lumber, painted clapboard siding, tin hip roof, and sat on brick piers. The remaining three houses still have the original glass paned windows.

The Gibson Tenement Houses were part of what used to be called colored town before they got relocated. This part of town was located in the colored section of Titusville which was located on the south side of South Street, situated between DeLeon Street and Third Street. There is more history behind the part of Titusville labeled "colored" town. It all started in the late 1800s. E.L. Brady and Brother Grocery Store, a well established business located in downtown Titusville had a delivery wagon in which they felt would provide top notch customer service. Due to Titusville's Black community becoming more populated, the owner could no longer remember each indiviual's name that the delivery was going to and he started telling his deliveryman that the orders were going to "colored" town. The use of the terminiology "colored" town stuck around for years to come.

To see what remains of this Black cultural architectural, you can visit the Chain of Lakes Park in Titusville, Fl. At the Chain of Lakes Park you can also see a craftsman-style house (1910) that became a citrus industry museum and renovation and placement of the Clifton Schoolhouse (1890's). The National Brevard Heritage Foundation has allowed renovations to other historic sites in the area, and has expressed the need and support to preserve Black history, as it has paved a way to the future.







Sources
History of the Gibson Family and The Gibson Tenement Houses http://www.nbbd.com/npr/preservation/GibsonHouses/ Photo Credits: http://www.nbbd.com/npr/preservation/GibsonHouses/
Additional Information