Santa Cruz Museum of Art and History
Introduction
The Santa Cruz Museum of Art and History is the result of a merger between the Santa Cruz Historical Society which was established in 1954) and the Art Museum of Santa Cruz County which began in the early 1980s. The museum works to create authentic experiences that connect guests to the history and culture of the coastal region through exhibits and programs. The museum led by Nina Simon, a musician and artist who serves as the museum director. Simon is well-known among museum professionals as a leader and an advocate for the idea that museums can and should present culture and history directly to the people in an immediate and authentic way.
Images
The Santa Cruz Museum is located in the heart of the McPherson Center.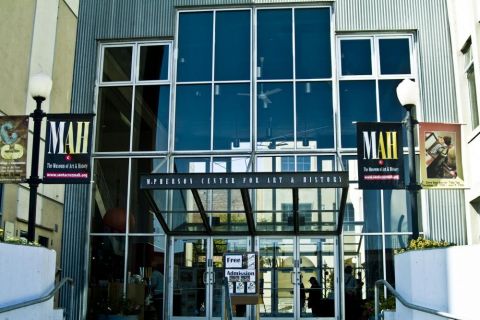 Backstory and Context
The museum's long-term exhibit follows the history of Santa Cruz from its Native inhabitants to the present. This exhibit is constantly changing, reflecting the larger goal of the museum to be a dynamic place of learning. The museum also offers a popular sculpture garden and exhibits that present the work of local and regional artists and sculptors, along with programs and special workshops for community members.
Additional Information