Door County Historical Museum
Introduction
The Door County Historical Museum was founded in 1939 in Sturgeon Bay, Wisconsin. The original building was built as a project of the Works Progress Administration, one of the government-led Great Depression work programs. The basis for the museum's collection came from two men, Harry Dankoler and Hjalmar Holand. Dankoler was a collector historical items from the area and Holand preserved written memories of people in the county. The Door County Historical Society acquired the men's work and opened the museum. The museum has expanded over years and now includes several exhibits such as the wildlife diorama, the replica 1900 Pioneer Fire Company building which houses three restored trucks, and a typical Door County street scene featuring a school, grocer, pharmacy, etc. Admission to the museum is free.
Images
The Door County Historical Museum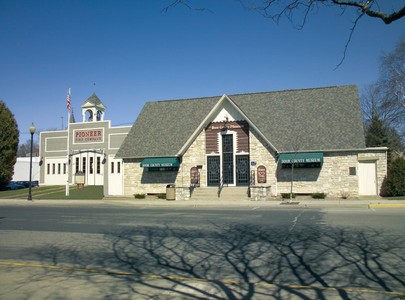 One of the restored fire trucks. Visitors are allowed to sit in one of them.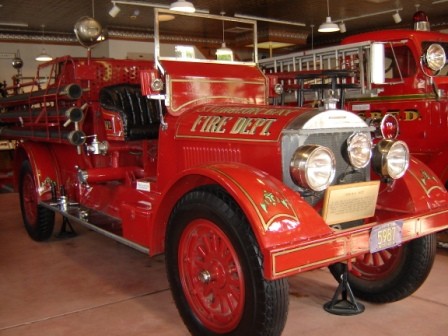 Old equipment for display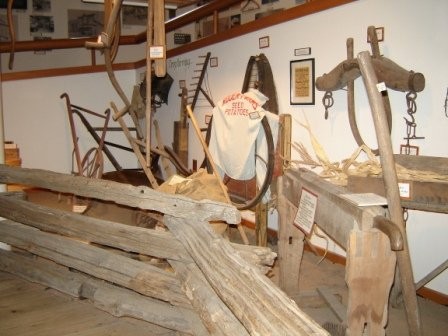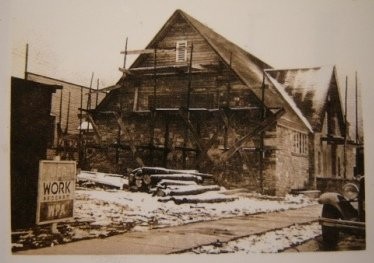 Backstory and Context
History -
The building was completed in 1939 as a museum. It was during the Great Depression and was built as a WPA project during the presidency of Franklin D. Roosevelt. Long before this time a local man, Harry Dankoler, began collecting things that were old, realizing the importance of saving the parts of history so that others might always be able to appreciate it. At the same time, another Door County resident, Hjalmar Holand, also with a great interest in history, was busy preserving the written memories of the County. With the backing of the newly formed Door County Historical Society, they worked to provide the basis for this museum. Early photos show it as it was - the typical museum of its time with shelves and shelves of old things being preserved, but not necessarily interpreted as is done today. Some of the unique things on display at the museum include:
Pioneer Fire Company -
The museum's fire station is a replica of the turn-of-the-century building that served Sturgeon Bay's original "Pioneer Fire Company". It houses three fully restored trucks and fire-fighting artifacts. Children of all ages may sit on the replicas. You will also find other larger displays including a jail cell from the vacated jail building and an old horse drawn hearse.
Orchards -

Door County has been known for its apple and cherry orchards for years. Why is it that Door County is well suited for these crops? Why not Kewaunee or Brown Counties to the south? Learn of the earliest beginnings of this business and see some of the equipment used in the growing and processing of these fruits.
Ethnic History -
The majority of the original European settlers came to Door County in the mid to late 1800s during Wisconsin's early statehood years. There were, however many native peoples who had settled here much earlier. Many groups brought their traditions with them. Which of them began the fish boils that have now become famous? Learn more about early settlers at the museum.
War History -
Like all areas of our country, many Door County men served during the several wars in our history.
Folk Craft -
In the days when shopping was not as convenient, many crafts were done by both men and women.Door County had its share of them and many examples left by these artisans are on display at the museum.
Wildlife Diorama -
Mike Orthober, national award winning artist and taxidermist, created a spectacular natural history wildlife diorama. It encompasses four seasons and features a life-sized beech tree along with native species including over 100 birds, white-tailed deer, bear, badger, fisher and more.
New -
A phone app for a walking/driving tour of Sturgeon Bay's remaining incised sidewalk stones. The incised cement blocks were originally installed in the early 1900s, on corners to mark street names or in front of local homes or businesses. They are a part of our history that is slowly disappearing when sidewalks are replaced. Also included on the app is a short history of original homes located nearby.
The lower level of the museum features a street scene that includes storefronts and rooms representing many early Door County businesses such as a seamstress, grocery, Blacksmith, pharmacy, bank, printer, dime store, music shop, photo shop, post office and schoolhouse. You will also find a display of Old fashion equipment.
Sources
http://map.co.door.wi.us/museum/Museum_History.htmDoor County Historical Museum. . Accessed February 28, 2019. http://map.co.door.wi.us/museum/default.htm.


Additional Information