Arkansas National Guard Museum
Introduction
The Arkansas National Guard Museum highlights the history and service of the Arkansas National Guard and the history of Camp Robinson, previously known as Camp Pike. Camp Robinson sits on 32,000 acres and is home to barracks, rifle ranges, and training centers for the National Guard, the National Guard Professional Education Center, and marksmanship training for Guard members. Camp Robinson also hosts the Youth ChalleNGe Program and the Civilian Student Training Program. Visitors to the museum can learn about the history of the Arkansas National Guard and their role in the War of Mexico, the Civil War, the Reconstruction Era, the Brooke-Baxter War, the Spanish American War, World War I, World War II, the Korean War, the Central High School Crisis, the Gulf War and the War on Terror.
Images
Arkansas National Guard Museum (Photo courtesy of the Arkansas National Guard Museum)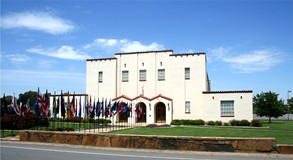 Backstory and Context
Camp Pike was renamed Camp Robinson after the death of Senator Joseph T. Robinson. The Arkansas National Guard's history dates back 1804 when the governing body of the Indiana Territory determined the need for and created the fist military service of the area. This military service ten became the Arkansas Militia after the creation of the Arkansas Territory before continuing to grow in the branch of military service the National Guard is today. 
Sources
http://www.arngmuseum.com http://www.arngmuseum.com/page-806067? Photo courtesy of the Arkansas National Guard Museum
Additional Information