Fox Fullerton Theatre
Introduction
Completed in 1925 and designed by the architectural firm of Meyer and Holler, the same company that produced some of Hollywood's famous theaters, Fullerton's Fox Theatre has been one of the central features of the downtown Fullerton area for nearly a century. The theater reflects the optimism and opulence of the 1920s--both in its design and in the current tradition of events that celebrate the "Roaring 20s." Due to the efforts of concerned residents and with the support of city leaders and historic preservationists, the building was saved from demolition and is being restored to its former glory. The theater hosts fundraising events throughout the year and continues to work towards the theater's restoration.
Images
The Fox Theatre was built in 1925 and operated as a vaudeville house and movie theater until its closure in the 1980s. Listed on the National Register of Historic Places, the theater is being restored.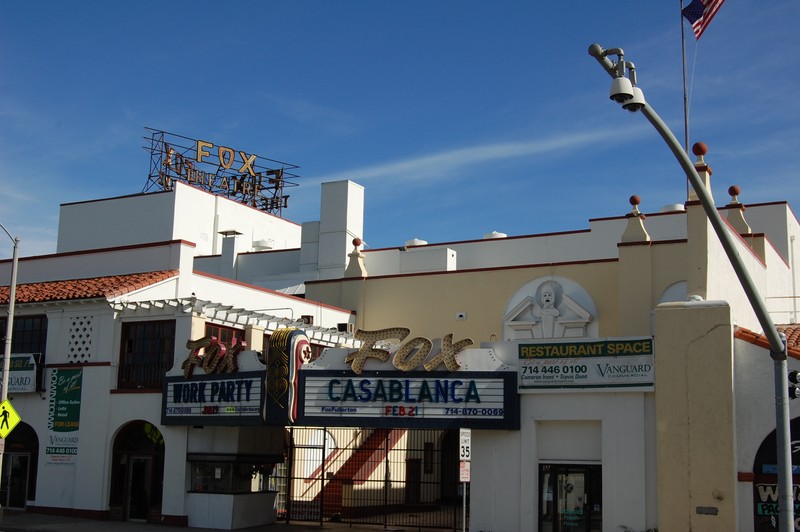 A view of the theater in 1934 courtesy of the Fox Fullerton Historic Theater Foundation.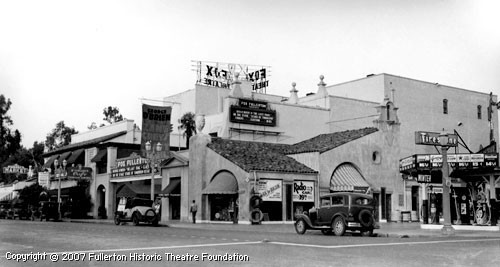 Backstory and Context
The theater was the largest in northern Orange County in the 1920s and hosted vaudeville productions and silent movies. The theater fared much better than other downtown movie houses, staying open until 1987 when most other downtown theaters closed in the 1970s or early 1980s as theaters moved to the suburbs.
Sources
Fox Fullerton Theatre Foundation, A History of the Fox, http://www.foxfullerton.org/w/about/history-of-the-fox/ accessed 7/14/15
Additional Information