Band Box Diner
Introduction
Nestled in Elliot Park Neighborhood is the oldest diner in Minneapolis: the Band Box Diner. Henry and Bertha Wyman opened the diner in 1939 and eventually opened 15 more (all but 1 in the city of Minneapolis) by 1950. This local landmark features Art Deco interior, a long counter, and a few booths, and tables. The building's exterior is adorned with flat roofs, windows along the front, and double sided steel.
Images
The last remaining restaurant in the Band Box chain, this diner has been a local favorite since that start of World War II.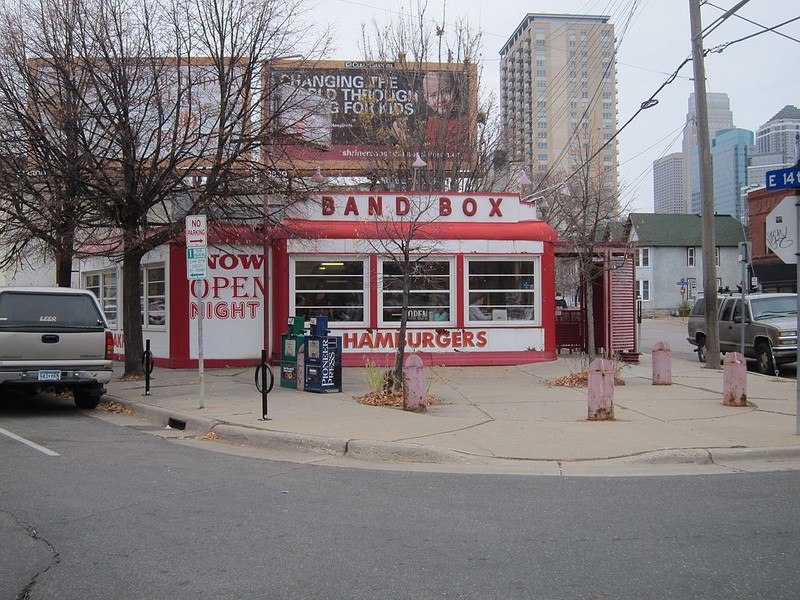 Backstory and Context
In 1953, the Wymans sold their chain and by 1972 this location was the only one remaining. The Band Box Diner was popular among and similar to some other chains at the time, particularly White Castle. The diner had similar architecture and interior, but was unique in the fact that the menu varied by location and was up to each diner's manager, as well as the strong collection each diner had to its neighborhood.
The diner was built by "the Butler Manufacturing Company, which was more well known for making agricultural bins, prefabricated structures, and feed storage for farming. Butler buildings were easier to erect than standard truss buildings, and they were also strong enough to be portable" ("Band Box Diner"). The diner's construction is also unique because Butler constructed no other diners.
Additional Information