Old Jordan High School
Introduction
Although demolished in 1997 to make way for a bigger high school building nearby, the old Jordan High School was one of the oldest school buildings in the immediate area that was originally a "People's College" before becoming a high school.
Images
The second building to serve as Jordan HS beginning in 1914. Demolished in 1997 and site now holds a movie theater.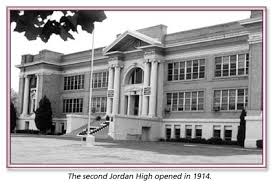 Jordan HS as it looks today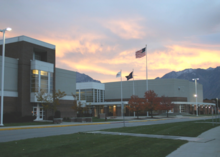 Rendering of the 1914-1997 HS building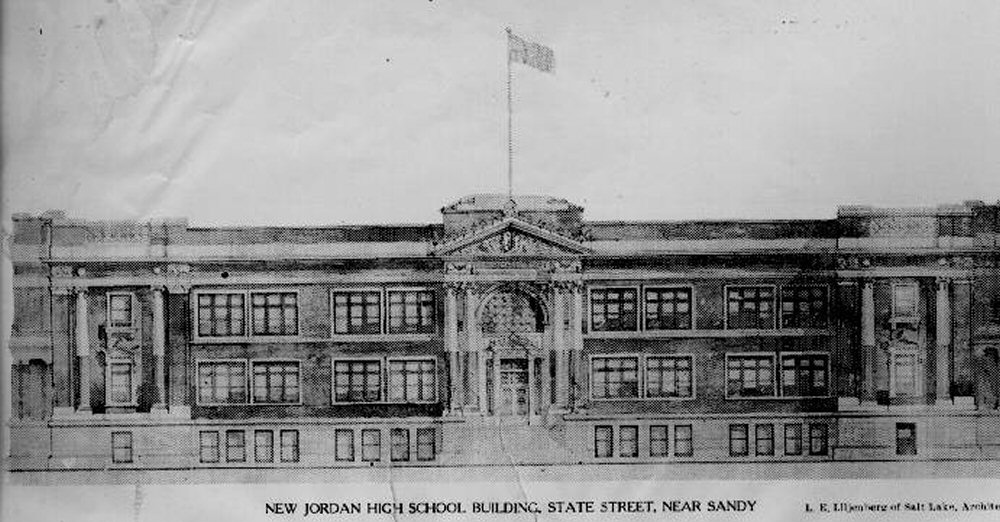 Photo of first permanent building to house Jordan HS/"People's College". Circa 1911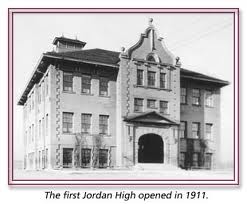 "Digger Dan" Jordan HS mascot, a.k.a The Beetdiggers"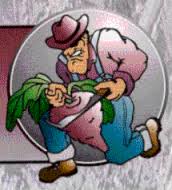 Backstory and Context
Jordan High School took root when a student body of just seven students led by Weston Morley began meeting in the basement of a church in Midvale. His small group immediately began to grow in numbers and began to give him money. The enrollment numbers quickly grew, and soon it was necessary to move the students and faculty into their first real school building. This original school was initially known as The People's College because it was open to students of all ages. After a year, this small college became a student body of 2,000 students. The college operated from 1907-1914.

A new Jordan High School opened at 9351 South State Street. The building was on the National Register of Historic Places list. Jordan Commons Movie Theatre is now sitting on top of the old location of Jordan High School after the latter was demolished.

The current campus for Jordan High School is at 95 E. Beetdigger Blvd. (9880 S.) and can serve 2,600 students. Jordan High School Students are known as Beetdiggers as are the students at the Brush, Colorado High School. This was due to the large areas surrounding the High Schools that were sugar beet fields. Up until about 1950--at harvest time--classes were usually cancelled during vacations of a week or two in October, which allowed students to assist with the harvest. Their mascot is "Digger Dan". According to a close friend of the creator of this entry, Jordan High School's mascot was one of David Letterman's Top 10 Weirdest Mascots list. A video or copy of list on internet still needs to be discovered.
Notable alumni from Jordan include:
Dee Benson - Professional soccer player; Federal judge
Gene Fullmer - World Middleweight Boxing Champion
Don Lind - NASA Astronaut
Andy Jones - Professional Acrobat; Member USA High Diving Team-2014
Bonnie D. Parkin (Bonnie Dansie Parkin) - former General President of the Relief Society, LDS Church (2002-2007)
Don Fullmer - contender for World Middleweight Boxing Championship

Additional Information