The Riviera
Introduction
The Riviera was a hotel and casino on the Las Vegas Strip originally conceived by mobster William Bischoff, though he ultimately left the project in the hands of others. Established in 1955, the Riviera was known largely for its architecture, which deviated from the set Vegas Strip Style, and instead seemed better suited to Miami Beach. The Riviera remained open until May 4, 2015, after it was bought by the Las Vegas Convention and Visitors Authority, and it is slated to be imploded by the end of 2015.
Images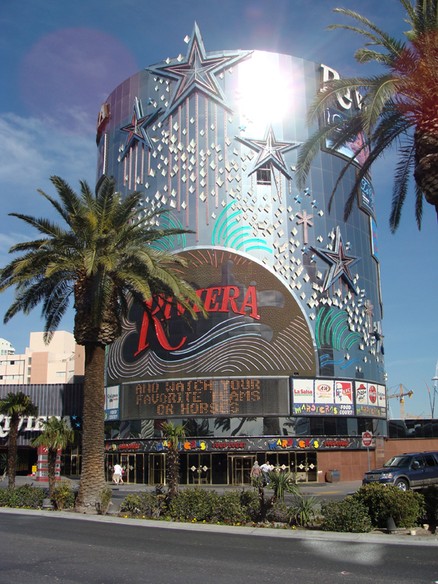 Backstory and Context
In the early 1950s, mobster William Bischoff pitched the idea of a hotel called the Casa Blanca to a group of investors, bent on creating the casino. Not long after acquiring the gaming license required in 1952, however, Bischoff bowed out of the project, and it was instead picked up by a group of investors from Miami, Florida, called the Riviera Hotel Company. Design was handled by Roy France and Son, another group which was based out of Miami. Construction began soon after, and the Riviera opened for business in April of 1955, and after an extravagant opening, the Riviera was considered a hotel and casino for high rollers.
The Riviera quickly experienced difficulties, mainly due to the fact that the Miami-based Riviera Hotel Company was not well-versed in managing gaming establishments, and as a result, the Riviera went bankrupt by July of 1955. The Riviera was then overtaken by its landlord, and stayed in good financial standing afterwards. As the years progressed, the Riviera gained numerous additions, such as Dino's Den, a section which was named after Dean Martin after he bought ten percent of the casino's shares, as well as the construction of the Monte Carlo Tower in 1975. Though the Riviera suffered financial losses in years soon after and filed for bankruptcy again in 1984, it got back on its feet with a new president, and remained moderately successful and popular in the following decades. However, as the Riviera began to fall in its relevance on the Las Vegas Strip, it was purchased by the Las Vegas Convention and Visitors Authority in February of 2015, and was closed soon after in May of the same year. The Riviera is slated to be imploded in order to make way for the Las Vegas Global Business District.
Sources
http://www.a2zlasvegas.com/hotels/history/h-riviera.html https://en.wikipedia.org/wiki/Riviera_(hotel_and_casino)