Barclay Farmstead Museum
Introduction
The Barclay Farmhouse, which sits on a 32-acre plot, is a living history museum that was built in 1816 by Quaker Joseph Thorn. A large portion of the once operating farm was sold to developers in the 1950s. However, a small section was retained by Helen Barclay and then sold to Cherry Hill Township in 1974. The township still owns and operates the farmstead to this day. The simple, Federal style farmhouse now sits among community garden plots, interpretive trails, and an apple orchard. Inside, the farmhouse features period furnishings, clothing and textiles and the farmstead hosts numerous special events throughout the year. The farmstead was added to the National Register of Historic Places in 1978.
Images
The Federal style Barclay Farmhouse sits within a 32-acre living history museum.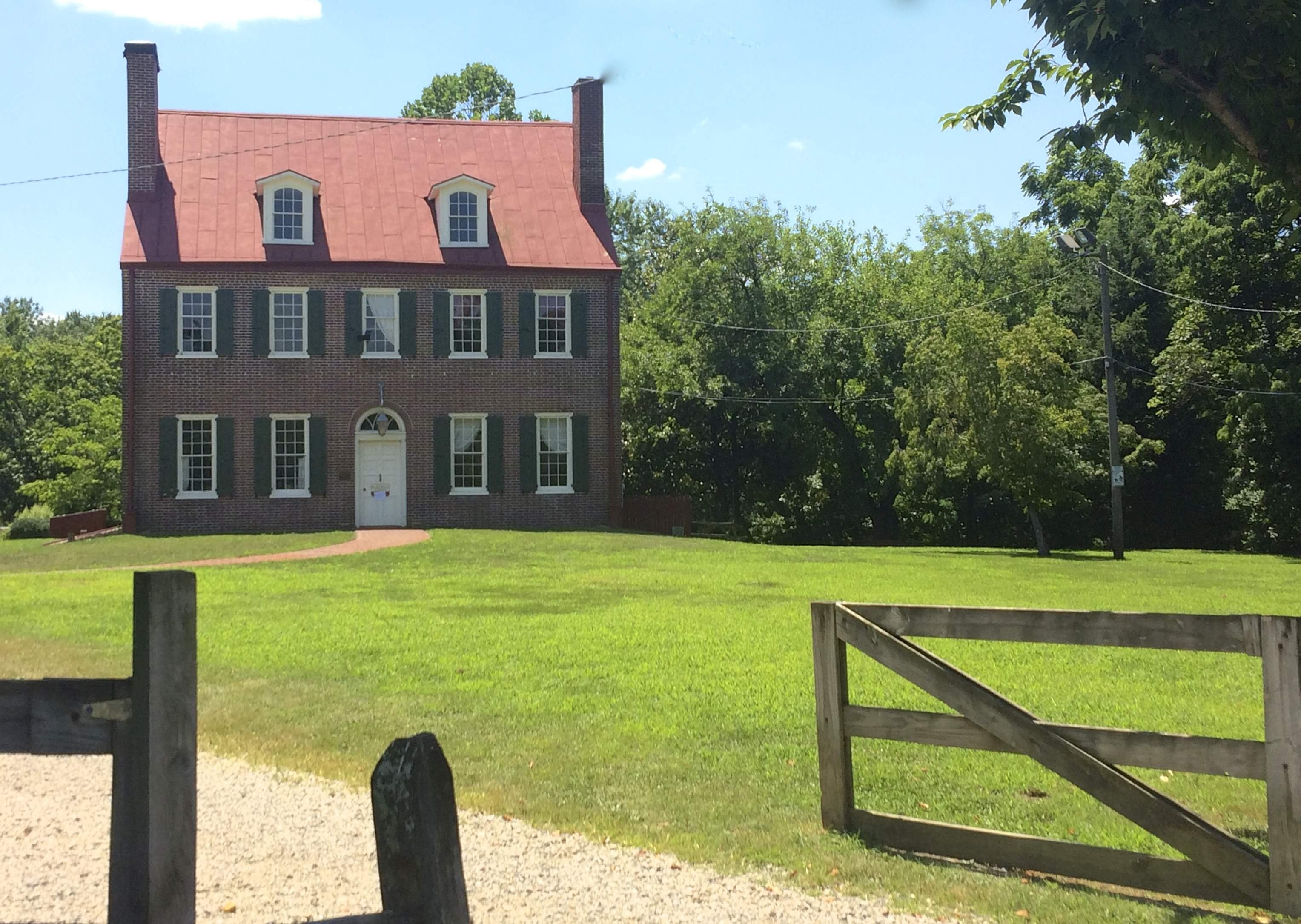 Flowers bloom behind the Barclay Farmhouse.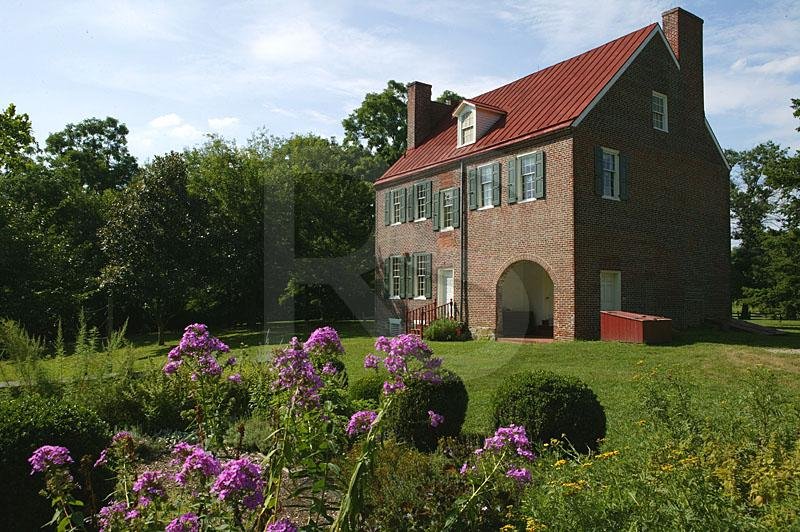 Period actors relax by an out building.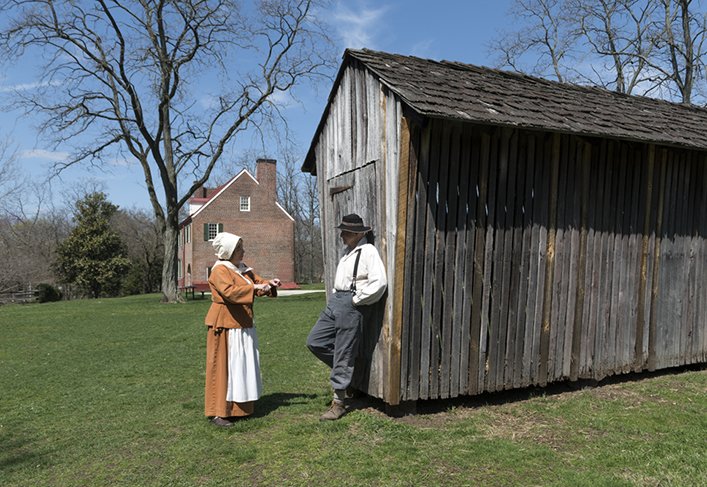 One of the nature trails wends its way through a nearby wood.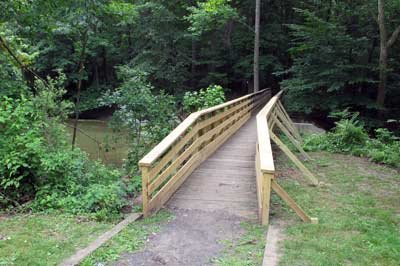 A loom sits near the window in the farmhouse's sitting room.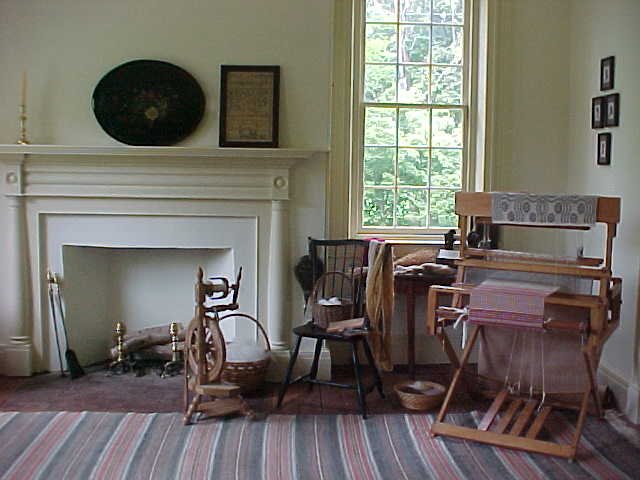 Backstory and Context
In 1684, the Kay family settled the original land that would later become the Barclay Homestead. A fourth generation Quaker, named Joseph Thorn, purchased 168 acres from Samuel Kay in 1816 and immediately began work on a typical Federal style farmhouse the same year. The 16-room house features a symmetrical façade and simple brickwork, signatures of the Federal style, and was completed in 1818. By that time, Joseph and Esther Thorn had seven children.
Unfortunately, Thorn ran into financial difficulties in the 1820s and was forced to sell the farm to Joseph Cooper in 1826. Cooper was a city councilman for the town of Camden and president of the Cooper's Point Ferry. He built another home in Camden in 1855 and it is thought that he and his family used Barclay as a summer retreat. During this time, Cooper added a front and side porch to the farmhouse. However, it suffered through deterioration due to lack of maintenance. Cooper died in 1871.
The farmstead then passed to his daughter, Ellen Champion Cooper, who married Charles Barclay in 1882. The couple only had one child, a son named Walter Cooper Barclay. Ellen died shortly after giving birth to Walter at the young age of 30. The farmstead was then run as a gentleman's farm by Charles Barclay who was a prominent Philadelphia lawyer and rarely visited the land. Walter Barclay then attained the farm in 1905 and soon thereafter married Mary Emma Lemunyon. Walter passed in 1936 and the farm was inherited by his only child, Helen.
Most of the land was then sold to a housing developer in 1954. However, Helen retained 32 acres, to include the farmhouse and out buildings. When Helen sold the land and buildings, stipulating that they be used as a public park and recreation center, to Cherry Hill Township in 1974, it had fallen into a state of disrepair. Restoration efforts, led by Bonnie Cocchiaraley, architect John Dickey and the Friends of Barclay Homestead, began in 1976.
Since that time, the house has been restored to its 19th century status. It now offers public tours, living history educational programs, outdoor concerts, its annual Holiday House, and other special events during the year. It also features one of the largest community gardens in the area with 150 plots available for rental. Also on the property are a museum shop, barn, springhouse, corn crib, picnic areas, and kitchen herb garden.
Sources
"History of the Farmstead." Cherry Hill Township. Accessed April 3, 2018. http://www.cherryhill-nj.com/907/History-of-the-Farmstead
Riordan, Kevin. "Cherry Hill's Barclay Farmstead honors woman who saved it." Philadelphia Inquirer. April 14, 2016. Accessed April 3, 2018. http://www.philly.com/philly/columnnists/kevin_riordan/20160414_Cherry_Hill_s_Barclay_Farmstead_honor...
"Barclay Farmstead Museum -- Cherry Hill, NJ." Waymarking. August 10, 2009. Accessed April 3, 2018. http://www.waymarking.com/waymarks/WM6ZR4_Barclay_Farmstead_Museum_Cherry_Hill_NJ
...
Additional Information