Tomb of the Unknown Revolutionary War Soldier
Introduction
The origins of this unique monument date back to the early 1950s, when the Washington Square Planning Committee of Philadelphia discussed the creation of a monument to George Washington. After months of discussion, the committee decided to incorporate the image of Washington into a tribute to all of the Soldiers and Sailors of the Revolutionary War. The monument was named the "Tomb of the Unknown Revolutionary War Soldier" and designed by Edwin Brumbaugh.
Images
Standing over the tomb in a guardian-like pose is a bronze statue of George Washington.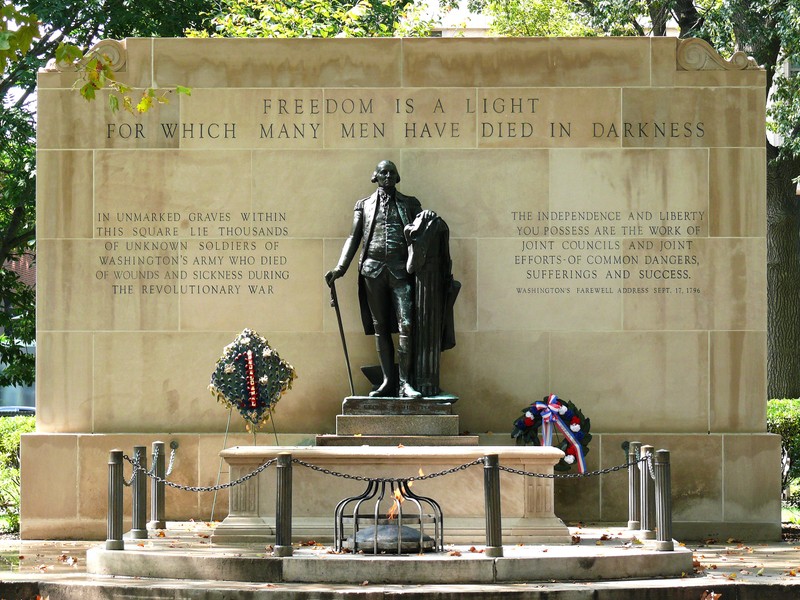 Backstory and Context
Prior to the construction of the Washington Square Park, this area housed a cemetery for Revolutionary War soldiers and veterans. The tomb has the remains of an unidentified soldier from the war, and stands as a memorial for the soldiers who served from the Philadelphia area. Reflecting the imperfect historical record of the colonial era, it is not known exactly how many men are buried at Washington Square Park.
Sources
Washington Square, Tomb of the Unknown Soldier of the American Revolution, National Park Service https://www.nps.gov/media/photo/view.htm?id=17EB2A62-1DD8-B71B-0B9AC55E224E1BB0memorializing unkown
Lancette, Christopher. The Unknown Revolutionary. American Legion website. October 28, 2011. Accessed December 19, 2016. https://www.legion.org/magazine/64818/unknown-revolutionary.
Additional Information