C.A. Thayer
Introduction
The Clarence A. Thayer is a schooner that was built in 1895 in California by Hans Ditlev Bendixsen. Between the years of 1895 and 1912, the C.A. Thayer would sail from a mill in Gray's Harbor in Washington, to San Francisco. But the ship would also go to Mexico, and even traveled to Hawaii and Fiji.
Images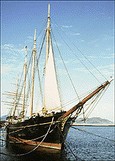 Backstory and Context
The Clarence A. Thayer is measured at 219 feet long, and has a cargo capacity of 575,000. She carried half of her load below deck, with the rest stacked high on the deck. The crew would be a small one, only consisting of eight or nine men. After being damaged in 1912, the C.A. Thayer was retired as a lumber ship, and became used for fishing for Alaskan salmon.
Every April from the years 1912 until 1924, the C.A. Thayer would leave San Francisco for Alaska and spend the summer there, returning to San Francisco in September. When WWI caused freight rates to inflate, the C.A. Thayer began hauling wood to Australia. These trips would usually take two months each way, and on the way back, she would most likely be carrying coal.
In 1957, California purchased the ship. After a restoration, the C.A. Thayer was opened to the public in 1963. In 1978, the ship was transferred to the National Park Service, and in 1984 she was designated a National Historic Landmark. She was restored after being a museum ship for forty years, with restoration beginning in 2003 and lasting four years.
The Thayer was taken apart and every effort was made to salvage as much of the old material as possible. Despite this, many tons of old, rotten timber had to be discarded during the process. The job was undertaken by Bay Ship and Yacht Company, based across the San Francisco Bay in Alameda. Using their experience and skills the company were able to recreate the hull and deck with only the original timber and fastenings from the ship. After the restoration the ship, now a National Historic Landmark, was able to return to the San Francisco Maritime National Historical Park. The scale of this restoration is almost unheard of in the world of maritime preservation, but they have managed to ensure that the ship will stand strong for another hundred years.
"This project has been a labor of love for all of us who were privileged to be involved," said San Francisco Maritime National Historical Park Superintendent Kate Richardson. "On a practical level, we have preserved a vital piece of American history and culture. On an emotional level, we have breathed life back into the hopes and dreams of the men and women who lived on, for, and by the sea. Thayer is a legacy of opportunity and independence that I am proud to pass along to future generations."
The ship is once again watertight, with its strong and dominating stature having been returned to its former glory. Other minor restorations are still taking place with the goal of allowing the Thayer to set sail once again.
Sources
The Restoration of the C. A. THAYER 2003-2007. Accessed March 19, 2017. https://www.nps.gov/safr/learn/historyculture/thayerrestoration.htm.

Nolte, Carl. Historic C.A. Thayer returns to home port after major restoration. SF Gate. February 22, 2016. Accessed March 19, 2017. http://www.sfgate.com/bayarea/article/Historic-C-A-Thayer-returns-to-home-port-after-6847780.php.