St. Michael's Cemetery
Introduction
Located in downtown Pensacola, St. Michael's Cemetery has been a burial site since the mid-1700's. St. Michael's is one of the only cemeteries in the world that has the graves of nobles buried among servants and slaves. Visitors will also notice the appearance of conch shells next to tombstones belonging to men and women of African descent. The cemetery covers eight acres and includes approximately 3200 marked graves.
Images
The main entry gates in front of St. Michael's Cemetery.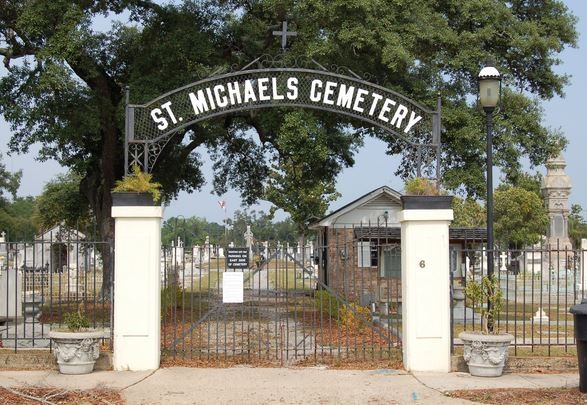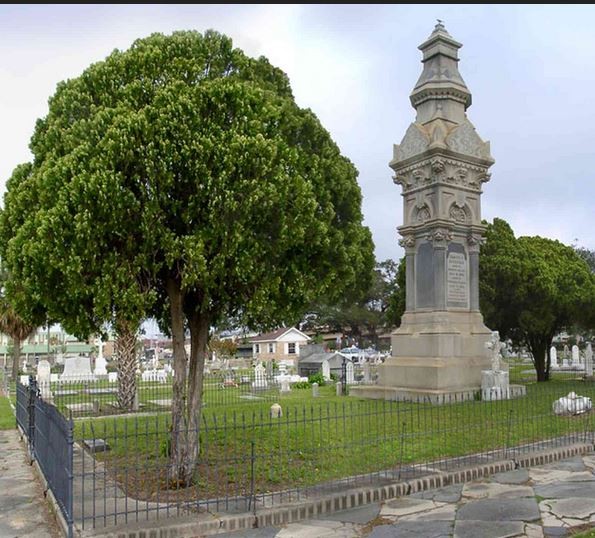 This map points out points of interest for the self guided walking tour.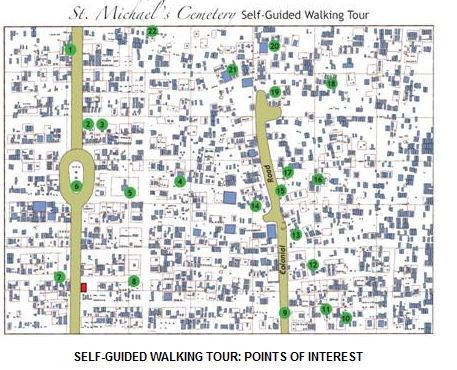 Many of the grave sites include ornate stones or statues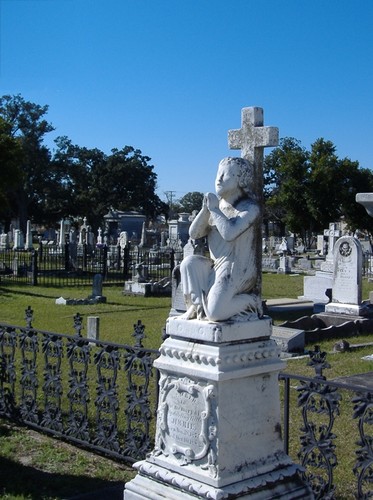 A burial site of a person of African descent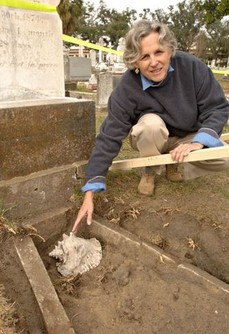 Backstory and Context
The King of Spain authorized the creation of St. Michael's as a cemetery 1807. Officially a cemetery for Catholics, people of all faiths and races have been buried at the cemetery from the very beginning. The cemetery offers guides for self-guided tours that highlight various points of interest. One of the points of interest is the grave of an African American woman named Theresa. Theresa was a slave that was purchased in Mobile by a family with the last name of Moreno in 1844.
The family that purchased Theresa are also buried at the cemetery. Don Fransisco Moreno was a prominent leader in the Pensacola area and owned thirty slaves as of the year 1860. Following emancipation, only three slaves elected to stay with the Moreno family, one of them being Theresa.
The cemetery also has been a burial site to those that served in the military, including those that served in the Civil War as well as other prominent people in history. It also is the burial site of those that died due to the Yellow Fever Epidemic.
Most prominent people buried here include:
Stephen Russell Mallory (Confederate States of America Secretary of the Navy)
Don Manuel Gonzalez (rancher, Indian Agent, Spanish military officer and wealthy Spanish citizen of the city. A friend of Andrew Jackson, he later became a legislature and officer of local American forces after Florida became under the control and later a state of the United States)
Dorothy Walton
Salvador T. Pons
Daniel F. Sullivan (successful Irish lumber traders and workers of the city's port)
P. K. Yonge (Lumber Baron of Pensacola)
Eugenio Antonio Sierra (Prominent medical doctor and professor of colonial Spanish Florida)
Charles William Jones
William Alexander Blount (Prominent attorney, businessman and politician of the city from the late 19th century and early 20th century)
Sources
Pensacola Cultural Heritage Trail http://www.devilliersmuseum.com/Florida_Black_Tourism_Visitor_s_Center.html The King of Pensacola http://latinola.com/story.php?story=6819 St. Michael's Cemetery GIS http://uwf.edu/offices/geodata-center/geospatial-research/st-michaels-cemetery/ Photo Credits: http://ncptt.nps.gov/blog/2007-cemetery-monument-conservation-photos/ http://www.stoneandlime.com/smc.htm http://www.visitpensacola.com/listings/9608 http://www.stmichaelscemetery.org/
Additional Information