Bessie Smith Cultural Center and Chattanooga African American Museum
Introduction
The Chattanooga African American Museum was founded in 1983. In 1996, a newly renovated facility became the new home of the Chattanooga African American Museum and the Bessie Smith Hall in honor of the late "Empress of the Blues", Bessie Smith. The Museum currently exhibits "A Cast of the Blues" featuring life casts of prolific artists, "Mississippi: A State of Blues" which includes color photographs, and a 90 minute documentary that follows the history of blues artists from the area.
Images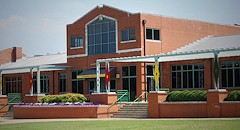 Backstory and Context
The Chattanooga African American Museum was opened in 1983. During that period, the museum sought to memorialize the African Americans who had made a significant contribution to the growth of Chattanooga. As the study of African American History gained more strength, the Museum recognized that they would be able to choose a specific moment in history to memorialize and allow other museums and historical societies focus on the general African American history of Tennessee. The Museum added a Bessie Smith music hall in order to continue the growth of African American contributions to both Chattanooga and to Blues History.

In 1996, the Museum reopened and rededicated itself to Bessie Smith. Bessie was born in Chattanooga, though different dates have been attributed to the year of her birth ranging from 1892 to 1895. It is certain that in 1912, Bessie left Chattanooga to pursue a career in vaudeville. She traveled extensively with Ma and Pa Rainey, both of whom influenced her vocal style. Before the Depression, Bessie was the highest paid African American performer in the world, earning well over $2,000 per week. The shift in musical styles after the Depression pressed Bessie to change her sound to be more radio friendly. Before she was able to successfully make the transition, she was killed in an automobile accident in 1937.

The Hall was dedicated in her honor and the Museum began to shift focus to memorializing the history of African American Blues musicians in the south. Currently there are three major exhibitions at the Bessie Smith Cultural Center. "A Cast of the Blues" features life casts of thirteen influential African American blues artists. These casts give a true feeling for the musician as it is a 3D representation of their figure. "Mississippi: A State of Blues" follows the history of Blues through color photographs. A 90 minute documentary called M for Mississippi: A Roadtrip through the Birthplace of the Blues follows the same path as the photographs, allowing audiences to better understand the times when these artists became prolific.
Additional Information