Pomfret: Birthplace of two early LDS/Mormon Apostles: Lyman and Luke Johnson
Introduction
The Johnson's were a prosperous farming family from New Hampshire before moving to Pomfret, Vermont. Two sons born into the family, Lyman and Luke Johnson would go on to be two of the twelve early Apostles of the LDS/Mormon Church as the church headed west from its beginnings in New York. The family farm does not exist anymore, nor is it currently known were exactly it once stood.
Images
undated portrait of Luke Johnson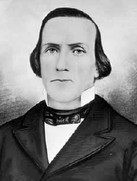 Grave marker for Luke Johnson and one son located in Salt Lake City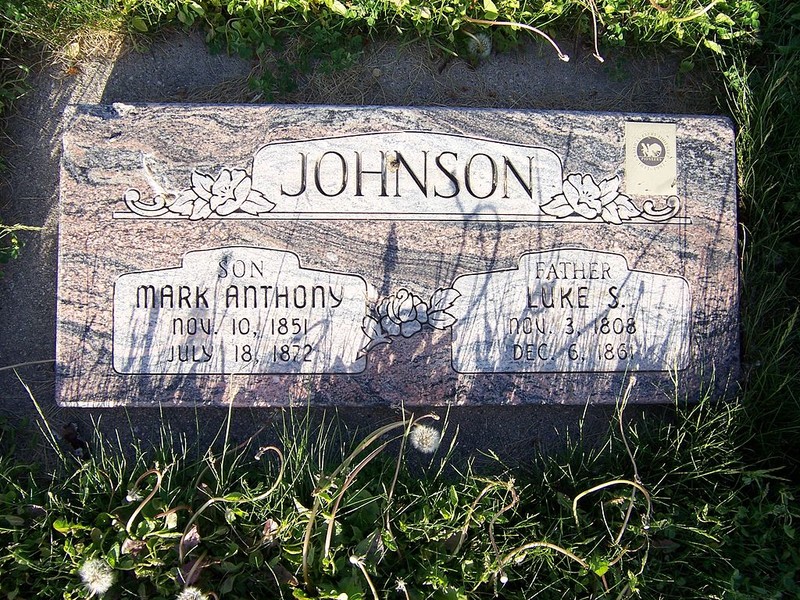 undated photo of Lyman Johnson. Courtesy of Davis Papers, Keokuk Savings Bank & Trust Company, Keokuk, Iowa. Housed in the archives of The Church of Jesus Christ of Latter-day Saints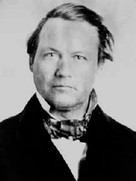 Backstory and Context
Luke (Nov. 3 1807) and Lyman Johnson (Oct. 24, 1811) were sons born to John and Elsa Johnson after the family moved to Vermont from New Hampshire. The farming family was known for their hard work, prosperity and being able to pay off all debts. In 1818, they moved to Hiram, Ohio. Luke became an educator and physician and married his first wife Susan in 1833, two years after coming in contact with Joseph Smith and the infant Church of Christ, now The Church of Jesus Christ of Latter-day Saints, when it moved to Kirtland, Ohio, near Hiram. Luke and Lyman, along with family, were baptized the same year the Smith's moved into their, the Johnson's, family home. More can be learned about the Johnson Home in Kirtland Ohio by clicking on the link for the Clio entry.

Not long after that, the Johnson brothers were called as high priests in the church. As the church grew, many were commanded by God to head to Missouri, for that was where the garden of Eden was and where Christ will come during his Second Coming as the church gathers there in the future (more on this can be learned from Clio entries for these sites). Plans were made for permanent residence of the church and a temple. However, with heavy persecution and an extermination order by the governor of the state, Lilburn Boggs, against the church, an expedition was formed in Kirtland to relieve the Saints and was called Zion's Camp. The Camp proved to be a testing ground for future leaders of the church. Both Johnson's went and later became two of the earliest Apostles of the church.

Back in Kirtland, a banking society was made and it was promised that as long as members of the board and church as a whole were faithful, honest and righteous, it was prosper. However, it failed and many, including the Johnson's lost money and began ridiculing Joseph Smith and others and they joined a group secretly plotting to remove Smith and replace him, until they were found out. Among other misdeeds laid against them, both men were removed from their apostleship and excommunicated, yet never did deny the reality of the church and the Book of Mormon.

Lyman never returned to the church, moved to Wisconsin and became a successful lawyer. He died in 1859.

Luke moved to Cabell County, Virginia (modern day Cabell County, West Virginia) and was an instructor at Marshall Academy, later Marshall University. He retuned to Kirtland to set up a medical practice in the late 1830s. Upon hearing of the murders of Joseph and Hyrum Smith in Nauvoo, Illinois in 1844, he returned to the church, asked to come back, and was re-baptized. He joined the church as they trekked west and was part of the famous Mormon Battalion during the Mexican War. He settled in Toole County, Utah, served as a bishop (only former Apostle to serve a local leader, but never re-ordained to the apostleship) and died in 1861.
Sources
Allen, James B.; Leonard, Glen M. (1976), The Story of the Latter-day Saints, Salt Lake City, Utah: Deseret Book Co. Jenson, Andrew. editor. LDS Biographical Encyclopedia; Vol. 1 and Vol. 4. Ludlow, Daniel H., A Companion to Your Study of the Doctrine and Covenants, Deseret Book Co., Salt Lake City, UT, 1978
Additional Information