Steuben Memorial State Historic Site
Introduction
The Steuben Memorial State Historic Site honors Baron von Stueben, the Prussian-born military officer credited with training and professionalizing the Continental Army during the American Revolution. After the war, Congress granted Steuben a 16,000 acre tract of land in thanks for his vital services. He built a two room cabin (a replica was built in its place) and spent the summers there until his death in 1794. He requested an unmarked grave but in 1804 his remains were moved to the current location, called the "Sacred Grove," and a large tomb marks the burial. The site was placed on the National Register of Historic Places in 1983.
Images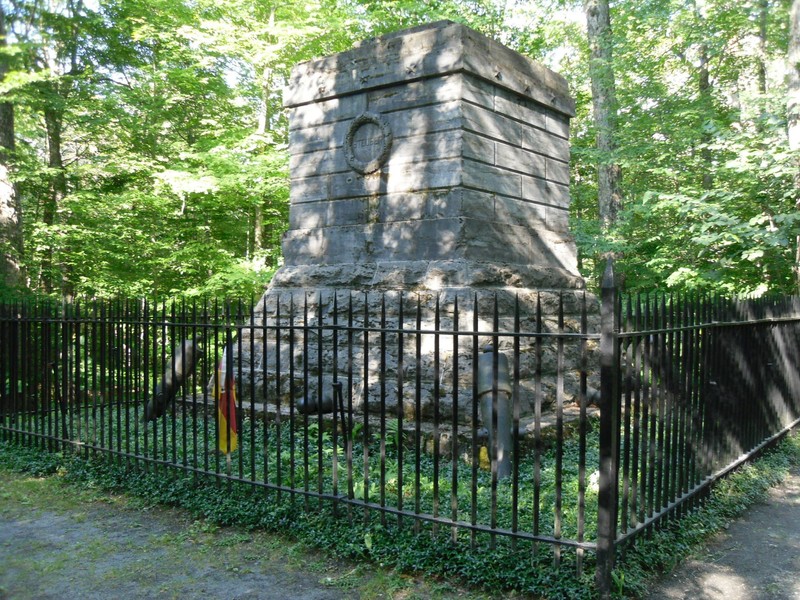 Steuben's replica log cabin

Backstory and Context
Steuben enlisted in the Prussian army at the age of 17 and gradually worked his way up in the ranks. In 1763, he was recommended to Benjamin Franklin, who was in France at the time, by the French Minister of War. Franklin was impressed, but could not offer him a position in the Continental Army; he would need to go to America and volunteer. The reason for this was that the army could not really afford to pay a European military officer and some in the army resented being overlooked. However, he was accused of having a homosexual affair, something looked very much down upon in Europe, and decided to go to America. There, while these allegations were known, no investigation occurred. At Valley Forge, Steuben trained and strengthened the army, and boosted morale. He eventually became George Washington's Chief of Staff.
Sources
http://parks.ny.gov/historic-sites/2/details.aspx https://en.wikipedia.org/wiki/Steuben_Memorial_State_Historic_Site https://en.wikipedia.org/wiki/Friedrich_Wilhelm_von_Steuben
Additional Information