Aledo Historic Marker
Introduction
The city of Aledo traces its origins back to a loosely clustered group of settlers in the Clearfork Valley of the Trinity River. The settlement was originally known as Medera in the mid 1800s. In 1879 the Texas and Pacific Railroad located a line here to connect Fort Worth and Weatherford. This was the first stop for coal and water refueling for trains heading west traveling through Parker County and it became known as Parker Station. Due to mail marked for Parker Co. being mistakenly taken off the train here, the U.S. Post Office required the community to decide on a distinct name. A railroad official named the town Aledo for his hometown of Aledo Illinios. The railroad still runs today alongside the wood and stone buildings of the ordinal town shops.
Images
The city of Aledo as officially incorporated in the 1960s but traces its history back to the era of Reconstruction.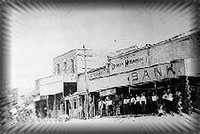 This historic marker was dedicated in 2013-the 50-year anniversary of the city.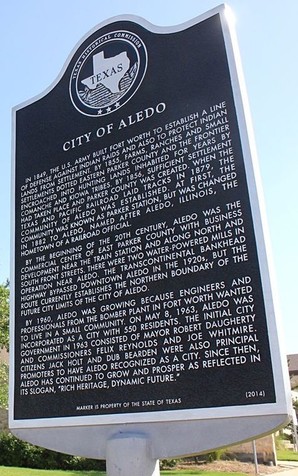 Sources
Additional Information