NOTE: STATUE REMOVED 2015 Statue of Satchel Paige, PNC Park, Pittsburgh, PA.
Introduction
NOTE: This statue, and six others of legendary Negro League players, were removed from PNC Park by the Pirates and sold in spring 2015, with proceeds benefiting the Josh Gibson Foundation. See link below for details. This statue is a dedication to the legacy Satchel Paige left on the game of baseball. Satchel Paige began his baseball career by playing for a few different teams in the National Negro League; during which time, Paige became one of the most fearsome pitchers in baseball history. Finally in 1948, Satchel was finally allowed into the major leagues at the age of 42, which would make him the oldest man to ever debut in the majors.
Images
The statue of Satchel Paige in PNC Park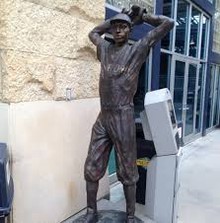 Picture of Satchel Paige during his time with the Cleveland Indians.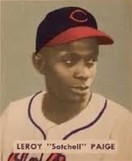 Backstory and Context
Satchel Paige's story doesn't start out like most players in the history of baseball. At the young age of thirteen, Paige was arrested for shoplifting and was sent to the Industrial School for Negro Children. During his time there, Paige was taught his pitching style from Edward Byrd. After playing for a few semi-pro teams, Paige was eventually picked up by a National Negro League team, the Chattanooga White Sox, and his mark on the game was just beginning. His skill was so great, he managed 176 strike outs in 1929 alone; he would also go on to get 17 strikeouts in a single game. This of course was a new record not only for the National Negro League, but it was also one more strike out than the Major League Baseball record of 16. Satchel Paige would go on to play for several other National Negro League teams and barnstorm in Latin America during the off season.
The integration of baseball, with the signing of Jackie Robinson, would affect Satchel Paige in a very dramatic way. On one hand, he understood that it was probably best for Jackie to be the first player to break the color line and help everyone get use to the idea of playing along side Black players. Deep down though, Satchel Paige felt, like many other Negro players of the time, that he should have been the player to break the color line in baseball. He was the player, after all, that all the big time white players wanted to barnstorm against with his legendary pitches.
Paige finally got his chance to play in the major leagues when the Cleveland Indians called him up to help with a pennant run in 1948. This would make him the oldest player to make a debut in the major leagues at the age of 42. Like the National Negro League, Paige bounced around to a few teams before finally retiring 1966. It was his pitching style that many people remember him for though. For the first decade or so, Paige was said to only throw fastballs, with the occasional curveball, which were close to being impossible to hit by some. He did suffer an arm injury later in his career, which forced him to start throwing different types of balls, all of which he became extremely efficient at throwing.
Sources
Satchel Paige. (n.d.). Retrieved April 27, 2015, from http://baseballhall.org/hof/paige-satche 'Satchel': Confronting Racism One Fastball At A Time. (n.d.). Retrieved April 27, 2015, from http://www.npr.org/templates/story/story.php?storyId=105037269 Satchel Paige Biography Baseball Player (c. 1906–1982). (n.d.). Retrieved April 27, 2015, from http://www.biography.com/people/satchel-paige-9431917
Additional Information