Refrigerator Quarter Horse Historical Marker
Introduction
Refrigerator (1988-1999) was a legendary racehorse that historically won the Champion of Champions race three consecutive times. The Champion of Champions Race is held every year at Los Alamitos Race Course in Cypress, California and is the championship race for quarter horses.
Images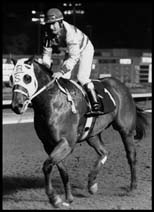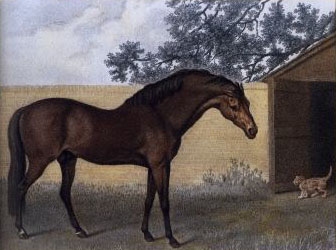 Backstory and Context
Refigerator was an Appendix Quarter Horse racehorse. The American Quarter Horse is a popular racing horse because it is an excellent at sprinting short distances, hence its name. The breed's origins come from cross-breeding with famous imported Thoroughbreds, such as Janus, who was the grandson of the Godolphian Arabian. The Godolphian Arabian, which lived from about 1724-1753 was one of the three stallions that began the modern Thoroughbred racehorse bloodstock. Janus was imported to Virginia in 1756. The quarter horse was attractive because it also made for a good workhorse during the week while still being able to race on weekends.
Fridge was the first horse to earn over $2 million in race winnings. Fridge raced 34 times for Jim and Marilyn Helzer of Arlington, Texas. Dwayne "Sleepy" Gilbreath and Blane Schvaneveldt were his trainers and he was ridden by Bruce Pilkentown and Kip Diderickson. The "appendix" designation for the breed refers to a horse being a first generation cross between a registered Thoroughbred and an American Quarter Horse.
Sources
https://en.wikipedia.org/wiki/Refrigerator_(horse) http://www.hmdb.org/marker.asp?marker=55940 https://en.wikipedia.org/wiki/Champion_of_Champions_(horse_race) https://en.wikipedia.org/wiki/American_Quarter_Horse https://en.wikipedia.org/wiki/Godolphin_Arabian http://www.aqha.com/Museum/Explore/Hall-of-Fame/Horses/R/Refrigerator.aspx
Additional Information