Flagler Park
Introduction
This historic public space has long been an important part of the West Palm Beach community, being home to libraries, reading rooms, and a public park. A historic marker at this location offers a brief history of the space and its role within the larger history of the city of West Palm Beach.
Images
The city of West Palm Beach erected this marker in 1999.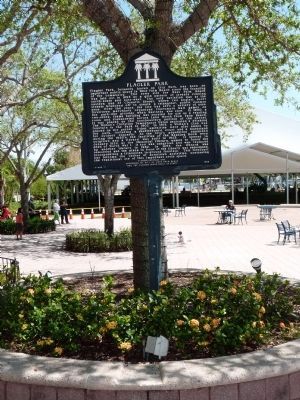 Backstory and Context
Flagler Park, formerly known as City Park, has been an important public space in West Palm Beach since the founding of the community. The town site for West Palm Beach was laid out in 1893 as a grid pattern of streets running north - south and east - west. The only variation was at the eastern end of Clematis Street, where two angled, short streets branched off to create a triangular, public common area.

Over the years, the site has seen a variety of uses. Downtown merchants organized impromptu ball games on the park-like grounds when business was slow. In 1900, a two-story, frame building was donated for use as a reading room and transported across Lake Worth from Palm Beach. It was placed on the southeastern portion of the parcel. The Woman´s Christian Temperance Union dedicated a drinking fountain in the Park in 1907. In 1915, a Woman´s Club was placed on the parcel. Other amenities were also added to the park, including a shuffleboard court and a bandstand for outdoor concerts.

As the City´s population expanded during the 1920´s, the facilities of the Reading Room were outgrown and a library was built in 1923. It opened in January 1924, as the Memorial Library, named to honor the dead of World War I. It too was outgrown and was replaced by another library in 1962. In 1994, the library was remodeled and the plaza in front of the library.

Additional Information