Morgan County Courthouse
Introduction
The Morgan County Courthouse is located in Berkeley Springs, WV. It was built in 1907 and was a two-story, three-bay, building constructed of yellow brick with limestone accents in the Neoclassical style. It featured a centered, octagonal clock tower that extended above the second story flat roof and dominated the main elevation. Also on the property are an annex (c. 1920) and former jail (1939). The courthouse building was damaged by fire in 2006 and was subsequently demolished and rebuilt.
Images
Photo of the courthouse taken in July, 2011.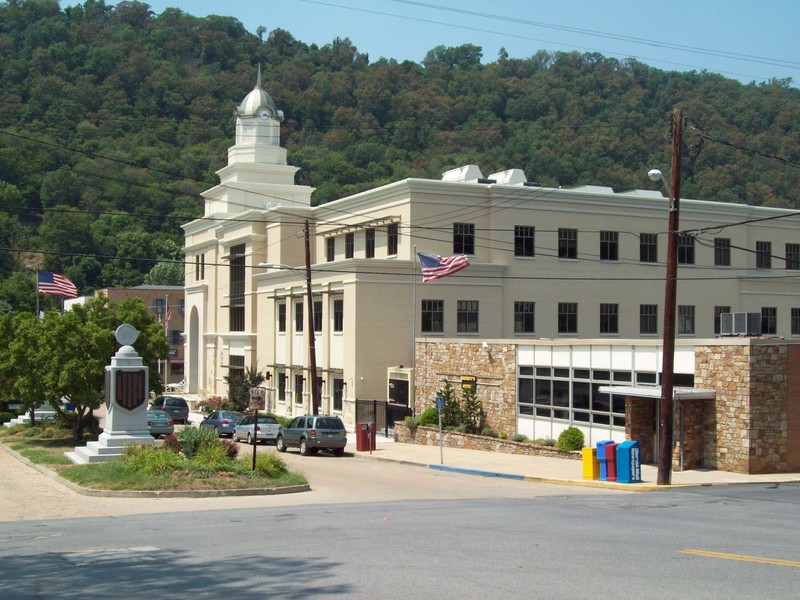 Photo of when the courthouse burnt down in 2006.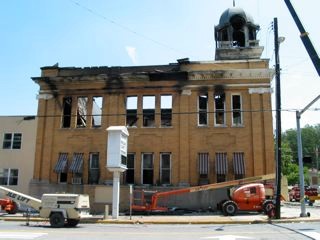 Backstory and Context
The Morgan County Courthouse has been around since the 1800s. The courthouse was built shortly after Morgan County was formed in 1820 from portions of Berkeley and Hampshire counties; the county seat was set in Berkeley Springs. In 1844, a fire swept through downtown destroying 14 buildings which included half of the resort town's hotel accommodations and the first of three courthouses Berkeley Springs will have.
Two years after the fire that swept through Berkeley Springs, the land where the courthouse was previously at was sold by the county for $600 back to the Sherrards and bought back the present day location of the courthouse. Pictures from that time show essentially the same configuration for the courthouse; the second courthouse was basically the same, it had two-stories except the third courthouse had a peaked roof. The courthouse has a clock tower, but no clock actually presided on it. 
The courthouse has been remodeled many times since the 1880s. In 1883, the courthouse received new carpet from the current sheriff, Sheriff Buzzerd; it's reported he replaced all the carpet due to all the tobacco spit on the carpet and wanted the courthouse to look more presentable. In 1905, after five years of demands for upgrades, the courthouse was finally renovated and given many upgrades. The roof of the courthouse was flattened removing the existing peaked roof; a clock was added to the clock tower that was sold to the county by a local jeweler in 1908. The clock had an illuminated dial and four sides each being four feet in diameter.
On September 5, 1908, the newly remodeled third courthouse was opened. In 1923, a brick addition was added to the courthouse as well as hardwood floors in the hall and lobby in 1930. In 2002, the original awnings were restored and the facility became handicapped accessible. All the renovations and upgrades done to the courthouse were quickly erased when the courthouse caught fire on August 8, 2006. On December 1, 2006, the county received a grant of $500,000 from the West Virginia Courthouse Facilities Improvement Authority to help rebuild the courthouse. The grant is the largest the authority has ever granted to an entity. The courthouse was eventually rebuilt and is open today.
Additional Information