Austin, CSA- Historical Marker
Introduction
Austin was very active during the Civil War. It was the site of the Secession Convention and subsequent legislative sessions that lasted until June 1865. The city also became home to a military fort, an arsenal, a gun cap factory, and a foundry that produced guns and cannons. Slaves built three forts around the city for the purpose of defending the city from attacks from the south, north, and east.
Images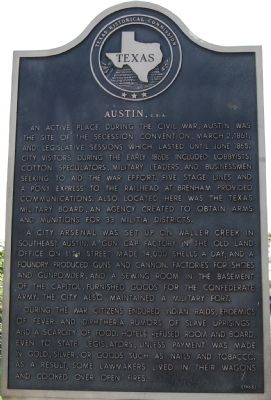 The seven convention delegates who opposed secession L to R standing; AP Schuford, James W Throckmorton, Lemuel H. Williams, and Joshua Johnson L to R seated; William H. Johnson, George W. Wright, and Thomas P. Hughes
Backstory and Context
The Secession Convention, in which the people of Texas would vote to secede from the Union, was held in late January and early February of 1861. The fervor surrounding considering secession grew in October of 1860 when it began to seem certain that Abraham Lincoln would win the presidential race. South Carolina seceded the following December, immediately followed by five other southern states, only increasing the pressure for Texas to do so. The law in Texas required that the governor must call a special session of the legislature to vote on secession. Sam Houston refused to do so. This resulted in the chief justice of the Texas Supreme Court, Oran M. Roberts, and other influential members of Texas society working toward secession without the power of the governor. By early December, they had printed a call for a secession convention in several newspapers. After realizing that a convention of some sort was going to take place, Governor Houston called a meeting of the legislature in mid-January, hoping that they would find the convention illegal. Instead, the legislation gave the go ahead and elections for the delegates of this convention were soon underway. These elections are believed to have been very biased and, at best, barely legal. Unionist representation at these meetings was small to none, as Unionists were either discouraged from attending or refused to go because they considered them to be illegal.
On March 2, 1861, Texas joined the Confederate States and immediately replaced Sam Houston as governor because he refused to take an oath of allegiance to the Confederacy. The following is from A Declaration of Causes Which Impel the State of Texas to Secede from the Federal Union (Feb. 1861): "We hold as undeniable truths that the governments of the various states, and of the Confederacy itself, were established exclusively by the white race, for themselves and their posterity; that the African race had no agency in their establishment, that they rightfully held and regarded as an inferior and dependent race, and in that condition only could their existence in this country be beneficial or tolerable."
Sources
"Austin, C.S.A." The Historical Marker Database. Accessed September 27, 2015. http://www.hmdb.org/marker.asp?marker=25723.

Barnes, Michael. "Finding Civil War Fort Magruder." September 15, 2012. http://www.statesman.com/news/lifestyles/finding-civil-war-fort-magruder/nSLQ6.

"Civil War Sites in Texas." Fort Tours. Accessed September 27, 2015. http://www.forttours.com/pages/civilwarsites.asp.

"In Seceding, TX mentions slavery 21, race, 9, rights 4 times." Story of America. Accessed September 27, 2015. http://www.storyofamerica.org/texas_secession.

"Secession Convention." Texas State Historical Association. Accessed September 27, 2015. https://tshaonline.org/handbook/online/articles/mjs01.

Additional Information