Germantown Mennonite Historic Trust
Introduction
Built in 1770, the Mennonite Meeting House of Germantown, Pennsylvania still stands to this day as a snapshot of Mennonite history and the religious mosaic that existed in colonial Pennsylvania. Much of Germantown's history was written by members of the Quaker faiths, some of whom were historically Mennonites, bringing portions of their faith into the continually growing community in Germantown. The Meeting House has been preserved well, and, as of the creation of this article, it is under the care of the Germantown Mennonite Historic Trust, which administrates educational tours and open houses on weekends throughout the spring, summer, and fall months of the year.
Images
Early spring at historic 1770 Germantown Mennonite Meetinghouse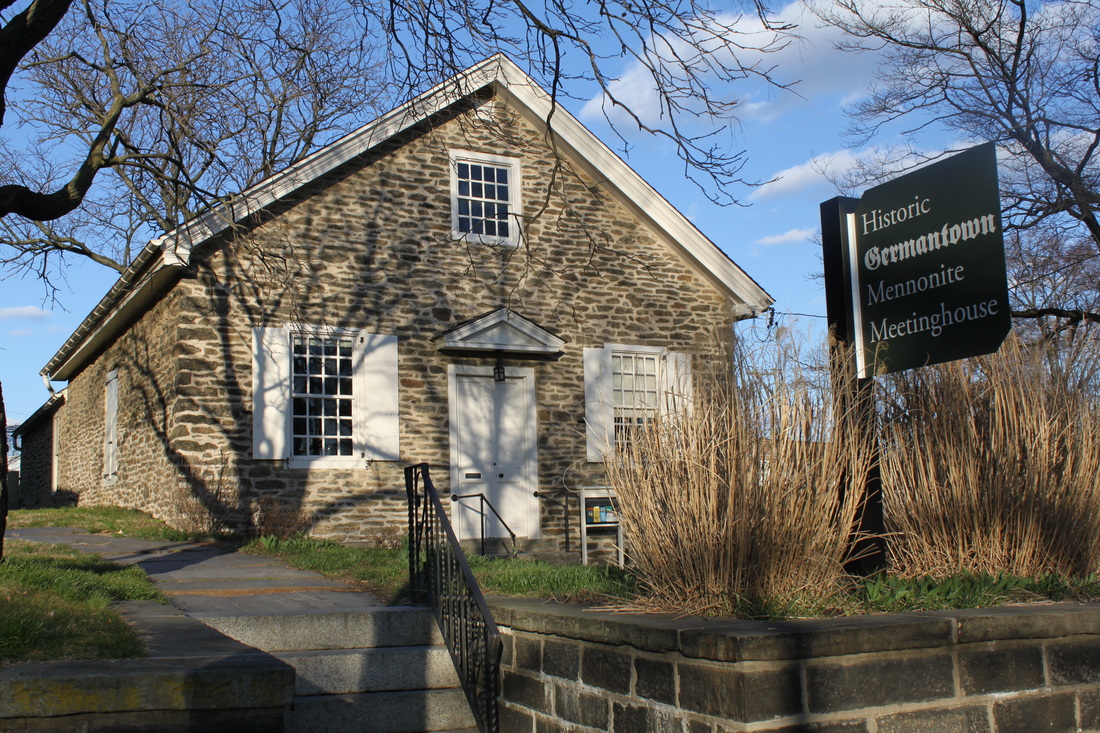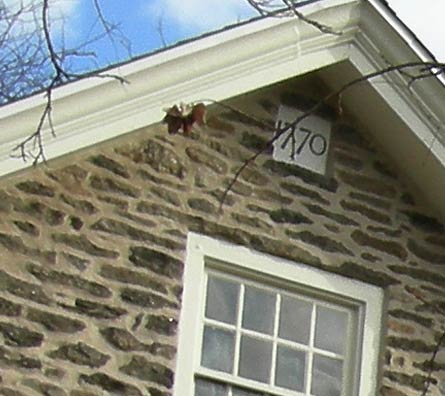 Backstory and Context
William Penn, the founder of the colony of Pennsylvania and one of the most well-recognized proponents of Quakerism, had an incredible influence on the cultural and religious history of not only Germantown and Philadelphia, but the entirety of Pennsylvania and its neighboring colonies. Throughout his young life, Penn was an outspoken believer in Quakerism following his conversion sometime around the time of 1666. His faith led to repeated conflicts with his family, the government of England, and numerous other churches of the time.
Penn was imprisoned repeatedly, disowned by his family, pulled from education at Oxford, and stripped of his inheritance as a result of his steadfast conviction in the teachings of the Quakers. Penn's father was a storied admiral and became Commissioner of the Royal Navy shortly before Penn converted to Quakerism, which meant that his subsequent religious outspokenness was both public and controversial, leading to years of strife between his family, the government, and himself. After numerous rows and reconciliations, Penn's family decided it would be best to send him to Paris and, later, the rest of Europe, to keep him busy and out of the public eye in England.
William Penn and his father did ultimately come to a mutual respect for one another, largely facilitated by his mother, Margaret Jasper, who hoped for peace between the two without further damage to their family's public standing. Before his father passed, William Penn was written back into his father's inheritance, and the changing political landscape of England allowed for his father to ask a favor of the royalty of England: that William would be kept safe, protected from further persecution by the crown. As William grew in both faith and age, he would come to appeal the crown for a mutually beneficial solution to the rise of the Quaker faith in England. Penn requested a North American colony to which the Quakers could emigrate. Following surprisingly little negotiation, Penn found himself in the possession of an enormous tract of land to the west of New Jersey.
Penn's colony would come to be named Pennsylvania by King Charles II, who had great respect for William's father, Admiral Penn. The charter and foundations of government for Pennsylvania were built on Quaker principle, focusing on reducing the severe punishments for crime that were popular in England, building a jury-based legal system, and forbidding behaviors deemed as "idle," including theater, gambling, and revelry. Despite restrictive social rules, Pennsylvania was welcoming to those of many religious faiths, with religious freedom as a core tenet of the colony's governmental policy. Because of this open-minded view of religions, many persecuted Germans and Dutch joined him in his journey to the New World.
The Mennonite Meeting House would prove to be the first place of worship for Mennonites, Anabaptists, and Baptists in the Germantown area. Germantown was a hotbed of theological discussion as faithful of various religious backgrounds chose to either integrate into the Quaker faith or stand independent of them. A substantial local congregation of Mennonites chose to build their own chapel, separate from the first church built in Germantown. This simple log church, constructed in 1708, was the first Mennonite church on the continent and was located at the corner of Germantown Avenue and Herman Street.
In 1770, the aging log church was rebuilt into a larger building, the same building that resides on the corner to this day. Within, a number of documents, pieces of furniture, tools, and fixtures that were created and used by contemporaries of Penn and the other religious leaders of the Pennsylvania colony. The Mennonite Meeting House has benefited from devoted and careful preservation that grants it a unique position in the historically powerful Germantown: It is one of the few remaining examples of the incredibly important role that religion, and the freedom of religion, played in the formation of the Pennsylvania we know today.
Sources
The Mennonite Meeting House and Mennonite Historical Trust. University of Penn Library. 10/8/2018. 3/18/2018. http://dla.library.upenn.edu/cocoon/dla/pacscl/ead.pdf?id=PACSCL_HSP_GMHT02. Detailed information about the House and the organization that supports it

The Mennonite Meeting House. Library of Congress. 1933. 3/18/2018. https://cdn.loc.gov/master/pnp/habshaer/pa/pa1000/pa1000/data/pa1000data.pdf. Library of Congress collected documents on the Mennonite Meeting House

Official NRHP Record of the Mennonite Meeting House. National Park Service NRHP. 7/23/1973. 3/18/2018. https://npgallery.nps.gov/AssetDetail/NRIS/73001663. Mennonite Meeting House NRHP Record


Additional Information