St. Stephen's Episcopal Church
Introduction
St. Stephen's Episcopal Church is the oldest building of Gothic design still standing in the city of Philadelphia. Constructed in 1823 by renowned architect William Strickland, it is considered to be the first truly Gothic building erected in the city and stands on the site where Benjamin Franklin flew his historic kite. St. Stephen's has been referred to as "Philadelphia's Westminster Abbey" due to the stunning sculptures, mosaics, and stained glass it holds, along with its rich history. Today the church retains its Episcopal roots, but is also home to various other religious meetings and multicultural services.
Images
St. Stephen's circa 1860.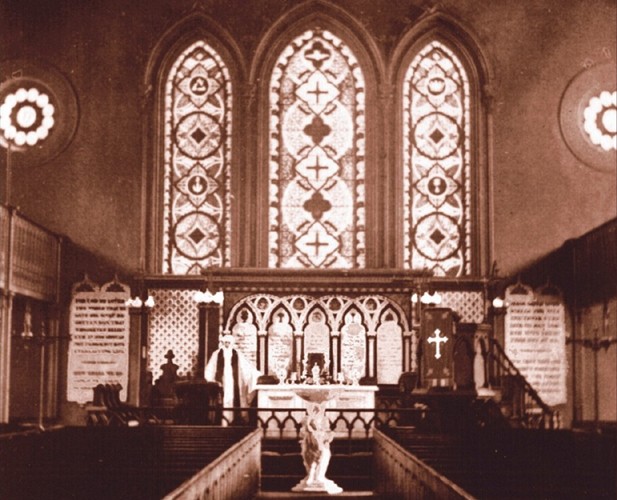 St. Stephen's circa 1917.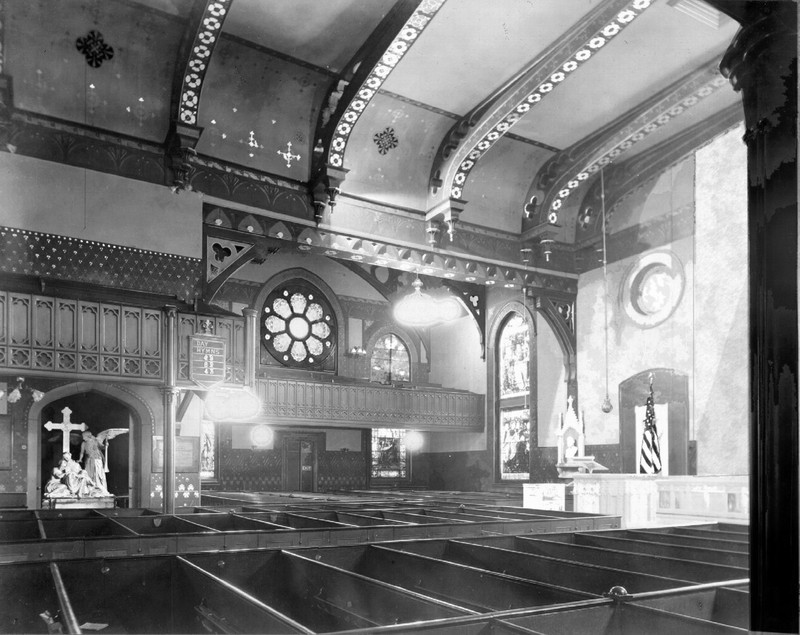 Exterior of St. Stephen's today.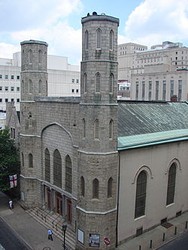 Backstory and Context
St. Stephen's Episcopal Church is one of the few examples still standing of architect William Strickland's experiment with the Gothic style. Strickland was known for his Greek Revival buildings and was considered to be "America's premiere colonial architect." However, some experts don't consider St. Stephen's to be an accurate representation of mature Gothic design: it is clear that Strickland was stepping outside of his comfort zone when he created the church, but the building holds elements of Gothic style, nonetheless, and possesses a striking appearance. True to Gothic design, it does have pointed windows and doors, vaulted ceilings, and clustered columnns, all reminiscent of Mozart's St. Stephen's church in Vienna.
St. Stephen's is home to many artistic treasures: a Venetian glass alter-piece depicts the Last Supper, early Tiffany windows grace the walls, and three monumental sculptures by Steinhauser sit in the church. St. Stephen's also holds a sculpture termed "The Angel of Purity," created by renowned American sculptor St. Gaudens. Its stained glass windows were made in England and later installed in St. Stephen's – it is notably the first church built in Philadelphia to have stained glass windows. In 1878, distinguished architect Frank Furness expanded the church and redecorated its walls, adding a transept and vestry room.
Church services have taken place continuously in St. Stephen's since the original service was held on February 27, 1823 by Rector Rev. Dr. James Montgomery. Years later, the church hosted guests from all over the world during the Centennial International Exhibition of 1876, held in Philadelphia to celebrate the 100th anniversary of the signing of the Declaration of Independence. During World War II, Dr. Alfred Price founded a well-known healing ministry in the church that addressed any emotional and spiritual needs of the ill. In addition, many well-known Philadelphian families have been a part of the church's congregation, including Vice-president George Mifflin Dallas and medical pioneer Dr. S Weir Mitchell.
The blocks around St. Stephen's Church have evolved over the years into a largely commercial, nonresidential area. Today, the church attracts a diverse community for Taizé chanting, prayer, and sacrament in the Anglican tradition. Current Rector Dr. Charles Flood is committed to connecting the arts in Philadelphia with spirituality. As a result, St. Stephen's houses the Philadelphia Sinfonia Youth Orchestra, which rehearses weekly in the church, and hosts a number of special arts performances each year.
Sources
Aurand, Martin. "National Register of Historic Places Inventory--Nomination Form: St. Stephen's Episcopal Church." U.S. Dept. of the Interior, National Park Service. July 27, 1978. Accessed October 28, 2017. http://www.dot7.state.pa.us/CRGIS_Attachments/SiteResource/H001467_01H.pdf.

"Sonata: Sinfonia Orchestra News, Winter 2014." Philadelphia Sinfonia. Accessed October 28, 2017. http://www.philadelphiasinfonia.com/usrfiles/content/Sonata_Winter_2014.pdf.

"St. Stephen." Philadelphia Church Project. Accessed October 28, 2017. http://www.phillychurchproject.com/st-stephen/.



Additional Information