St. Michael's Cathedral
Introduction
Built in 1961 to match the historic cathedral that predates the Civil War, St. Michael's Cathedral is one of the most iconic landmarks in Sitka. Th cathedral serves as an example of Russian influence over this section of North America.
Images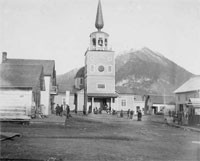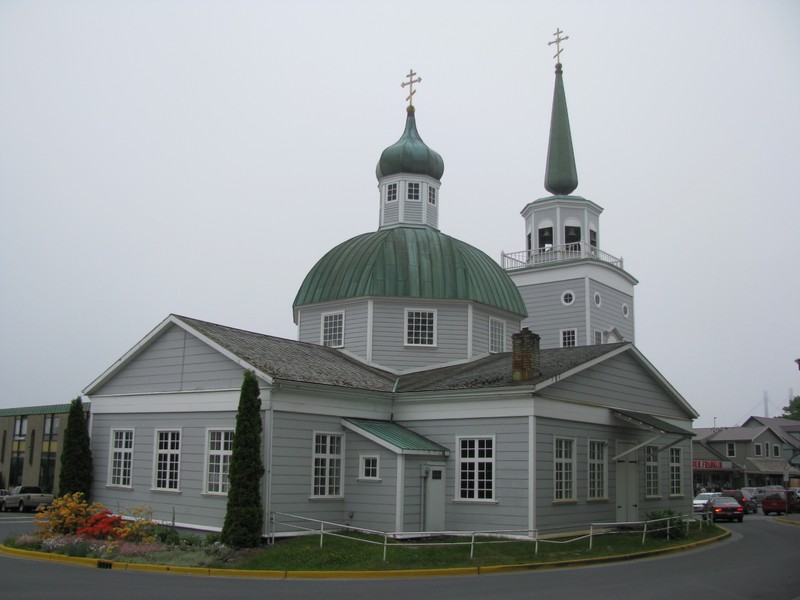 Backstory and Context
St. Michael's Cathedral was originally built in the early 1840s. St. Innocent hired Finnish carpenters to build the Cathedral. They built it out of spruce logs and ceilings, and the walls were lined with sailcloth for insulation and acoustics. Between 1840 to 1872 Sitka was the See of the Russian Orthodox. Soon after 1872 the cathedral was under the authority of the Diocese of Alaska. The building and its history serves as an example of the Russian influence within this section of the United States from the 19th century to the present.

The night of January 2, 1966 the Cathedral burnt down by an accidental fire. One hundred civilians of the town formed a human chain during the fire and salvaged nearly 95% of the original icons, pieces of Russian Orthodox art, and religious objects. The new building was built by 1961 drawings of the original cathedral by the Historic American Buildings Survey.

The new Cathedral has its similarities to the original, however is has green domes and golden crosses. It still holds the pieces saved by the one hundred towns people during the fire of 1966. Today is holds its services as usual Cathedrals do, however during tourist season, the Cathedral is open from 9am to 4pm for tours, or you can call for an appointment to tour the historic structure.
Sources
"Cathedral of St. Michael the Archangel (Sitka, Alaska)." - OrthodoxWiki. N.p., n.d. Web. 15 Oct. 2015. "Parishes - St. Michael the Archangel Cathedral." - Orthodox Church in America. N.p., n.d. Web. 15 Oct. 2015. "St. Michael's Cathedral (Sitka, Alaska)." Wikipedia. Wikimedia Foundation, n.d. Web. 15 Oct. 2015.