Hotel Californian
Introduction
This luxury hotel opened in December, 1923. The Hotel Californian was renowned for providing the finest accommodations in central California. In fact, the hotel itself became a symbol for the potential of the booming city of Fresno with its symmetrical towers, open courtyard, and grand interior. Guests were particularly impressed by modern features such as central air conditioning. The hotel's opulent ballrooms hosted the premiere social and political events of Fresno in the booming 1920s.
Images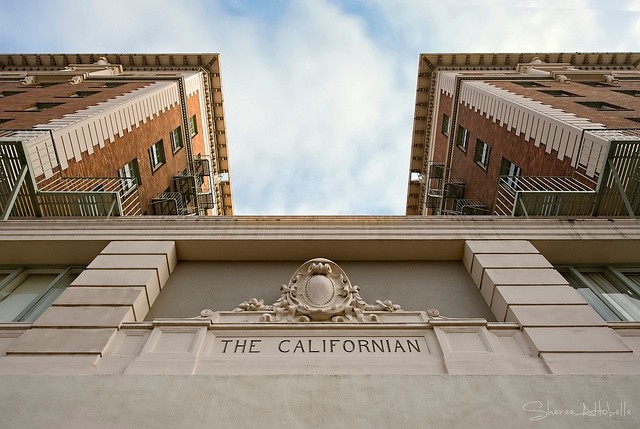 This historic postcard was likely produced within the first decade of the hotel's opening.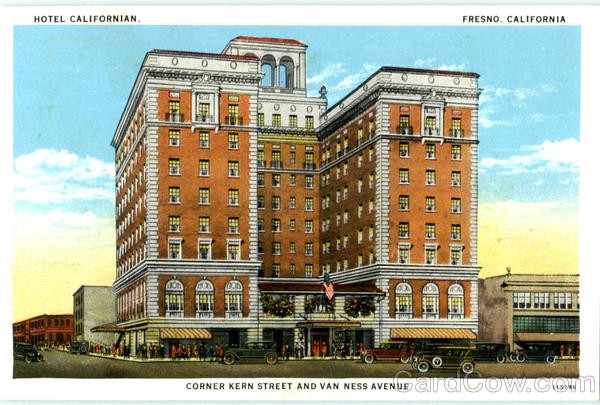 Backstory and Context
Located in Fresno California, the Hotel California ,was built to be a fancy hotel for tourists and a common location for residents of the community to meet and socialize. The hotel represented the potential of Fresno. The building was constructed by R.F Felchlin with a design by H. Rafael Lake. At the time the hotel was built, it was easily the largest hotel in Fresno. The hotel is located between Los Angeles and San Francisco , making it very convenient for tourists.
The hotel was built in the 1920s and easily became one of the most famous hotels to exist.It's grand opening occurred in December of 1923. The hotel was known for having celebrities stay and visit, which increased the popularity of the hotel.The 1920s made the hotel a hot spot for the wealthy and famous. The hotel symbolized fun, class, and a growing economy to Fresno.
The hotel's design reflected Italian Renaissance and Beaux-Arts tradition. The building itself is stone with many windows. The hotel had nine floors. Some of these floors belonged to commercial and retail businesses whom used the space for offices. The building is split into different sections, the Northeast Elevation and the Northwest Elevation, Southwest Elevation, and Southeast Elevation. All of these sections are on specific parts of the street where Hotel California is located. Northeast is located on Van Ness Avenue and is nicknamed the hotel's "capitol." Northwest can best be seen from Kern Street, because symmetrically speaking, it is not located on a street. The penthouse is located on this part of the building. The Southwest and Southeast is actually where the hotel's courtyard is located.
Today, the hotel is remembered as a famous landmark to Fresno.It is known to the rich and famous and the average person. The Hotel California has even influenced songs. For example, almost everyone can recall the Eagle's song, "Hotel California." Today, the Hotel California has become a place of housing for low income seniors. The ground floors have been converted to retail shops. It is a good place for tourists to find, when looking for a fun time and popular landmarks. The hotel has forever changed Fresno and the community. The Hotel California was glamour and adventure which heavily influenced the 1920s.
Sources
http://historicfresno.org/nrhp/californ.htm