The Meeting: Branch Rickey and Jackie Robinson Historic Marker
Introduction
The Brooklyn Dodger's team office was located at 215 Montague Street. As a result, this was the location of the first meeting between Brooklyn Dodger general manager Branch Rickey and Jackie Robinson on August 28, 1945. Robinson signed with the Dodgers, becoming the first African American to play Major League Baseball in the modern era. After a season in the Dodger farm system, Robinson made his debut on April 15, 1947, breaking the color barrier that had been in place since the 1880s. As the second baseman for the Brooklyn Dodgers, Robinson also revived the fortunes of long-suffering team. Robinson won the title of Rookie of the Year and the Dodgers won the NL pennant in his first year. Robinson continued to lead the team in several categories through 1954 when he maintained a .311 batting average. The Dodgers won the World Series the following year. Feeling the effects of diabetes and approaching his 38th birthday, Robinson retired after the 1956 season and became an executive for the Chock full o'Nuts coffee company. Prior to signing with the Dodgers, Robinson played shortstop for the Kansas City Monarchs of the Negro American League. After a now famous three-hour meeting with Rickey at this exact location, Rickey agreed to sign a contract for Robinson to play with the Montreal Royals, an International League team within the Dodger organization.In the face of brutal and extensive racial antagonism, Robinson continued to play well, and attendance to games boomed. Six days before the 1947 season, Robinson broke the color barrier and made his major league debut at Ebbets Field.
Images
This historic marker at 215 Montague Street in Brooklyn was erected by EAB and the Brooklyn Historical Society. The plaque details the legendary meeting between Robinson and Rickey.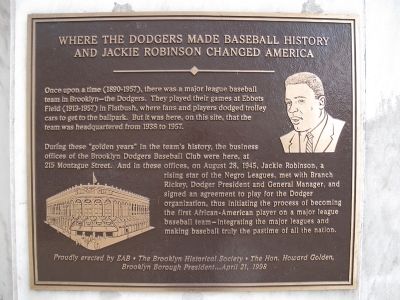 Robinson with Montreal Royals, 1946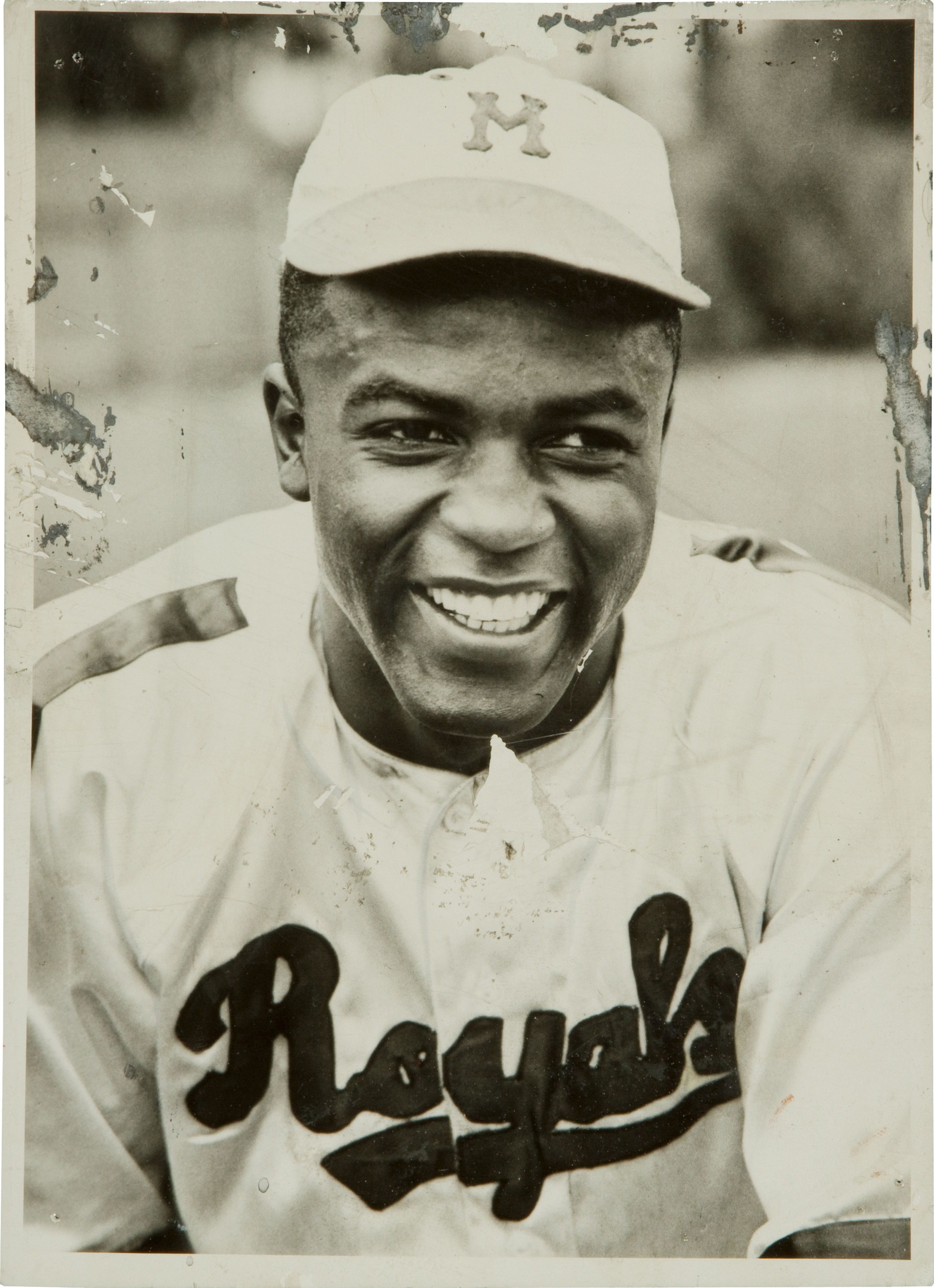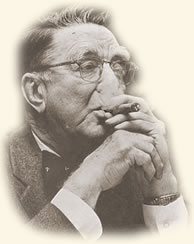 To learn more about this meeting and Robinson's career, please review links to resources below, such as this book: "I Never Had It Made: An Autobiography of Jackie Robinson."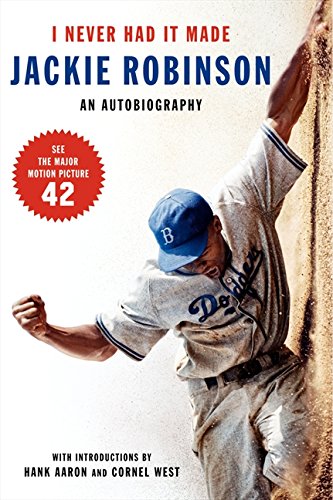 Backstory and Context
History Leading Up to Jackie Robinson's Integration Into MLB
There are several converging factors leading to the debut and eventual success of professional baseball's integration. At 215 Montague, a meeting between a manager and player set the stage for the term "national pastime" to finally live up to its name. 
Robison was the first African American baseball player in the modern era, but not the first to ever play in the major leagues. That distinction goes to many players, such as William Edward White, Moses Fleetwood Walker, and Walker's brother, Welday Walker. Due to a "gentleman's agreement" in the 1880s, the various clubs in the National League agreed to exclude non-white players (this bar remained until the Robinson's first season in 1947). The Walker brothers, among many others, were unceremoniously dropped from major league and minor league rosters. 
In addition to players such as Edward White who either hid or did not know about their partial African ancestry, dozens of light-skinned players from the Caribbean attempted to pass as "Spanish" during the early 1900s. Labels such as Spanish and Castillian were used to emphasize a Caribbean player's European heritage. These labels also served to downplay the likelihood that any person from the Caribbean and South America likely had at least one person of African descent in their family tree. Of course, none of this background information reduces the historic significance of Robinson's life-he became the first acknowledged person of African descent and the first dark-skinned player in the Major Leagues since the Walker brothers. Given the growth and increased popularity of baseball between the 1880s and 1950s, Robinson's career had a much more significant impact on the history of race relations than any other athlete in American history.  
Prior to his baseball career, Jackie Robinson was in the military from 1942 to 1944, where he famously stood up to a white bus driver who had attempted to require Robinson to sit on the back of the bus. Robinson faced a courts-martial for his act, but the military agreed that Robinson had acted within his rights. After his discharge, Robinson served as the athletic director at Sam Huston College in Austin from 1944 to 1945. In 1945, however, he was contacted by the Kansas City Monarchs with an offer for him to play professional baseball in the Negro Leagues for $400 a month. 
During the 1945 season with the Monarchs, Robinson was also pursuing several major league interests. For example, at Fenway Park the Boston Red Sox were holding tryouts for African American players. Unfortunately, this tryout was a sore farce, a chance to assuage desegregationist sensibilities of Boston political figures. Robinson, among the others trying out, were targets of excessive racial epithets during these tryouts. 
Some major league managers, however, were more serious about bringing in an African American baseball player. Branch Rickey, the general manager for the Brooklyn Dodgers (and working out of the fourth floor of 215 Montague), was determined to end baseball's Jim Crow traditions, and, working in secret and away from prying eyes of pro-segregation baseball executives—including Commissioner Kenesaw Mountain Landis—Rickey was able to create several diversions to smokescreen his scouting of African American players.1
The Famous Meeting Between Robinson and Rickey
Although Robinson would go on to face severe racial antagonism, from within the Dodgers and without, the historic meeting memorialized at the current building at 215 Montague would forever change professional baseball. On August 28, 1945, Robinson was called into the fourth-floor offices of the Brooklyn Dodgers, and what ensued was a legendary three-hour exchange between the two. 
One of the principle reasons why Rickey chose Robinson (as Robinson wasn't the best player in the Negro leagues) was due to Rickey's belief that Robinson would be able to withstand the flurry of racial abuse that would come from a landmark signing. Robinson, at the start of the meeting, believed Rickey was signing him to the Negro team he owned, but was undoubtedly surprised when Rickey said that Robinson would start with the Montreal team and then, if Robinson could make it, for the Brooklyn Dodgers.2
Robinson soon caught on when Rickey started asking about how he would respond to racial abuse, leading to Robinson's famous quote, "Do you want a ballplayer who's afraid to fight back?"
Rickey then stated, "I want a ballplayer with guts enough not to fight back!…You've got to do this job with base hits and stolen bases and fielding ground balls, Jackie. Nothing else!"
Rickey would go on to interview Robinson, placing him in the center of many imaginary, heated racial scenarios. One of these scenarios, according to Rickey, involved how Robinson would react to a hot-headed player punching him in the face. Robinson's legendary response was, "I've got two cheeks. That it?" And Rickey agreed to sign Robinson to a contract, and less than two years later, on April 15th, 1947, Robinson would make his major league debut.3
Other Accomplishments in Brooklyn
Branch Rickey also revolutionized baseball in many other ways. Rickey was always creative and innovative when it came to making deals when he was in St. Louis, but was able to expand his creative tendencies here in Brooklyn. He used his innovative ideas to improve the game, practice, and improve the safety of the game. Practice makes perfect, and Rickey felt that practices could be improved. He brought batting cages into the Dodgers facilities which allowed his team to hit more often, and more efficiently. Rickey also brought pitching machines in which allowed coaches and players to throw less and practice to go more smoothly. Finally Rickey improved the safety of the game. Before his implementation of batting helmets, players would only wear their hats when batting. Many players were injured, and when Jackie Robinson was thrown at, he realized something had to change. Branch Rickey completely changed the game, and helped make baseball what it is today.5
Inscription on the Historical Marker
Once upon a time (1890-1957), there was a major league baseball team in Brooklyn—the Dodgers. They played their games at Ebbets Field (1913-1957) in Flatbush, where the fans and players dodged the trolley cars to get to the ballpark. But it was here, on this site, that the team was headquartered from 1938-1957.
During these "golden years" in the team's history, the business officers of the Brooklyn Dodgers Baseball Club were here, at 215 Montague Street. And in these offices, on August 28, 1945, Jackie Robinson, a rising star of the Negro Leagues, met with Branch Rickey, Dodger President and General Manager, and signed an agreement to play for the Dodger organization, thus initiating the process of becoming the first African-American player on a major league baseball team—integrating the major league and making baseball truly the pastime of all the nation.
Sources
1.) Thorn, John. "215 Montague Street," Our Game, ourgame.mlblogs.com, published June 27, 2013. Accessed October 25, 2015, http://ourgame.mlblogs.com/2013/06/27/215-montague-street/ 2.) Schwartz, Larry. "Jackie changed face of sports," Espn.com. Accessed October 25, 2015, http://espn.go.com/sportscentury/features/00016431.html 3.) "Jackie Robinson Breaks Baseball's Color Barrier, 1945," EyeWitness to History, www.eyewitnesstohistory.com (2005) 4.) "Where the Dodgers Made Baseball History and Jackie Robinson Changed America." Historical Marker Database, hmdb.org. Accessed October 25, 2015, http://www.hmdb.org/marker.asp?marker=33742 5.) Branch Rickey, National Baseball Hall of Fame. Accessed December 8th 2019. https://baseballhall.org/hall-of-famers/rickey-branch.
Additional Information