Dreamland Pool
Introduction
Dreamland Pool was founded by local businessman J. D. Booth in 1926. The community pool served as one of the area's biggest attractions because of its many activities and convenient placing on Route 60 between Huntington, WV and Ashland, KY. Today the pool is owned and managed by the Kenova Parks and Recreation Board. It remains a family-friendly environment for recreational activities every summer.
Images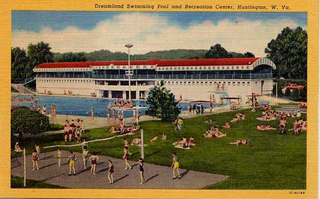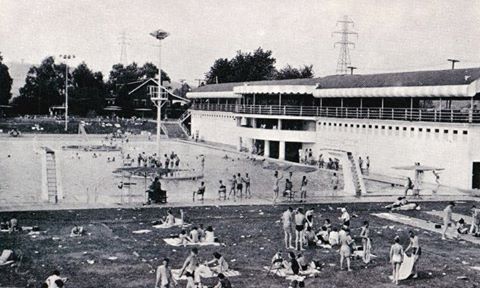 Original lay out of Dreamland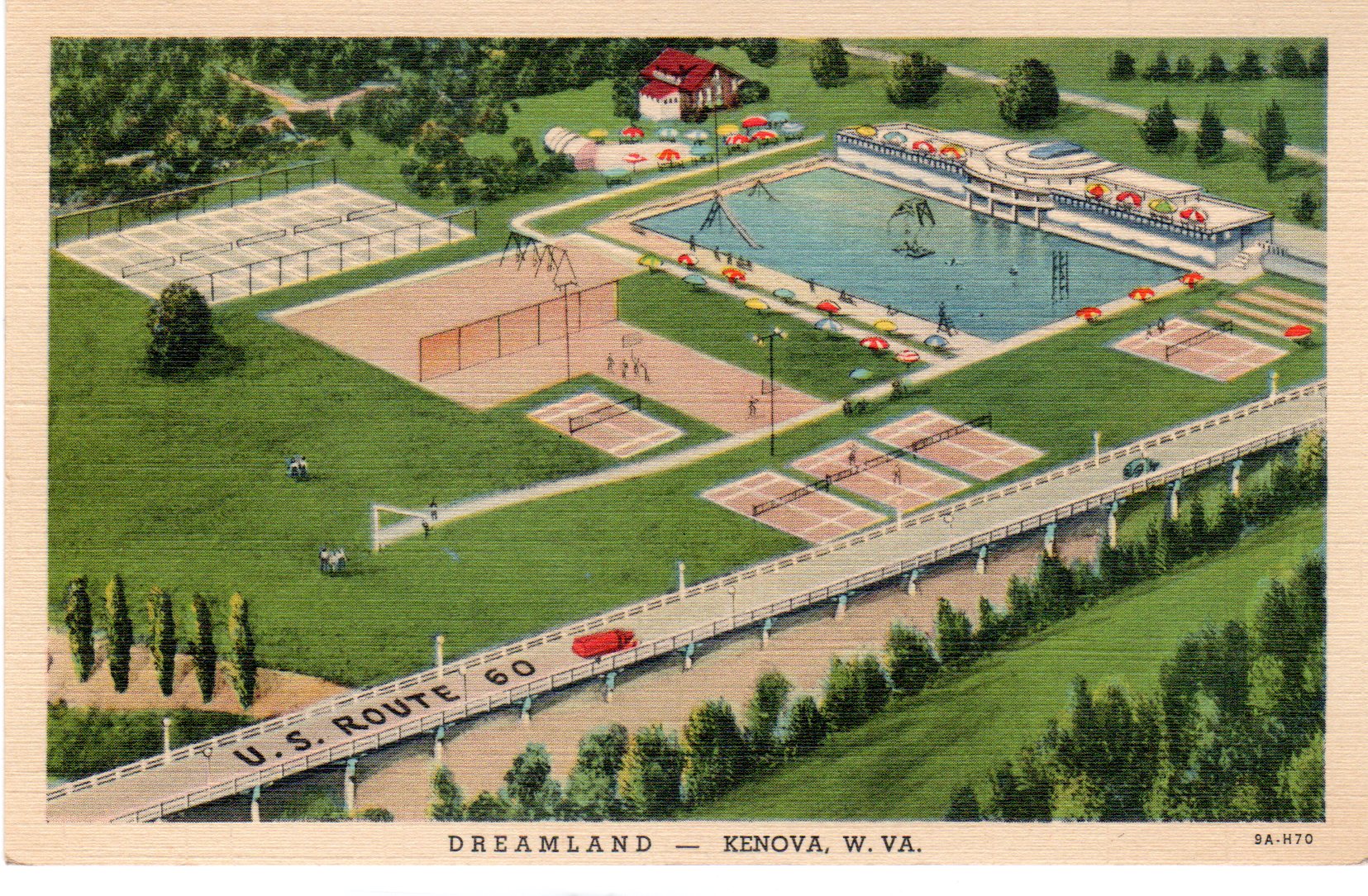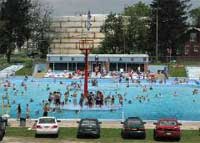 The pavilion in the aftermath of the 1973 fire. Courtesy of the Ceredo Historical Society Museum.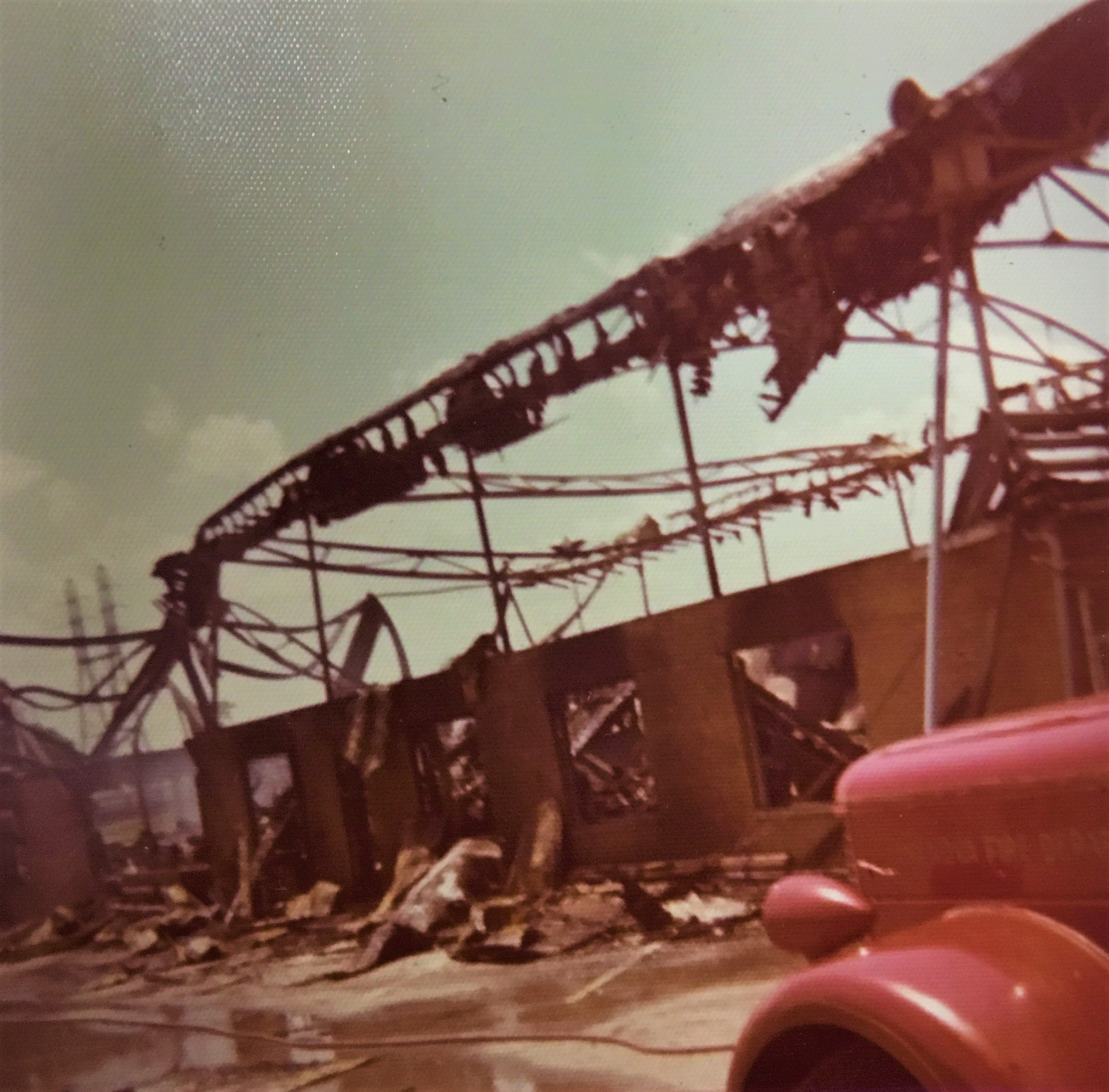 Backstory and Context
Dreamland Pool was built in 1926 by J. D. Booth, who owned an ice business and water wells. At 125 feet by 250 feet, it was the largest pool east of the Mississippi River at the time. The depth ranges from a few inches to nine feet. The pool became wildly popular and attracted crowds from all over the tri-state. In 1949 the Booth family sold Dreamland to a group of businessmen including Fred Salem, who would eventually become the sole owner.
Dreamland also housed a popular three-story pavilion. The roof was a stage for Big Bands throughout the 1940s and 1950s and featured a dance floor. Big names such as Glenn Miller, Benny Goodman, Louis Armstrong, Tommy Dorsey, and Frank Sinatra entertained fans at this historic location. On June 29, 1973 the pavilion burned down in a massive fire. Ten firefighters responding to the fire were injured when a chlorine tank exploded. The pavilion suffered far more damage than it had been insured for and was never rebuilt. Three Kenova teenagers were charged with starting the fire but their names were withheld from the public due to their age; their identities have been a source of speculation for years. Soon afterwards the City of Kenova purchased Dreamland from Fred Salem.
In recent years Dreamland Pool has been suffering financial problems due to the cost of maintenance and declining attendance combined with an aging infrastructure. In 2009 the pool remained closed for major renovations and repairs. Over the next five years operating costs continued to exceed the income made each season. By the summer of 2015 there were concerns that Dreamland would not reopen due to prohibitive operational costs. However donations from various groups, volunteer help, and assistance from Marathon Oil allowed badly needed repairs to be made that were expected to save money in the long-term. The grounds at Dreamland have been expanded in an effort to draw more people with extra activities. There is now a skate park, a sand volleyball court, a basketball court, a tennis court, picnic shelters, and a concession stand. The pool is also converted into a haunted trail every Halloween for the C-K AutumnFest. Price for admission changes depending on the time of the season but typically ranges from $2 to $5.
Sources
Casto, James E. "Dreamland." E-WV: The West Virginia Encyclopedia. February 02, 2012. Accessed January 27, 2017. http://www.wvencyclopedia.org/articles/1956.
Griffin, Dan. "UPDATE: Marathon Concrete Pour Underway at Dreamland Pool." June 25, 2015. WSAZ. Accessed January 27, 2017. www.wsaz.com/home/headlines/Debate-Over-Opening-Dreamland-Pool-in-Kenova-301455661.html.
Juett, James. "1973 fire ended Dreamland's musical era." The Independent, June 22, 2015. Accessed January 27, 2017. http://www.dailyindependent.com/news/local_news/fire-ended-dreamland-s-musical-era/article_8e5f118e-....
Additional Information