Asian Garden Mall (Phước Lộc Thọ)
Introduction
Asian Garden Mall, better known as Phước Lộc Thọ, is the largest Vietnamese-operated mall in the United States and offers a cultural experience like none other. Known as the center and heart of Little Saigon in Westminster, California, Phước Lộc Thọ is much more than a commercial space. Conspicuous against its suburban surroundings, it functions as a geographical landmark and a tourist attraction. In the national imagination, Phước Lộc Thọ symbolizes the Vietnamese community in the United States; it not only received a visit from a presidential candidate, but will soon be the location for a monument dedicated to the accomplishments of the Vietnamese community since their arrival in the United States in the 1970s. For locals, Phước Lộc Thọ embodies Vietnamese success, community, and culture.
Images
A view from the inside of the mall from Dave's Travel Corner (http://www.davestravelcorner.com/guides/losangeles/la-little-saigon/).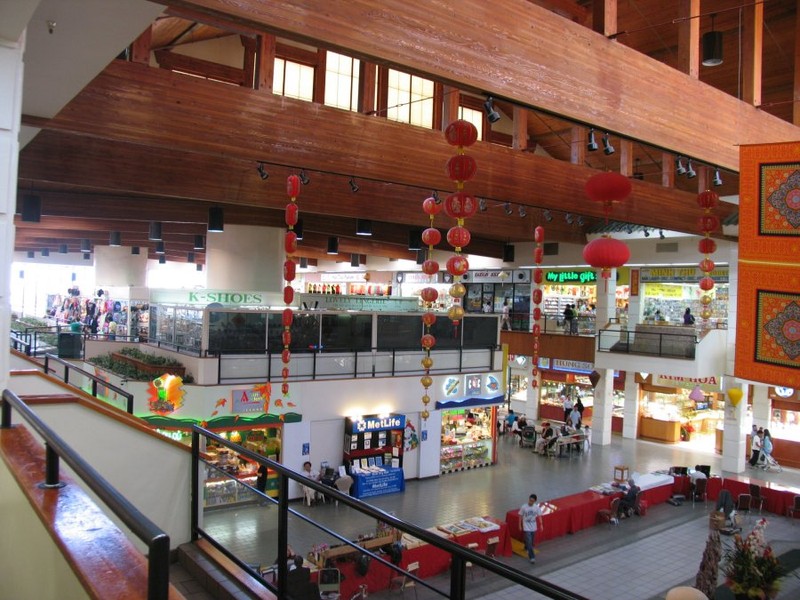 Exterior shot of Phước Lộc Thọ from Lin & Jirsa (http://www.linandjirsablog.com/asia-garden-mall-westminster-engagement-session-huy-and-natalie/).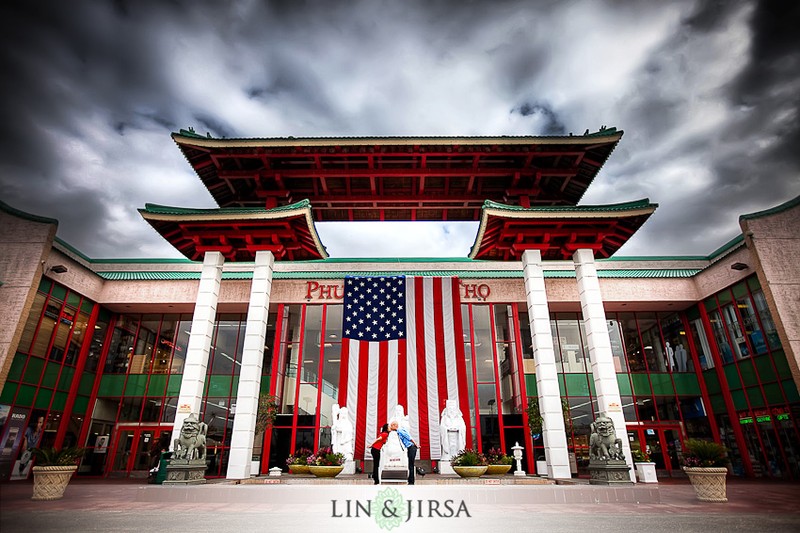 2008 Tết celebration in front of Phước Lộc Thọ from Wikimedia (https://commons.wikimedia.org/wiki/File:Phuoc_Loc_Tho_Tet_2008.jpg).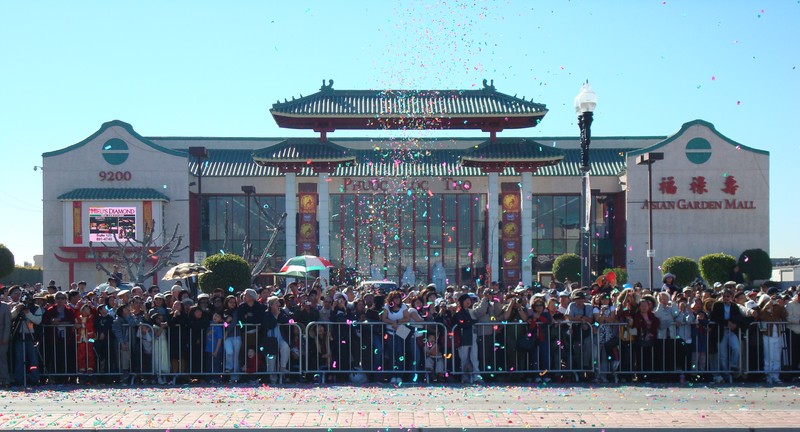 Backstory and Context
Asian Garden Mall was built by Frank Jao, the area's premier real estate developer, and his partners in 1986 for $15 million. The mall is a 150,000 square foot, two-story building, overflowing with shops and restaurants that sell various goods and services, including famously cheap, wholesale jewelry. On the lower level, stalls and markets offer a rich variety of authentic Vietnamese food, as well as French-Vietnamese sandwiches, French bread, and Chinese food. Hair stylists, shoe shiners, clothing boutiques, and stores sell all types of miscellaneous items. On the upper level, the famous jewelry center, coexists with kiosks for various administrative services, as well as many record stores; Little Saigon has been referred to as the "Vietnamese Nashville," due to the critical function that music and media production plays for the community. The exterior features neon lettering, massive windows, and generic Asian architectural elements including, but not limited to, enormous statutes of Asian spiritual figures and lions and sloped, pagoda-style roofs. Though such features are not unique to Little Saigon, the massive scale and location enhance its symbolic role, making the mall an iconic centerpiece of Little Saigon.
The mall was the second part of the master plan that Jao had developed in partnership with local government officials to cultivate culture and tourism along Bolsa Avenue. The area's economy was booming, already recovering from the economic decline it had experienced in the 1970s, due to the ever-growing arrival of Vietnamese people, primarily refugees who escaped from Vietnam following the Fall of Saigon in 1975. Many started successful businesses that anchored the community. By 1987 there were 3,074 Vietnamese-owned businesses in Orange County, and an estimated 20,000 to 50,000 people came to shop on Bolsa Avenue every weekend. Located between two major freeways, several miles away from Disneyland and between Los Angeles and San Diego, Bolsa Avenue proved to be a prime location for attracting tourists. Jao sought to further enhance its appeal. He wanted to develop a "pan-Asian" commercial center in order to maximize the potential customer base and avoid the decline then being experienced by less inclusive ethnic enclaves. Jao began a campaign to rebrand the area and call it "Asiantown" rather than "Little Saigon," hence the intentional name of "Asian Garden Mall," rather than "Vietnamese Garden Mall."
Jao failed in these efforts. In 1988, "Little Saigon" was made the official name of the area bordered by Westminster Boulevard, Bolsa Avenue, Magnolia Street, and Euclid Street. Grassroots activism and pressure from ethnic Vietnamese Americans produced this result. "Phước Lộc Thọ," or "Luck, Prosperity, and Longevity," is the name used by both local and visiting Vietnamese people, who constitute the majority of the patrons at the mall, whether intentionally or inadvertently. For both locals and visiting Vietnamese, the mall is a place of gathering and community building, especially for older generations. Phước Lộc Thọ is what they imagine Saigon (or, as it is known today, Hồ Chí Minh City) would have been had South Vietnam not lost the war. It is a site of pilgrimage, it is a place they visit in order to experience and remember Vietnam before 1975, it is where everything is Vietnamese and where they can be Vietnamese. It simultaneously represents a glorious past and future, embodying the ideal of what was and could have been. It is why Phước Lộc Thọ offers a cultural and community experience like none other, for locals and visitors alike.
For the nation, Phước Lộc Thọ is a symbol of the Vietnamese community in the present. It is a clear example of the accomplishments of Vietnamese people, a celebration of a community that started off as refugees and established a place for themselves in the United States and prospered. It constitutes a testimony to the power of democracy, diversity, and freedom. In 2000, then-presidential candidate George W. Bush visited Phước Lộc Thọ during a campaign tour in California, transforming the mall into a nationally recognizable symbol of the Vietnamese community. In 2016, a monument sponsored by the Courage to Rebuild Project to celebrate forty years of Vietnamese American accomplishments will be placed in front of Phước Lộc Thọ. The Mall offers an interesting case of a site whose symbolic status outshines its physical elements. Phước Lộc Thọ's status as a thoroughly Vietnamese space and what it represents to Vietnamese locals and tourists and the United States, rather than its physical features and history, make it a critically important landmark.
Sources
Nhi T. Lieu, The American Dream in Vietnamese. Karin Aguilar-San Juan, Little Saigons: Staying Vietnamese in America. Nghia M. Vo, Saigon: A History. Seth Mydans, "Vietnam, the Way It Might Have Been," http://www.nytimes.com/1991/08/22/us/vietnam-the-way-it-might-have-been.html. Merrill Balassone, "The heart of Little Saigon beats strong," http://articles.latimes.com/2005/oct/23/realestate/re-guide23. Margot Roosevelt, "Frank Jao's story: From refugee to business mogul," http://www.ocregister.com/articles/jao-659642-vietnamese-mall.html. "Wiki: The history of Little Saigon and the Vietnamese in Orange County," http://www.ocregister.com/articles/vietnamese-659434-saigon-little.html. Nam Q. Ha, "Business and politics in Little Saigon, California," http://www.oac.cdlib.org/view?docId=hb28700442&brand=oac4&doc.view=entire_text. Christian Collet and Hiroko Furuya, "Enclave, Place, or Nation? Defining Little Saigon in the Midst of Incorporation, Transnationalism, and Long Distance Activism," http://uclajournals.org/doi/pdf/10.17953/amer.36.3.88753n313n76h58n. Asian Garden Mall, http://www.asiangardenmall.com/. Westminster Chamber of Commerce, "History of Little Saigon," http://www.westminsterchamber.org/index.php?option=com_content&view=article&id=139&Itemid=610. Chris Haire, "Asian Garden Mall to get statute symbolizing Vietnamese-American success since fall of Saigon," http://www.ocregister.com/articles/vietnamese-665243-dinh-project.html.
Additional Information