Salem Witch Museum
Introduction
This museum gives every visitor an inside look of what it was like to be accused of witchcraft in the 1600s. It tells the story of how many innocent lives were taken due to many wrong accusations. It not only informs you on the trials, but also what it was like to be accused of that crime and the many stereotypes that were involved in the accusations. This museum is a great place to go if you want to learn more about the Salem Witch Trials.
Images
Statue of the girls in the trial.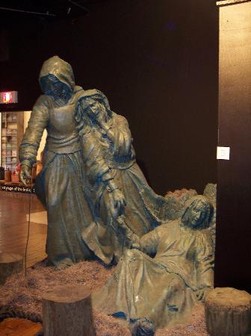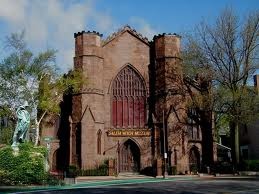 Backstory and Context
In the 1600s, religion was a major topic within the New World. The majority of the people were Christians. In the town of Salem, Massachusetts, many strange things were occurring in a small village within the city. Many people believed the negative occurrences were because of Satan and people within the village working with him to cause these problems.
In a Salem village, in January of 1629, two young girls fell ill. The village doctor diagnosed the two girls of bewitchment. This diagnoses resulted in the accusations of twenty men and women, which started from the girls and their friends. The twenty women and men were all accused of Satanism and were hung in front of the public eye; one man was even crushed to death. When the girls went through their trial, they realized they could not keep up with their lies so they confessed and claimed that they made up all of the accusations.
This museum is a way for tourists to see what it was like behind the witch hunt. There are two exhibits for the tourists to go through. The first one is a narration through the story behind the Salem Witch Trials, and the second exhibit takes you through what it meant to be accused of being a witch and how witchcraft was practiced in that time. The entire visit will take up to an hour to go through.
Admission: Adults: $10.50 Seniors: $9.00 Children (6-14 years): $7.50
Sources
http://salemwitchmuseum.com/