Myrtle Hill Cemetery
Introduction
From downtown Rome, Georgia, a hill scattered with graves can be seen across the Etowah River. This is Myrtle Hill Cemetery, which was established in 1857 and is the second oldest cemetery in Rome (after Oak Hill Cemetery). It contains around 20,000 graves, the oldest of which dating to 1857. Listed on the National Register of Historic Places, the cemetery is historically significant in a number of ways. In the area of architecture, it features several late-19th century and early 20th century vaults and a number of monuments. Additionally, the cemetery was a key part of the town's early plan and its design is a good example of a "picturesque rural" cemetery, which was popular in the 1800s.
Images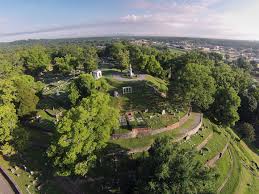 Old steel bridge with Myrtle Hill in the background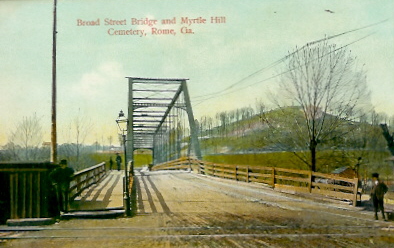 View of Downtown Rome from Myrtle Hill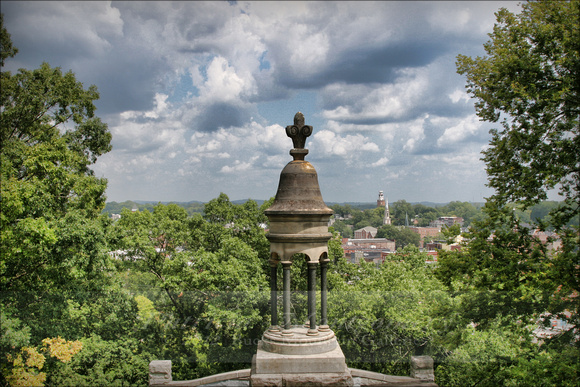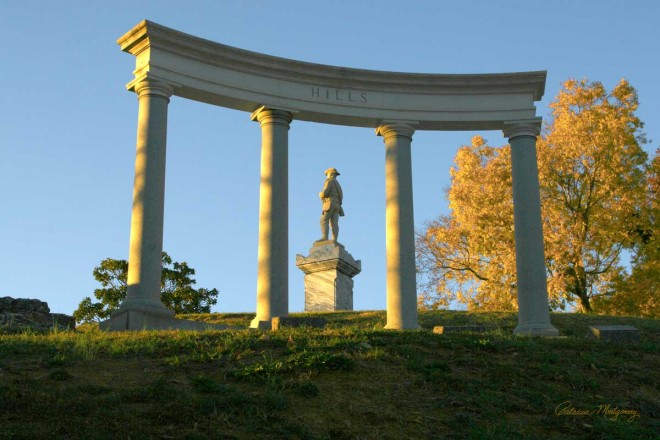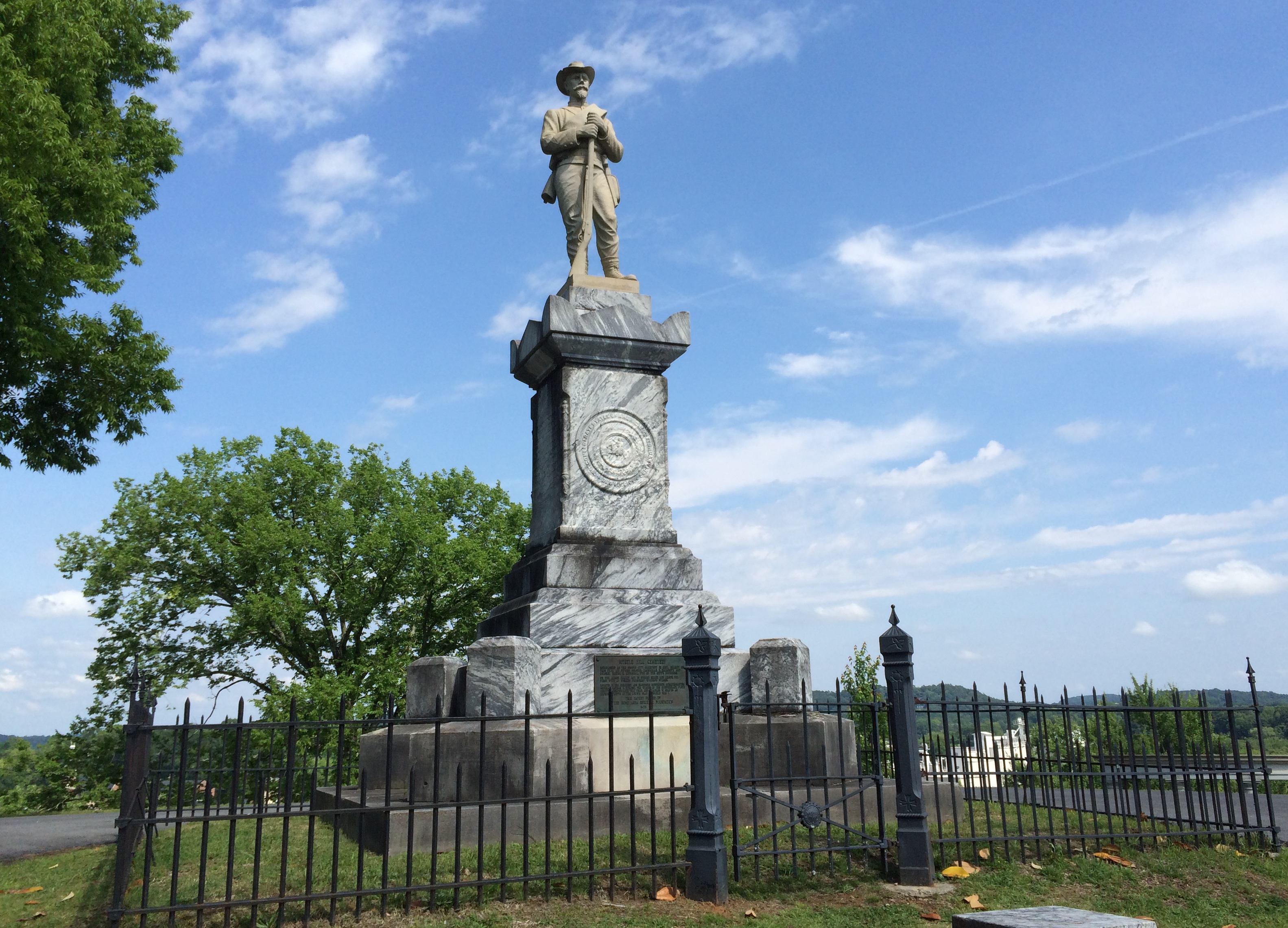 Famous Headstone in a tree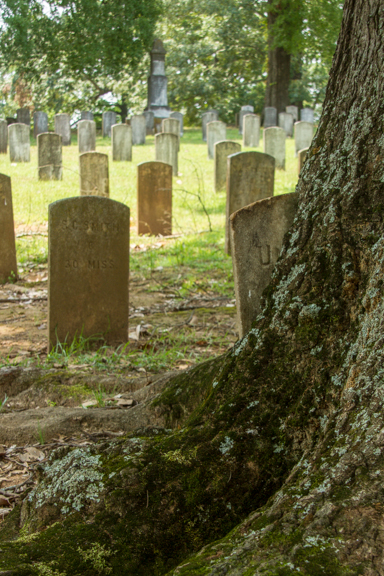 Backstory and Context
Before the cemetery was established, locals had difficulty finding places to bury their loved ones away from areas that often flooded (Oak Hill Cemetery had become full in the mid-1850s). As a result, the city hired a civil engineer, Coronal Cunningham Pennington, to solve this reoccurring problem. In 1850, he finished his design and proposed the cemetery be located on Myrtle Hill. His design included six stone terraces, curved drives and encompassed an area of 32 acres. The cemetery was immediately popular not only as a burial ground but a place to view the town.
Shortly after its completion, the Civil War broke out in the United States. The cemetery includes a section for Confederate soldiers who died in the war. In total around 300-400 soldiers, including a number of Unions soldiers, are buried in this section (Union troops briefly occupied the city in 1864). One famous grave in the cemetery is the headstone in a tree. The grave is an unknown Confederate soldier who was buried under an oak tree. As time passed, the tree partially consumed the headstone, making this a famous icon of the cemetery. Another famous part of the hill is the Confederate Statue at the peak. Named Johnny Red, the statue was placed there as a monument to the Hill family that is buried in the cemetery. Rome was a target of the Union because weapons for the Confederacy were manufactured here.
Among the thousands of graves on Myrtle Hill are several prominent figures, including those who served in high profile political roles. There are four men who served as U.S. congressman. One of them, Nathan Henry Bass Sr. (1808-1890), also served as a congressman for Georgia in the Confederate States of America in 1862. Another national figure is U.S. Senator Homer V. M. Miller (1814-1896), who was the first senator from Georgia after the Civil war and, notably, only served for seven days because he did not qualify and was not seated until a week before his term ended. President Woodrow Wilson's first wife, Ellen Axson Wilson (1860-1914), who grew up in Rome, is interred here as well. Maybe the most notable grave is that of Private Charles Graves, who served in World War I and was killed in 1918. His body was randomly selected to be interred in Arlington National Cemetery in the tomb of the "Unknown Soldier." His mother, however, objected to the idea and as a result, Graves was buried in the cemetery and his remains are located in the center of a plaza.
Sources
Brooks, Carolyn. "Myrtle Hill Cemetery." National Park Service - National Register of Historic Places Nomination Form. September 1, 1983. https://npgallery.nps.gov/GetAsset/22048c3d-07e9-4842-bcae-2cece8610248.
"Myrtle Hill." Roadside Georgia. Accessed November 1st 2015. http://roadsidegeorgia.com/site/myrtlehill.html http://www.exploregeorgia.org/listing/3324-myrtle-hill-cemetery.
"Myrtle Hill Cemetery." Georgia's Rome Office of Tourism. Accessed December 16, 2020. https://romegeorgia.org/attraction/myrtle-hill-cemetery.
Additional Information