Rowan Oak, The William Faulkner House
Introduction
Constructed in 1844, Rowan Oak was the home of William Faulkner from 1930-1962. Faulkner was one of the 20th century's greatest writers, best known for his novels As I Lay Dying and The Sound and the Fury. He earned the Nobel Prize in literature in 1950 and the Pullitzer Prize in 1955 and 1963 (posthumously). The estate became a National Historic Landmark in 1968. The University of Mississippi acquired the property in 1972 and operates the home as a museum dedicated to preserving and interpreting the life of one of America's most-influential novelists.
Images
Rowan Oak was built in the 1840s and home to William Faulkner from the 1930s to his death in 1962.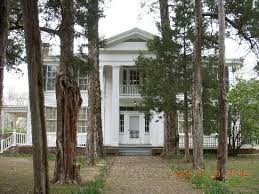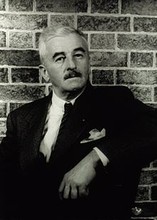 Backstory and Context
William Faulkner was born in Albany, Mississippi in 1897 but moved to Oxford in 1901. He joined the Royal Canadian Flying Force in 1918 but was too late to see action in WWI. After returning to Oxford in 1919, he attended the University of Mississippi where he wrote and illustrated for the school paper. He began working in a bookstore in New York City in 1921 but returned shortly thereafter to become postmaster in Oxford, a job which he would greatly dislike. He moved to New Orleans in 1925 and continued to write, publishing stories in literary magazines and writing his first novel, Soldiers' Pay. After a trip to Europe, he returned to Oxford where he held a number of odd jobs including painting and carpentry.
A fellow writer in New Orleans, Sherwood Anderson, suggested to Faulkner that he write about the South, as he (Faulkner) was a true "southern boy." This suggestion would prove to be a turning point in Faulkner's career. In 1931, his novel Sanctuary earned him wide critical acclaim. However, it wasn't until 1946 that a compilation of his works really boosted his profile nationally and internationally. Called the Yoknapatawpha series, the series is comprised of volumes and novels of short stories written between 1929-1962. Yoknapatawpha is the name Faulker made up for mythical county in the south. Though fictional, the county was also grounded in reality and served as a parable about the South. As such, Faulkner dealt with the wealthy aristocracy, the commercial class, race relations, the bravery of African Americans, and the incompatibility of nature and the modern world. 
Sources
Rettig, Polly. "William Faulkner Home, Rowan Oak." National Park Service - National Register of Historic Places Nomination Form. May 23, 1968. https://npgallery.nps.gov/GetAsset/eb7d4e13-727b-407f-9f4f-35a5e92bb3eb.
Additional Information