Red Lion Inn Historic Marker
Introduction
This stop on the Revolutionary War Heritage Trail marks the place of an inn at the conjunction of three country roads: Martense Lane (now the southern edge of Green-Wood Cemetery), the Narrow Road, which came up the shore of New York Bay from Denyse's Ferry, and Gowanus Road, which led to Brooklyn Heights. The Battle of Brooklyn began on Aug. 27, 1776, when a British army under General James Grant attacked Americans defending the Red Lion Inn. It was from this location that Washington witnessed the first phase of the eventual British victory over his rebel forces that would lead to the British occupation of the city. However, Washington was able to maintain order and his men conducted a fighting retreat to New Jersey and Pennsylvania. As a result, the British may have occupied New York, but they failed to capture the rebel army or its commander.
Images
The first shots of the Battle of Brooklyn occurred near this historic marker on August 27, 1776, when soldiers led by James Grant fired at rebel pickets guarding the Red Lion Inn.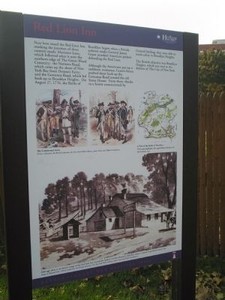 Backstory and Context
In this early fight of the Battle of Brooklyn, the British pushed the Americans back up Gowanus Road to the old Stone House, but America's General William Alexander (Lord Sterling) led a counterattack there allowed his army to reach Brooklyn Heights in safety. In the days to follow, the British took Brooklyn Heights, key to the defense of New York City.
The failure to hold the largest city and most important port in the American colonies may have been a decisive blow to the morale of the American rebels after their successful siege of British troops in Boston, but the British commander's decision to move slowly and occupy the city rather than pursue Washington's army allowed the rebels to retreat into New Jersey and Pennsylvania where they would continue to train and recruit.
Additional Information